10 Best Real Estate Websites for March 2020
At Agent Image, we specialize in developing brands and designing award-winning websites for real estate professionals. Establishing a strong online presence is key to success, and it all starts with an exceptional website that can take your marketing strategies and efforts to greater heights.
Here's a look at some of the most outstanding real estate websites we've launched last month:
The Tom Love Group
Las Vegas, Nevada
Breathtaking views of the Las Vegas Strip and images of gorgeous luxury homes welcome visitors to TheTomLoveGroup.com, an excellent online resource for Las Vegas real estate.
The website offers home buyers and sellers easy access to the unmatched real estate services of Tom Love, one of the top-producing brokers in Southern Nevada with over $700 million in sales.
What keeps you scrolling on this website: TheTomLoveGroup.com's straightforward, no-frills approach and responsive interface gives users easy access to everything they need to fulfill their real estate goals in Las Vegas.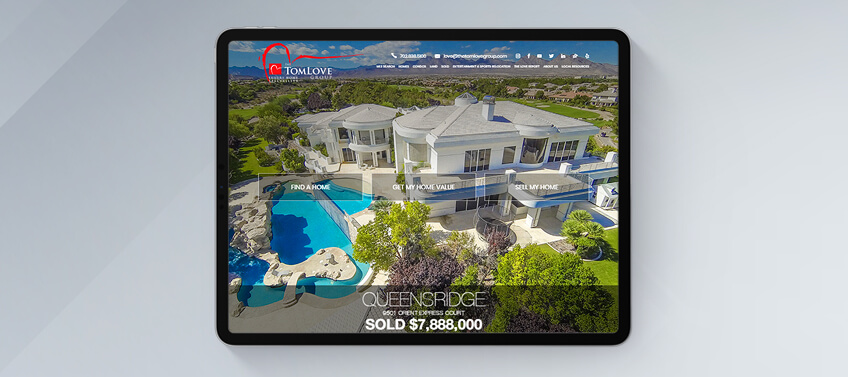 Carrie Fitts
Tuscaloosa, Alabama
Highlighting the finest properties in the Tuscaloosa market, Carrie Fitts' realtor website is a one-stop shop for those looking for a home that fits all of their requirements and preferences.
AHouseThatFitts.com features in-depth information on the Tuscaloosa market, and is a great online resource for buyers and sellers looking to fulfill their real estate goals in the area.
What keeps you scrolling on this website: AHouseThatFitts.com's readily available tools and helpful content are highlighted nicely by its well-placed site elements and optimized, easy to use interface.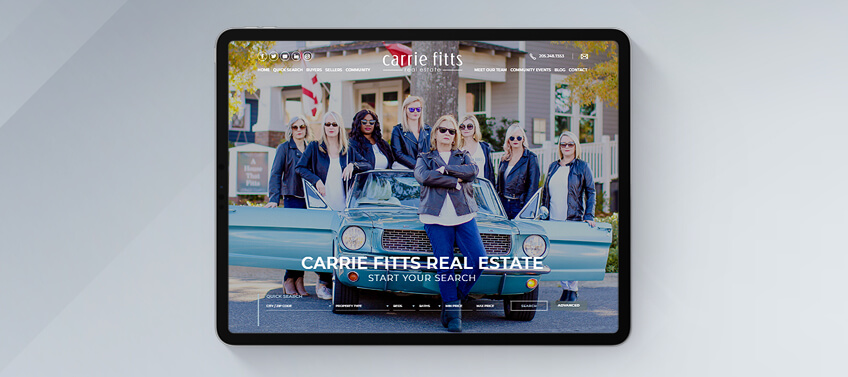 Sasha Rahban
Los Angeles, California
The luxury real estate market in Los Angeles is a highly competitive domain. A basic website simply won't cut it, and Sasha Rahban's website goes above and beyond to establish his brand as the agent of choice for discerning clients, from first-time buyers to savvy property investors and everything in between.
What keeps you scrolling on this website: Helpful resources are strategically placed front and center at the homepage, making it very easy for visitors to access essential features including a quick search function, home valuation tool, up-to-date info on commercial real estate sales, and more.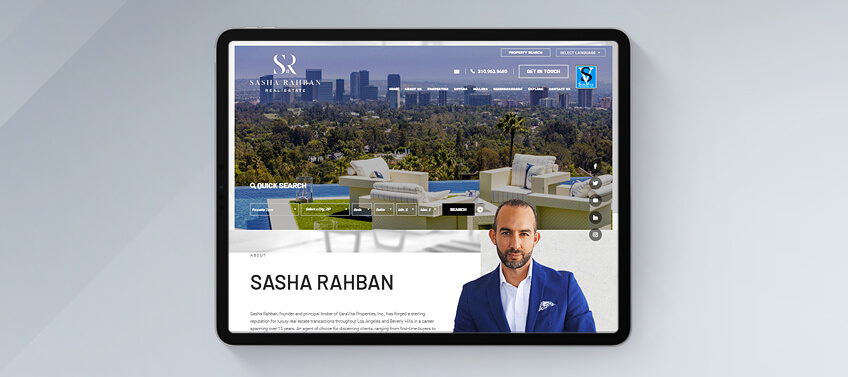 Jennifer Lockwood
Fairfield, Connecticut
Visitors can get a glimpse of the relaxing lifestyle in Fairfield County, Connecticut at JenniferLockwoodHomes.com, a comprehensive guide to residential real estate in the area.
Stunning imagery, smooth transition effects, and a simple, easy to navigate menu all combine to create a relaxing and informative browsing experience.
What keeps you scrolling on this website: JenniferLockwoodHomes.com has a very laidback feel, inviting visitors to soak in serene views of calm waters, bright and airy interiors, and quiet tree-lined neighborhoods. The soft gray and pastel blue color palette completes the entire look, creating a tight visual package that's easy on the eyes.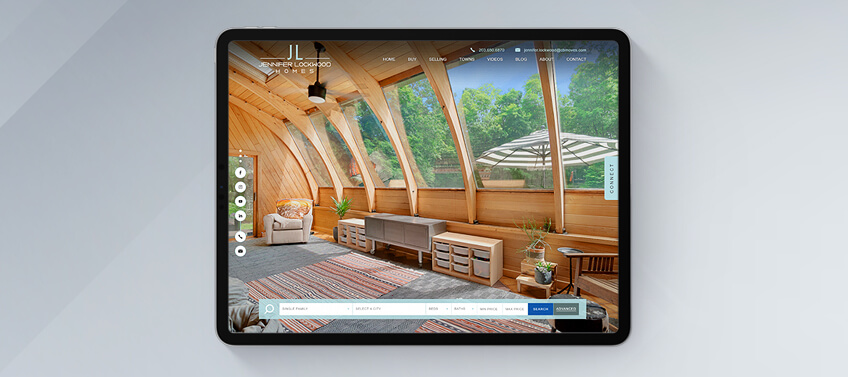 Marco Carvajal
San Francisco, California
Those searching for homes in the San Francisco market need experienced and highly skilled agents at their side in order to successfully navigate this sought-after market. One look at MarcoSellsSF.com, and you know you've found the right man for the job.
The website serves as a portal to top San Francisco real estate agent Marco Carvajal's expertise in the market by delivering relevant information, the finest listings available, and insightful guides for home buyers and sellers.
What keeps you scrolling on this website: MarcoSellsSF.com has that polished and professional look down to a T with a solid, easy to navigate site structure and a nice balance between sophistication and style.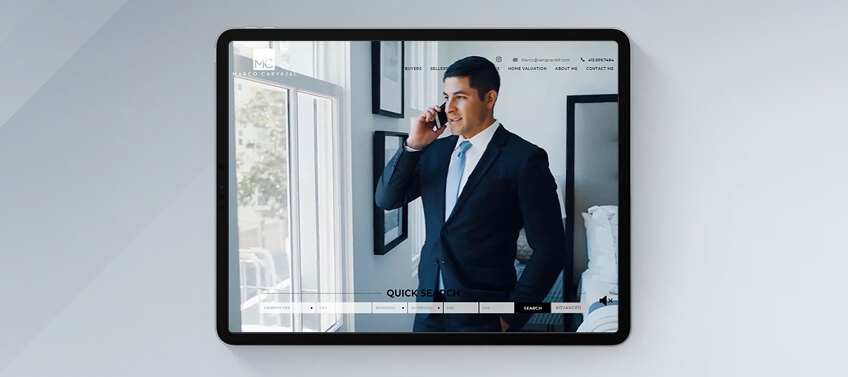 Arial Pegues
Washington DC, Maryland, and Northern Virginia
Providing top-level real estate service in the DC, Maryland, and Northern Virginia areas, award-winning realtor Arial Pegues lets her experience and expertise shine through her stylish website, ArialDMVRealEstate.com.
Arial's website dazzles visitors with gorgeous high-definition images, crisp mouseover effects, and a clean, stylish layout complemented with regal purple accents.
What keeps you scrolling on this website: ArialDMVRealEstate.com has a nice balance between design and content. All sections are informative yet concise, giving users a buttery smooth browsing experience.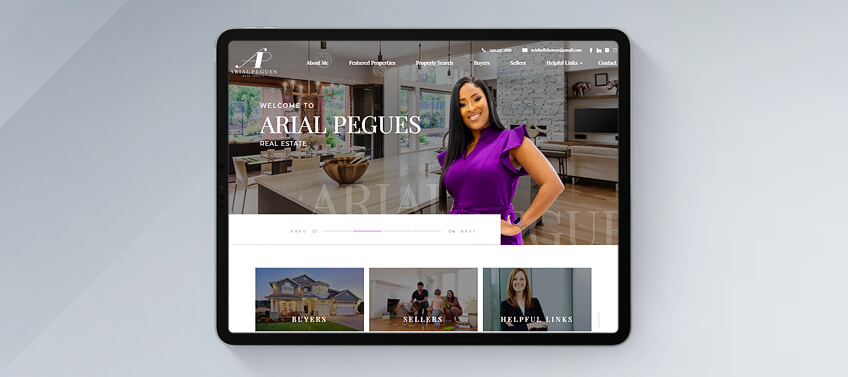 Eric Moreland
Austin, Texas
EricMoreland.com welcomes visitors to Austin's luxury real estate market, setting the stage nicely with a captivating full-screen slideshow, crisp images, and a neatly organized site layout.
The website's refreshing pear green and slate gray color scheme ties the entire design together brilliantly, ensuring readability while adding a modern and sophisticated flair.
What keeps you scrolling on this website: EricMoreland.com has a dynamic look and feel enhanced by crisp animations and snappy mouseover effects, which keeps things exciting as you navigate its different sections.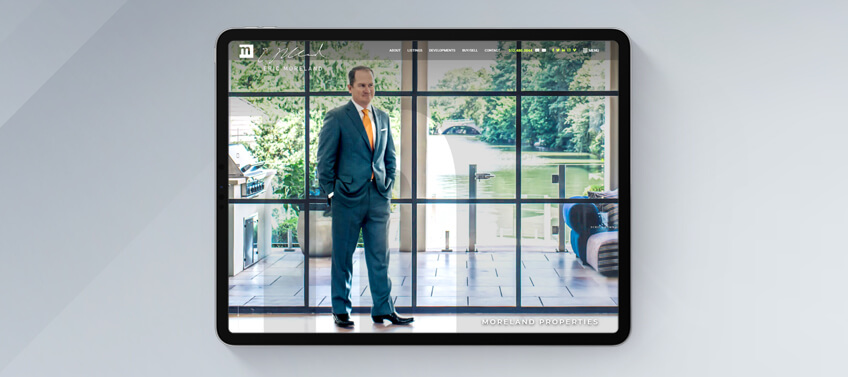 Brenda Brown-Williams
Roseville, California
Brenda Brown-Williams is a certified luxury home specialist known for her expertise in marketing the finest properties in Roseville, Rocklin, Granite Bay and other desirable communities.
Her website, BrendaBrownLuxury.com, serves as a terrific introduction to the luxury lifestyle, welcoming visitors with enticing visuals of gorgeous estates combined with detailed information on the communities she specializes in.
What keeps you scrolling on this website: The highlight of BrendaBrownLuxury.com is definitely its seamless flow. The landing page takes visitors on a scenic tour of elegant homes in the area and provides a glimpse of the communities and the type of lifestyle they offer.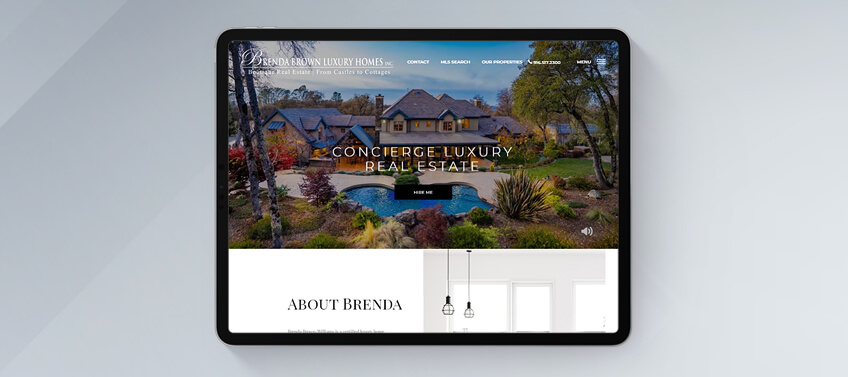 Terring Wang
Rockville, Maryland
Polished and sophisticated are two words that come to mind when you navigate Terring Wang's website. The use of the classic gold and gray color scheme is executed wonderfully, giving the site a luxurious and elegant touch.
What keeps you scrolling on this website: Searching for a new home is a breeze, as the site provides quick access to featured properties, a handy quick search tool, and comprehensive information on the cities they specialize in.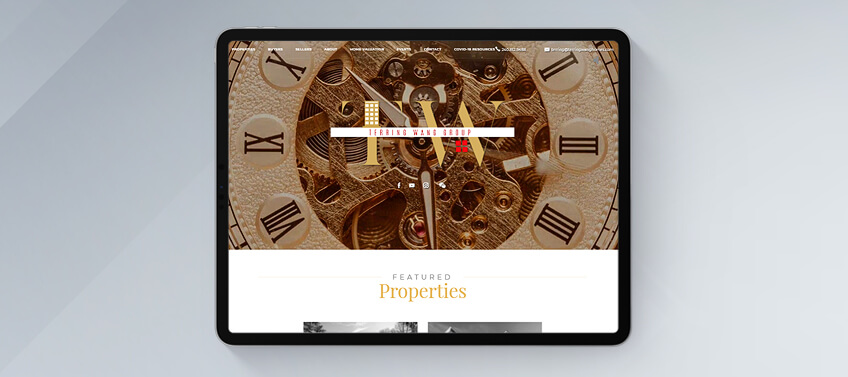 Sukenik Glazer Team
Manhattan, New York
SukenikGlazerTeam.com showcases the most exceptional properties in Manhattan through a solid website design that blends clean lines, fluid animations, and a streamlined interface.
Using photos that display stylish contemporary chic interiors is a smart choice, as it gives the website an upscale vibe that perfectly encapsulates the Manhattan lifestyle.
What keeps you scrolling on this website: The website's simple yet refined aesthetics and easily navigable design entices users to see more of what the Sukenik Glazer Team has to offer.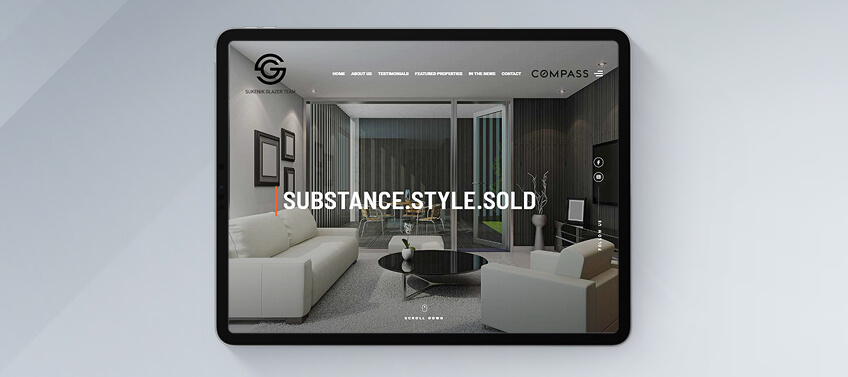 Let's recap!
While making a great first impression is definitely important when it comes to real estate web design, keeping prospective clients intrigued is also a crucial factor. Here's a quick look at how each site managed to accomplish this:
TheTomLoveGroup.com – Streamlined site design with a responsive interface.

AHouseThatFitts.com – Well-placed site elements and streamlined user interface.

SashaRahban.com – Easy access to helpful resources and essential features.

JenniferLockwoodHomes.com – Relaxing and laidback feel with a refreshing color palette.

MarcoSellsSF.com – Easy to navigate interface and site structure.

ArialDMVRealEstate.com – Excellent balance between stylish design elements and site content.

EricMoreland.com – Dynamic look and feel enhanced by smooth effects and animations.

BrendaBrownLuxury.com – Seamless flow and terrific use of high-quality images.

TerringWangGroup.com – Easy to use functions and informative content.

SukenikGlazerTeam.com – Simple yet stylish design inviting users to explore other sections.
At Agent Image, we take pride in our ability to collaborate with our clients to create attractive, responsive, and informative websites that best represent their brand.
It's time to take your website to the next level! Contact Agent Image for a free consultation or give us a call at 800.979.5799.
Did you enjoy reading this article?
Sign up for more updates with our Agent Intelligence Newsletter!
We are committed to protecting your privacy.
Real Estate Websites for Agents
Learn which package works best for you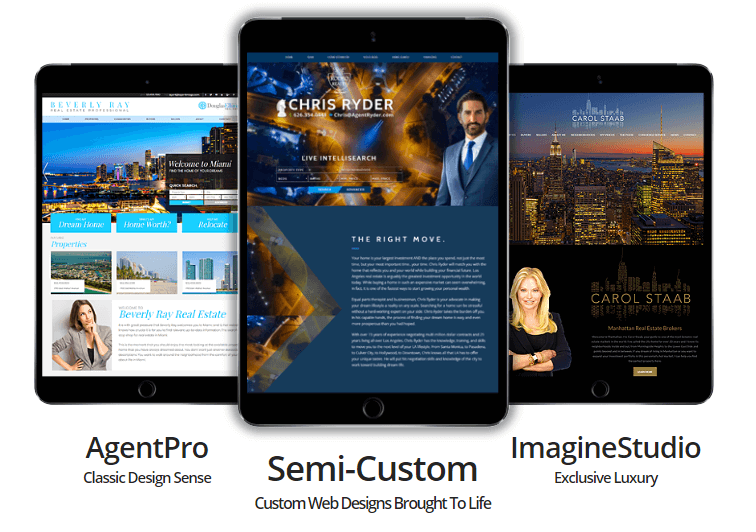 Learn More