10 Best Real Estate Websites for March 2021
As the US slowly bounces back from the coronavirus pandemic, real estate agents continue to seek out and devise new ways to showcase properties, taking advantage of online platforms to make home buying and selling safer, easier, and more convenient for clients.
With the industry's rapid shift to the digital realm, Agent Image continues to provide Realtors with stunning professional real estate websites designed to enhance their online presence.
Here are the 10 best real estate websites Agent Image launched in March 2021.
Corcoran Platinum Living
Scottsdale, AZ
The Corcoran Platinum Living team is known for their decades of experience and exceptional real estate service in the Southwest.
One of their website's standout features is the Media Highlights section, which contains insightful videos highlighting the benefits of working with Corcoran Platinum Living. The site's agent profile section is a unique feature as well, showcasing members of the Corcoran Agent team in a scrolling collage format, providing links to each team member's bio whenever you click on a photo.
Scroll down to find: A link to an interactive map of the team's target areas, showing exclusive listings for each community.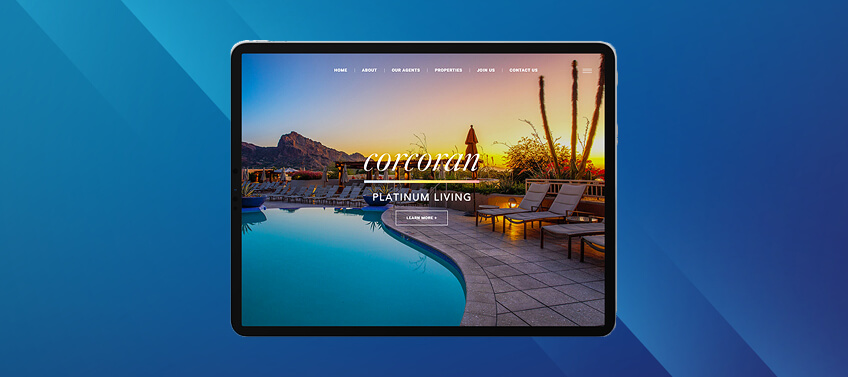 The Beverly Hills Estates
Los Angeles, CA
The Beverly Hills Estates takes on a stylish and bold approach to showcase their brand, combining crisp high-definition images, snappy hover animations, and a sleek yellow and hunter green color scheme.
As one of the highest-performing real estate firms in LA, the team specializes in exclusive, architecturally significant properties in the market, all of which are stylishly displayed in their website's properties section.
Scroll down to find: The Beverly Hills Estates' list of impressive record breaking sales in sought-after Los Angeles communities.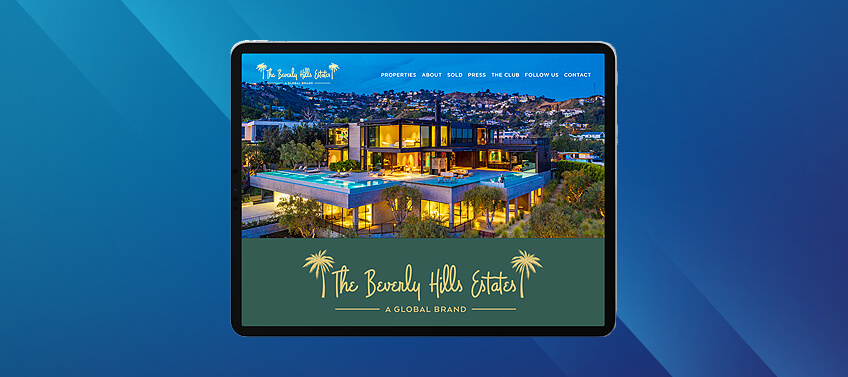 The Battle Group
Arlington, VA
The Battle Group's website takes dynamic website design to a whole new level with the clever use of videos to highlight their unique selling point: to tell a home's story through videos and other interactive features.
The website's virtual open house section gives visitors a comprehensive look at some of the finest properties in the Northern Virginia and DC market through the use of cutting-edge 3D mapping software.
Scroll down to find: "The Shawn & Matt Show," a YouTube series where Shawn Battle and Matt Leighton discuss market trends, provide home buying and selling tips, and offer other relevant real estate information.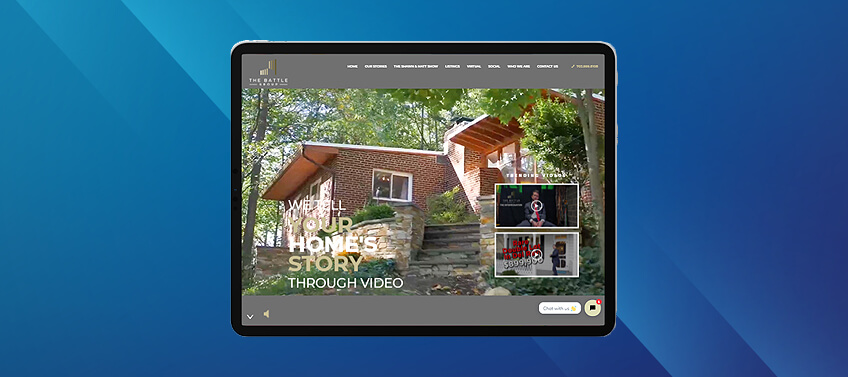 Integrity Title LLC
Maryland, DC, and Virginia
Integrity Title & Escrow Company consists of a team of skilled and versatile lawyers and real estate professionals who provide the most responsive title services in Maryland, District of Columbia, and Virginia.
Their website treats visitors to a seamless browsing experience, thanks to smooth transitions and a clean yet playful Mondrian-style layout that delivers information efficiently with style. The vibrant blue and yellow color scheme with gray accents is a brilliant touch as well, creating a neat visual package that's very pleasing to the eye.
Scroll down to find: An extremely helpful "Did You Know" section on home refinancing and how choosing the right title company can help you navigate the process.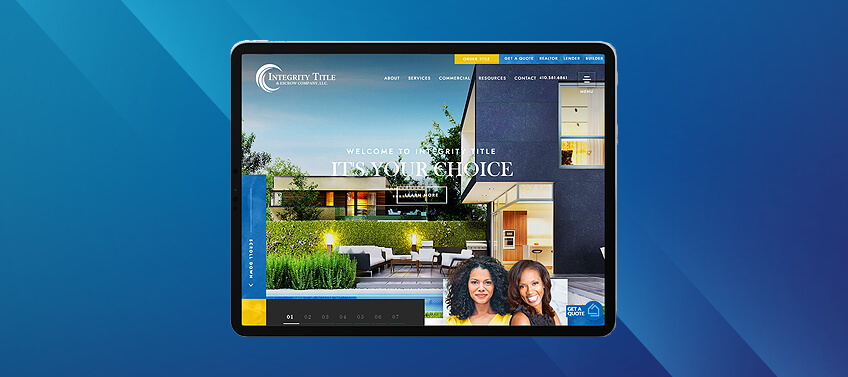 Camden McKay
San Diego, CA
Focusing on the picturesque Rancho Penasquitos community in northeastern San Diego, the Camden McKay real estate team is a group of experienced and talented professionals ready to go above and beyond to help clients accomplish their real estate goals in the area.
There's a lot to love about their website, CamdenMcKay.com, from the silky smooth hover animations and transition effects to the stylish, organized section designs featuring exclusive listings, a map of the different communities, client testimonials, and the contact info page.
Scroll down to find: The site's communities section gives visitors an informative overview on the Camden McKay team's areas of expertise.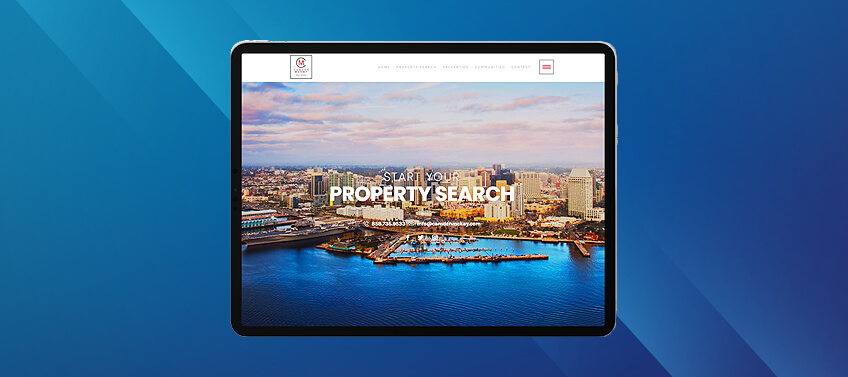 The Firm Commercial
Palm Springs, CA
The Firm Commercial is a team of industry veterans encompassing different real estate markets from San Francisco to Los Angeles, and other areas throughout California.
The team's website, TheFirmCommercial.com, provides users with a highly informative and enjoyable browsing experience, with eye-catching imagery, clean lines, and a polished, professional look and feel. Scrolling down the main page gives visitors everything they need to know in a neat and organized fashion, providing info on the team and its members and offering a glimpse of featured properties and the different communities.
Scroll down to find: The Firm Commercial's Featured Videos gives visitors a detailed overview of featured properties available on the market through drone footage, property walkthroughs, and highlights of unique features and amenities.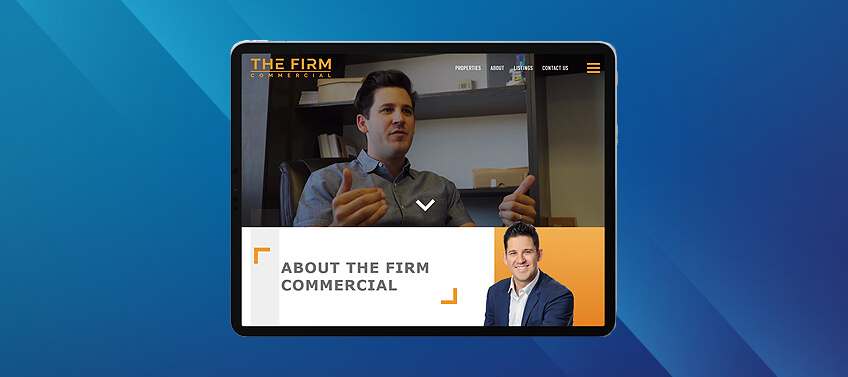 Li & Zahedi Real Estate Group
Vancouver, BC
The Li & Zahedi Real Estate Group's website is a superb example of clean, minimalist web design mixed with eye-catching elements. Focusing on properties in some of the most desirable communities in Vancouver, LZGroup.ca serves as an in-depth resource for home buyers and sellers in the area.
Providing text with accompanying translations in a single website can often be a challenge, but the site passes the test with flying colors, integrating both Chinese and English texts in a nicely balanced layout, without creating that cluttered appearance.
Scroll down to find: The site's Marketing page offers a comprehensive look at the Li & Zahedi Real Estate Group's customized marketing strategies, including listing brochures, 3D floor plans, drone footage, social media advertising, and more.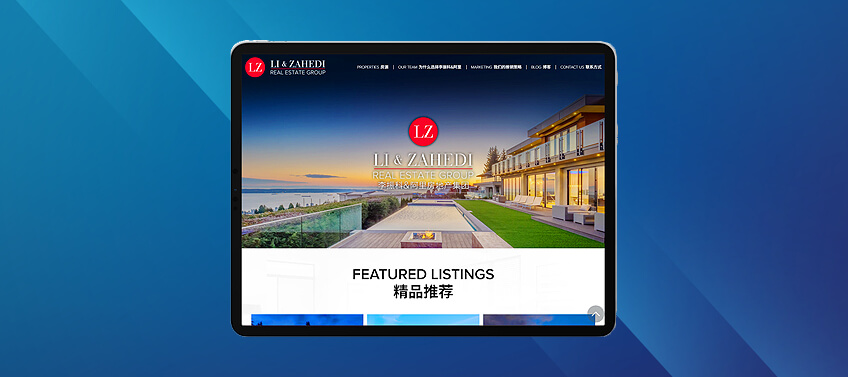 The Leaders Realty
Austin, TX
TheLeadersRealty.com is the perfect representation of Broker/Owner Kristee Leonard's brand: bold, stylish, and elegant.
As one of the top-producing real estate agents in Austin, TX, Kristee takes a bold approach when it comes to representing her clients by utilizing tech-savvy marketing strategies and providing an exceptional level of client service unparalleled by other real estate professionals. Her website, TheLeadersRealty.com, serves as an ideal online resource that complements her services, giving visitors access to a full range of features including professional property videos, home market analysis tools, detailed community profiles, and more.
Scroll down to find: A handy "Search by lifestyle" section, which displays available listings categorized according to property type, complete with an interactive map showing each listing's location.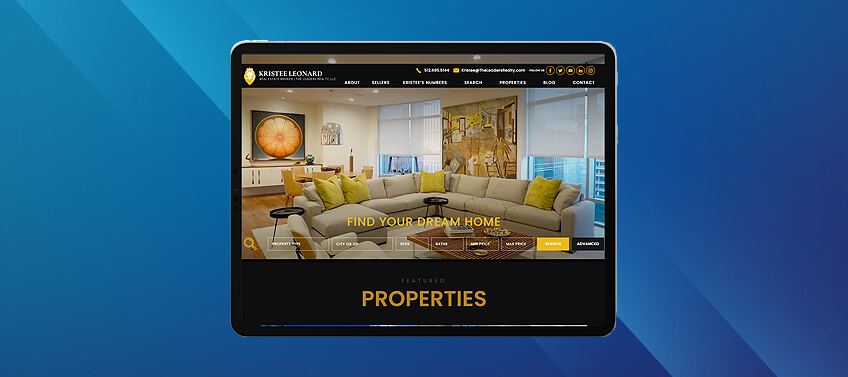 Taylor Estates Group
Frisco, TX
The Taylor Estates Group is a top-producing, award-winning husband and wife real estate team serving Frisco, Prosper, and other surrounding communities.
Their website, TaylorEstatesGroup.com, serves as a one-stop shop for buyers and sellers in the area, providing an insider's look at the different communities along with helpful guides and resources, all within a clean and sophisticated visual package. Each element of the site clicks into place nicely, from the full screen video background intro, the classy navy and tan color palette, the stylish fonts, to the crisp animations, all of which combine perfectly to provide a seamless browsing experience for visitors.
Scroll down to find: The Featured Communities section contains videos that provide a glimpse of each community, including real estate options, amenities, and other highlights.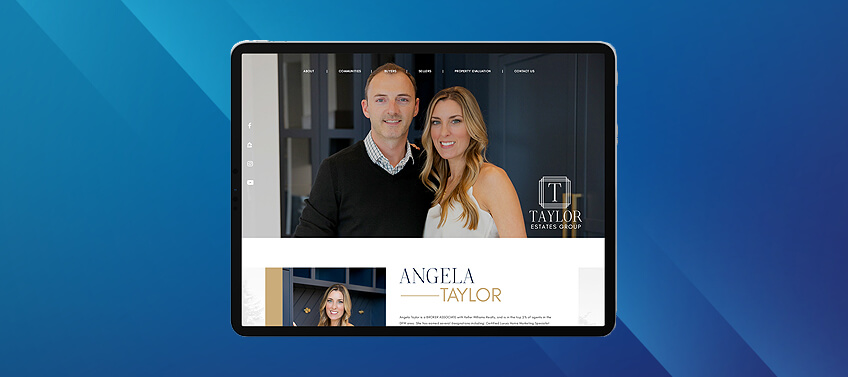 The Navarro Group
Miami, FL
Navarro-Group.com welcomes visitors to the sun-kissed beaches and vibrant destinations of Miami through a captivating video banner, engaging design elements, and a sleek, polished interface offering a user-friendly browsing experience.
Anchored by a classic navy blue and gold color scheme, the website entices viewers to explore its different sections and gather more information about the laidback and luxurious lifestyle waiting for them in Miami.
Scroll down to find: Be sure to check out the media section to find helpful real estate advice and get an insider's look at what goes on in The Navarro Group.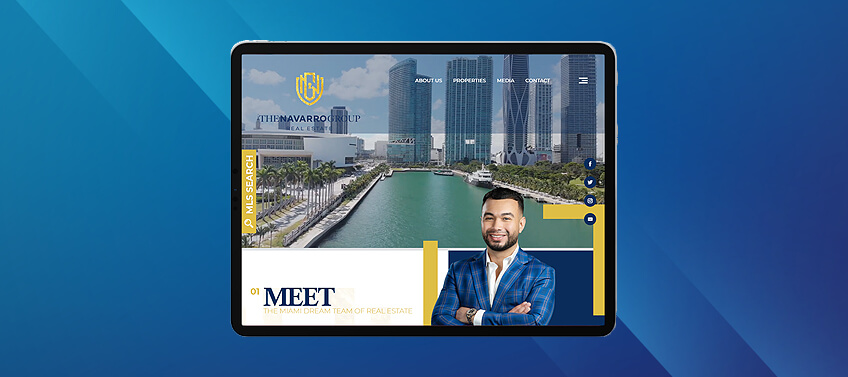 Highlights of the top 10 websites from March
The best real estate websites elevate an agent's brand by giving visitors a glimpse of their personality and the quality of services they offer.
Here's a quick recap of the top real estate agent websites for March 2021:
CorcoranPlatinumLiving.com – Uniquely designed agent bio collage section and informative media highlights page.

TheBeverlyHillsEstates.com – Stylish and bold approach showcasing the team's brand.

TheBattleGroup.com – Emphasis on the agent's use of videos and 3D tours that "tell a home's story."

IntegrityTitleLLC.com – Smooth transition effects and playful yet organized site layout.

CamdenMckay.com – Snappy hover effects, transition animations, and attractive section designs.

TheFirmCommercial.com – Smooth, seamless browsing experience created by clean lines, eye-catching images, and a polished site design.

LZGroup.ca – Nicely balanced minimalist site layout accommodating both English and Chinese text translations.

TheLeadersRealty.com – Bold, stylish, and elegant look and feel that perfectly represents the agent's brand.

TaylorEstatesGroup.com – Clean, classy, and sophisticated look and feel enhanced by strategically placed site elements.

Navarro-Group.com – Impressive video banner, smart color selection, and accessible layout enticing visitors to explore other sections.
A captivating real estate website not only helps agents stand out from the crowd – it serves as an online portal to the services they offer as well as the communities they specialize in.
By working with Agent Image, clients can get a stunning professional website designed to boost their online presence and gain an edge in the increasingly competitive digital landscape. Our experienced and talented team of web designers will be there to assist you during every step of the process, from conceptualization to launch, creating an engaging and intuitive site that perfectly represents your brand.
Get in touch with Agent Image today for a free consultation. Call 800.979.5799 to learn more.
Did you enjoy reading this article?
Sign up for more updates with our Agent Intelligence Newsletter!
We are committed to protecting your privacy.
Real Estate Websites for Agents
Learn which package works best for you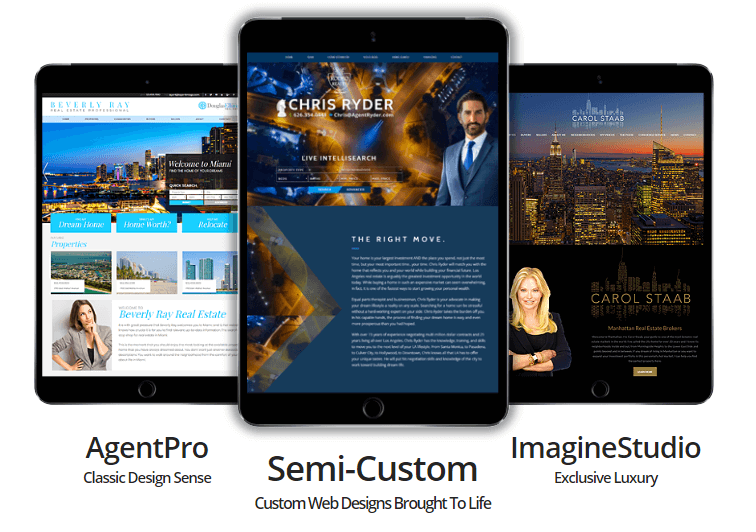 Learn More