10 Best Real Estate Websites for May 2021
With the rollout of vaccines and easing of COVID-19 restrictions everywhere in the US, things continue to look up for the real estate industry. Even as the country prepares to return to the way things were, experts predict that the digital trend, which kept real estate thriving in 2020, has become irreversible and will even intensify in the "new normal."
Whether you're a newly minted real estate agent, an experienced Realtor, or an established brokerage, now is the perfect time to boost your online presence with a beautiful website that will give you a competitive edge.
For inspiration, take a look at the 10 best real estate websites launched by Agent Image in May 2021.
Hilton & Hyland
Beverly Hills, CA
Beverly Hills-based Hilton & Hyland ended 2020 with $3.5 billion in annual sales, a remarkable feat that has cemented its profile as the top-producing boutique brokerage in the world.
Much like the firm itself, the Hilton & Hyland website radiates luxury, with the homepage boasting a minimalist, uncluttered layout that showcases the impressive multi-million dollar properties in their expansive portfolio.
The site puts a premium on substance as well, with the homepage highlighting important information and updates on the firm's considerable achievements.
Best thing about this website: An "Exclusive Properties" tab, which hosts an up-to-date gallery of the firm's luxury listings, featuring high-definition photos and detailed information on stunning, significant homes.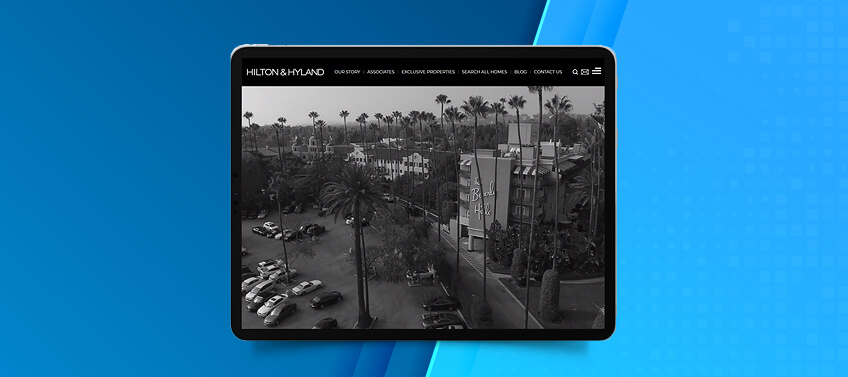 Sally Forster Jones Group
Los Angeles, CA
Considered to be one of the top real estate teams in Southern California, the Sally Forster Jones Group has closed over $8 billion in sales in its 33-year history — a feat that has led to the team's induction into the inaugural class of the prestigious Inman Golden I Club.
Befitting their esteemed status within the luxury real estate market, the Sally Forster Jones Group's website boasts a clean and uncluttered custom layout, with features like parallax scrolling and hover animation providing a vibrant touch. The site's homepage strikes the perfect balance between style and substance by showcasing impressive visuals and the team's equally impressive achievements and services.
Best thing about this website: A comprehensive and informative "Active Properties" section which showcases bold and gorgeous photos of the stunning luxury properties the team represents, with links to the individual, shareable web page for each property.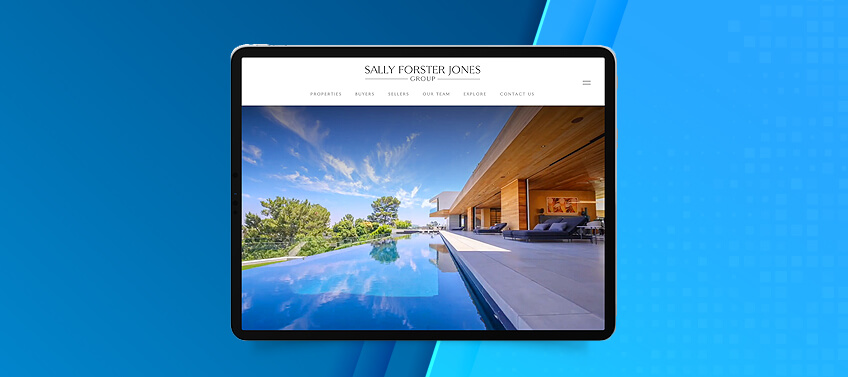 The Pratt Group
Coachella Valley, CA
Offering digital and negotiation savvy, The Pratt Group knows an engaging website is imperative in sending their message across to discriminating clients.
As dynamic as the communities they serve, The Pratt Group's website does not shy away from bold and arresting imagery. The eye-catching homepage makes use of both videos and photos to highlight the Coachella Valley's one-of-a-kind luxury desert lifestyle, with the black background evoking sophistication, and a user-friendly layout making for easy navigation. An "Advanced Property Search" function allows prospective buyers to drill down on their searches by area.
Best thing about this website: A dedicated "Resources" tab, which contains valuable information for new residents, including schools, hospitals, shopping centers, and utilities in each community.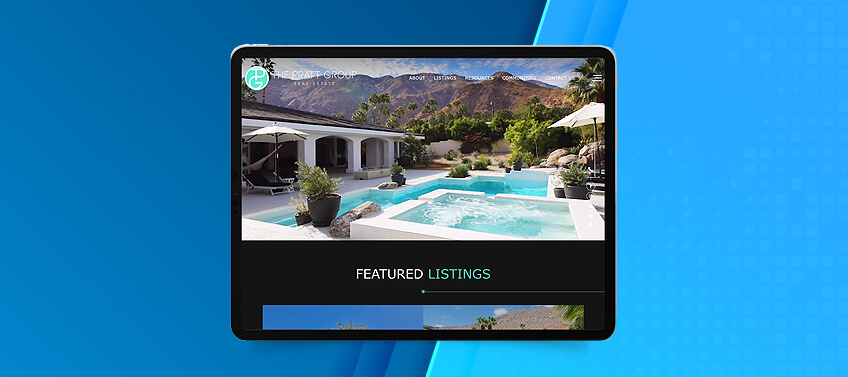 Kelly Martin
Franklin, TN
With its elegant gray and gold palette and a custom layout that puts emphasis on both imagery and information, Kelly Martin's website successfully showcases the agent's expertise in the luxury home and farm real estate market in Franklin, Tennessee.Parallax scrolling and hover effects add depth and layering to the rustic-inspired design, creating a rich and engaging user experience.
Aside from featuring compelling images and videos of the properties Kelly represents, HomeAndFarms.com also boasts a wealth of information and resources, such as updated listings, community pages, and an on-site valuation request form.
Best thing about this website: The consistent use of soft hues and muted tones, as well as gorgeous photos highlighting the country and equestrian lifestyle in Kelly's service areas.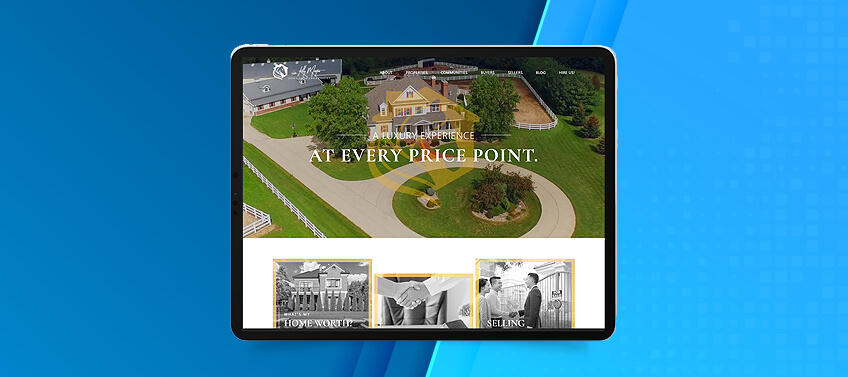 Mick and Tina Homes
Encinitas, CA
Opening with a compelling slideshow of North County Coastal and San Diego County images, Mick and Tina Homes' website sends a clear message to visitors and prospective clients: they mean business.
The site, which uses a classic navy blue and white palette, is easy to navigate despite being loaded with gorgeous images and useful features. The "Community" pages not only showcase beautiful photos of stunning homes, but also allow visitors to readily access information regarding the neighborhoods they are interested in. A "Welcome" video from lead broker Tina Polansky sets a friendly and engaging tone.
Best thing about this website: A "Concierge" section that provides quick, easily digestible information on restaurants and accommodations for visitors. This is especially valuable for prospective buyers who may want to check the area for themselves.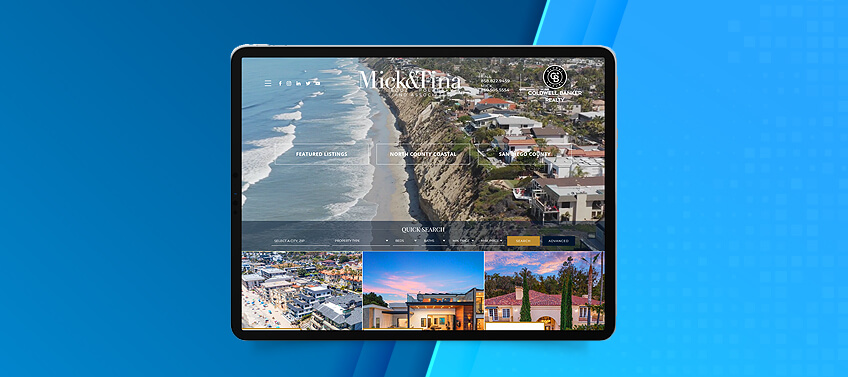 Brandon Bethel
Scottsdale, AZ
Equipped with 15 years of experience in Maricopa County, Brandon Bethel of Fathom Realty knows the ins and outs of helping buyers and sellers meet their real estate objectives in the area.
This dedication and authority are reflected in his website, which is packed full of features designed to inform visitors about the local market and make the home search process easy and convenient.
The "Featured Properties" section is a well-curated selection of listings that can be explored virtually. And because it is IDX-driven, visitors are assured that the listings are constantly updated.
BrandonBethelAZHomes.com also highlights Brandon's relocation services, giving homebuyers and sellers a convenient option when planning their move to or from Maricopa County.
Best thing about this website: A "Media" section, which hosts several informative and snackable videos about real estate in Brandon's service areas.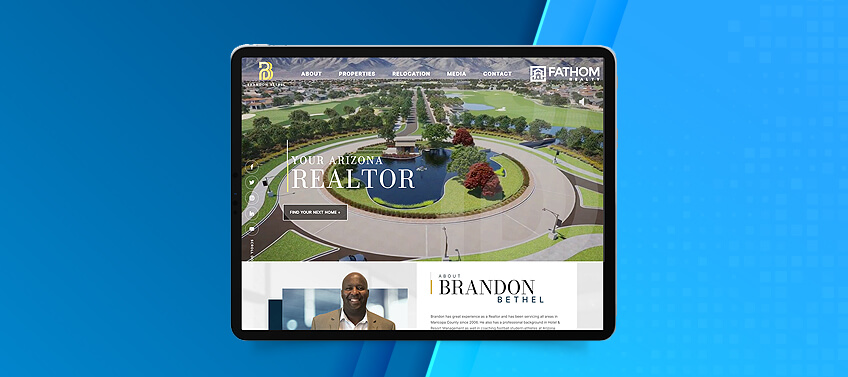 Top Guns Real Estate
Melbourne, Australia
A luxury real estate brokerage based in Melbourne, Australia, Top Guns Real Estate is composed of highly experienced agents with proven achievements and exceptional track records in home selling and property management. The group's focus on delivering exceptional service is evident on their website, which is laid out in a bold and easy-to-navigate manner with a striking black and gold color palette.
The site's homepage features a large, interactive map and a video that highlight the cities and neighborhoods the group represents. A "3-D Open House" section complete with a "Live Agent" allows site visitors to tour the properties the group represents from the comfort and safety of their home.
Best thing about this website: The gold "Quick Search" tab neatly tucked along the right hand border, which expands when clicked to reveal a detailed property search function.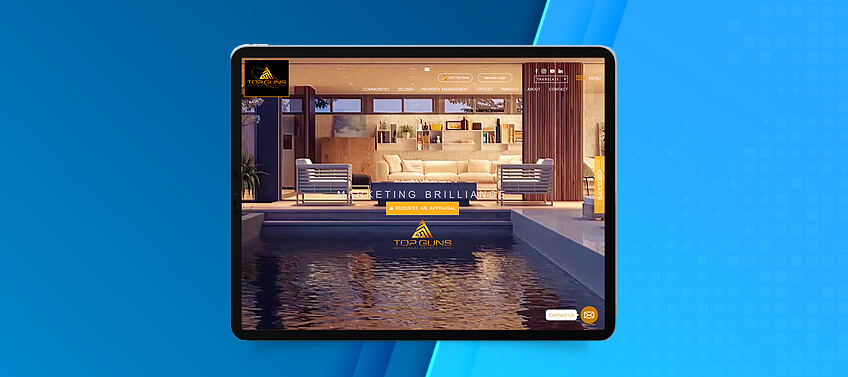 Patrice Serrani
Montecito, CA
A residential real estate professional based in Montecito, Berkshire Hathaway's Patrice Serrani has over 25 years of local real estate experience. She is known for using her market knowledge, advertising acumen, and contract and financial expertise to facilitate a smooth transaction for her clients.
Much like the Realtor herself, PatriceSerrani.com's homepage exudes a charming and open vibe. The video banner depicts the easy luxury lifestyle associated with the Montecito and Santa Barbara communities, and the rest of the home page features eye-catching photos, easy-to-follow links to inner pages, and informative content about Patrice.
With its effective use of negative space, PatriceSerrani.com's layout feels light and airy, which makes sifting through listings a breeze.
Best thing about this website: An aptly named "Helpful Links" section, which contains the contact information of establishments, such as restaurants, hotels, beaches, hiking trails, and other attractions and services in the area.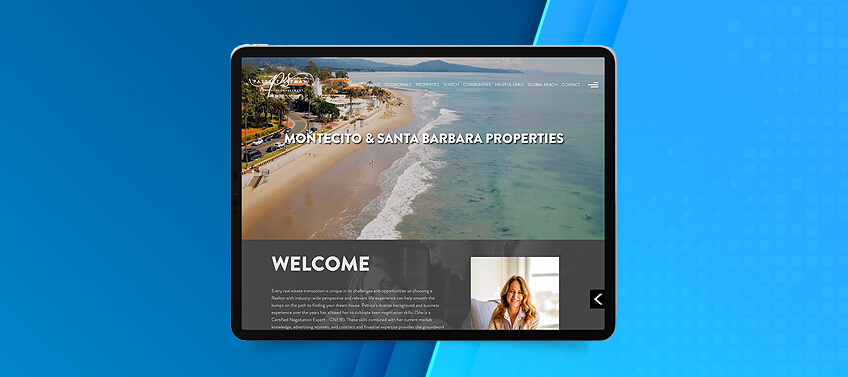 Reese Legacy Group
Hampton, VA
A Virginia-based brokerage, the Reese Legacy Group has dedicated itself to providing only the highest quality service to buyers and sellers alike — all while maintaining a friendly, open, and personal approach.
Led by real estate expert LaShaunda Kay, the brokerage's commitment and dedication to providing quality service and value for money is apparent in its website, which features butter-smooth transitions, a clean and classy layout with a white and gold theme, and gorgeous, eye-catching photography. Dynamic effects provide a contemporary and vibrant touch, including hover animation that integrates the group's logo.
Best thing about this website: The site's "Home Valuation" section is IDX-driven, allowing prospective sellers to get a practical estimate of their property's value, which they can then discuss with LaShaunda and the rest of the Reese Legacy Group.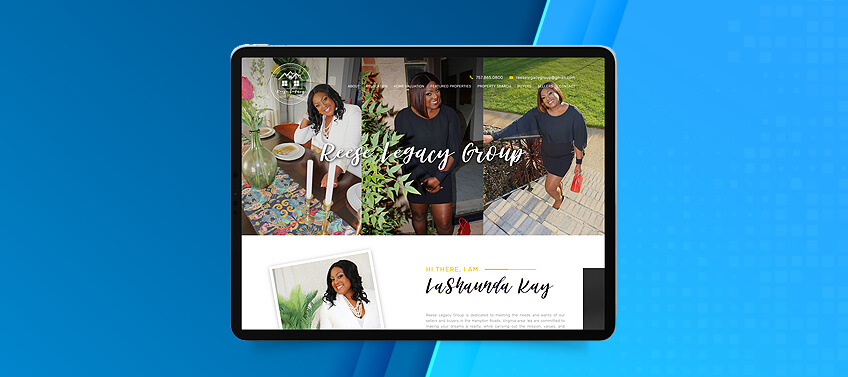 Jesse Garcia
Montebello, CA
Equipped with over 24 years of experience in real estate, Jesse Garcia of Realty Masters and Associates boasts a remarkable track record in delivering topnotch results for his clients.
His website, JesseGarciaHomes.com, reflects Jesse's dynamism, approachability, and professionalism, starting with a video of Jesse welcoming visitors to his website. The custom layout highlights an interactive map, a step-by-step guide to home selling, and eye-catching images. The homepage also integrates reviews from Google, lending credibility and trustworthiness.
Best thing about this website: The website's "Steps to Selling a House" feature, which lays out all the important steps a seller must undertake to get a good deal on their property. The prominence given to this feature emphasizes Jesse's home selling expertise.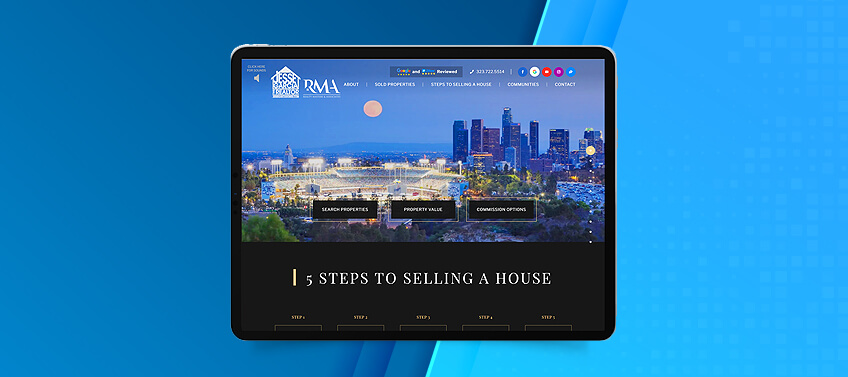 Highlights of the top 10 websites for May 2021
A great real estate website conveys the agent's distinct branding, and subtly communicates their unique value proposition.
Here's a quick look at Agent Image's top real estate websites for May 2021 and why they made it to the list:
HiltonHyland.com – Boasts a superbly designed layout that highlights the brokerage's leadership in its market and its synonymy with Beverly Hills luxury real estate

SallyForsterJones.com – Clean and meticulously designed homepage that strikes the perfect balance between style and substance

ThePrattGroup.com – A bold and arresting website with a well-developed "Advanced Property Search" function and Resources page adding value to users' experience

HomeAndFarms.com – Features a lifestyle-inspired design and distinctive look that effectively conveys the luxury country market the agent represents

MickAndTinaHomes.com – An easy to navigate and feature-packed website that exudes professionalism in every sense

BrandonBethelAZHomes.com – Boasts a minimalist layout and a load of helpful features and informative content

TopGunsRealEstate.com.au – Dynamic and visually stimulating, the website is chock-full of interactive maps and media content

PatriceSerrani.com – Packed with charm and images of the Montecito and Santa Barbara communities, with an easy-to-navigate layout

ReeseLegacyGroup.com – Features a clean and uncluttered layout that allows quick transitions, with dynamic elements that provide an engaging user experience

JesseGarciaHomes.com – Goes all out with its distinctive layout, unique features, interactive property maps, and large, eye-catching images
Real estate success begins with a beautiful website that captures your brand and personality, while providing great value to your clients. Trusted by agents and real estate brokers from all over the world, Agent Image can help you expand your reach, generate quality leads, and increase your sales by creating a real estate website that aptly captures your dedication, influence, and expertise.
Call Agent Image today at 800.979.5799 for more information.
Did you enjoy reading this article?
Sign up for more updates with our Agent Intelligence Newsletter!
We are committed to protecting your privacy.
Real Estate Websites for Agents
Learn which package works best for you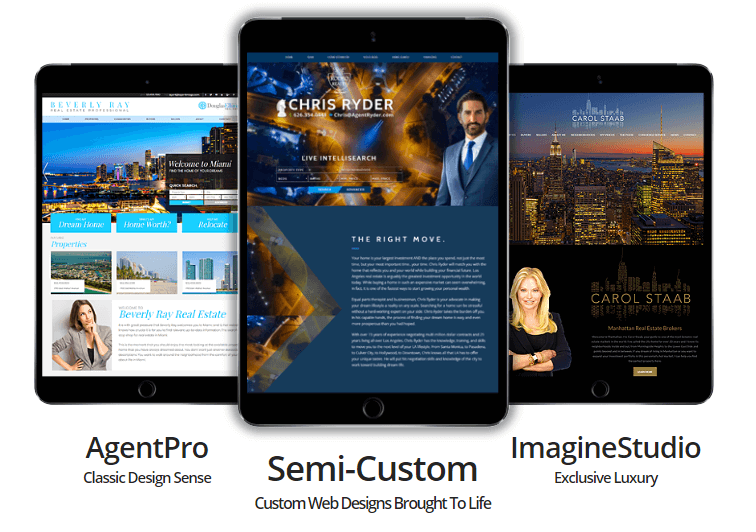 Learn More