10 Websites That Master The Winning Combination of Branding and SEO
Effective branding and SEO go hand-in-hand in digital marketing. It builds your online presence and gives you an edge over the competition. It also showcases your services, strengths, and company values.
Here are some of the best examples of powerful real estate branding through web design, SEO, and content development.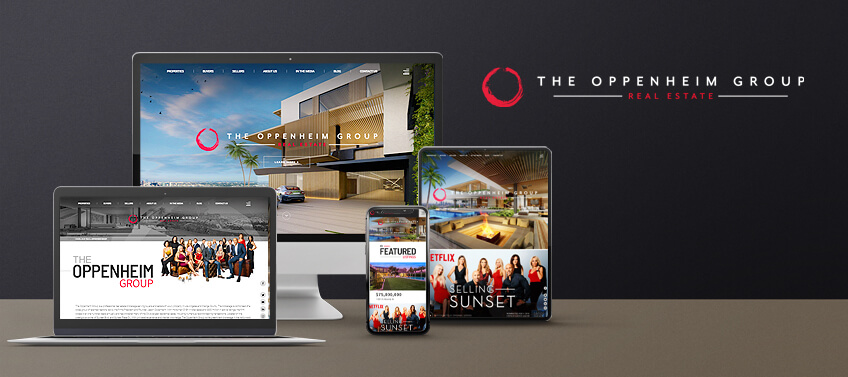 What makes them unique: Best known for their Netflix show Selling Sunset, The Oppenheim Group is the premier real estate brokerage in Los Angeles and Orange County. With over $1 billion in total sales and $300 million in luxury listings, they have a proven track record of delivering results. Founder and President Jason Oppenheim is a thought leader, having been on TED Talks and many other speaking engagements.
Marketing solutions and results: The design strategy for their website, OGroup.com, is simple: Luxury with restraint. Agent Image used a tasteful red, white, and grey palette that evokes the LA landscape. The brokerage's sleek red logo recalls the brand name and the casual elegance for which it stands.
While working with Agent Image, The Oppenheim Group's user traffic increased by almost 5,000%. Agent Images's real estate content became one of the site's 10 most visited pages, which is indicative of improved search visibility and relevance to buyers and sellers. The site also landed a coveted spot on Google's Local 3-Pack, or the top three results for the most relevant businesses in a particular location.
Key takeaways: Less is more when marketing to a luxury audience. Real estate brokerages that want to break into the high end of the market should adopt a more subdued and tasteful approach to web design. They should also invest in high-quality content discussing housing market trends and other relevant information to boost online visibility.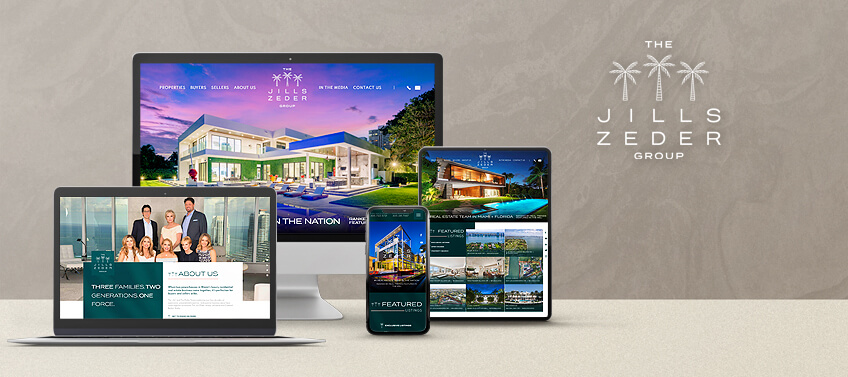 What makes them unique: The Jills Zeder Group is the leading authority on South Florida luxury real estate. Known for landmark real estate sales, the brokerage team reaches ultra high net worth buyers across 43 countries through the Coldwell Banker Global Luxury® program.
Marketing solutions and results: For JillsZeder.com, Agent Image developed a clean and user-friendly layout that makes it easy for visitors to find information. The banner features an image slider that showcases South Florida's finest luxury properties.
Agent Image also worked with The Jills Zeder Group for their personalized agent profiles and the Agent Image True Content Package, which drives conversions through fresh content that markets a brand's values and builds their authority in real estate.
Key takeaways: It's not enough to have flawless web design. It's equally important to update your real estate site with original and high-quality content that drives conversions.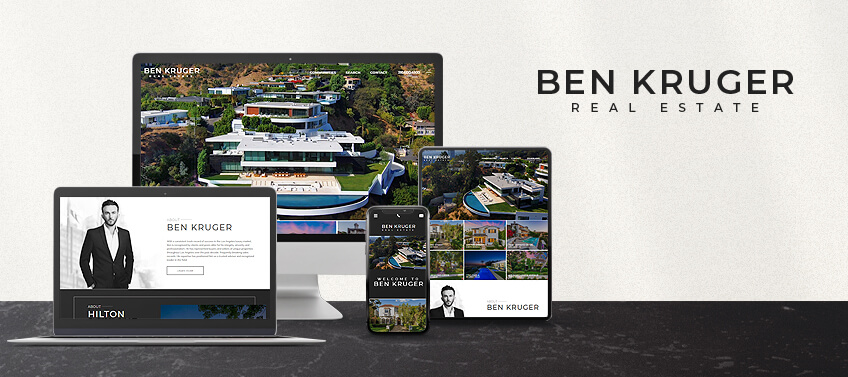 What makes them unique: The image banner for BenKrugerLA.com offers a bird's eye view of Los Angeles and perfectly captures the dynamic quality of the city. The About section introduces Ben and his credentials to build trust. A section on Hilton & Hyland, Ben's luxury real estate brokerage, reinforces the site's upscale branding.
Marketing solutions and results: Ben availed Agent Image's SEO Total package to update the site with monthly long-form blog posts. Keyword-rich blog content can help improve site's rankings. This includes using relevant keywords, adding internal links, readable web links making sure his website is SEO friendly and provides valuable information to buyers and sellers who are still in the research phase.
Key takeaways: Long-form blogs are more comprehensive and engaging than short content. These blogs give you the opportunity to demonstrate your expertise and readers will definitely find them useful. According to Hubspot, long-form content generally has a word count of more than 1,000 words. Long-form content is also a great vehicle for your brand's voice and personality.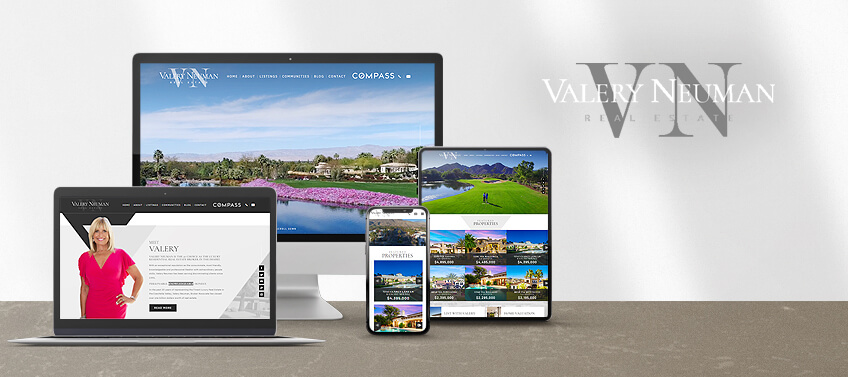 What makes them unique: Valery Neuman consistently ranks among the top selling and listing agents in the Coachella Valley. With annual total sales of $100 million, she has represented some of the Desert's most coveted properties in her 25 years as a Realtor. California's top developers and custom home builders consult with Valery on luxury real estate, land lots, and vacation rentals.
Marketing solutions and results: Agent Image's web design for ValeryNeuman.com features an About section near the top of the page to reinforce her personal branding. A high-quality photo coupled with sharp copy on her credentials as a luxury real estate expert immediately builds trust among site visitors.
Agent Image performed strategic keyword research and analyzed the search behavior of Valery Neuman's target audience in order to publish relevant and high-quality content with targeted keywords. The team also performed technical on-page optimization to improve website performance.
Key takeaways: To produce quality content, it's important to know your audience and find out which keywords they're using in their search queries. And never underestimate the power of technical SEO for superior site performance.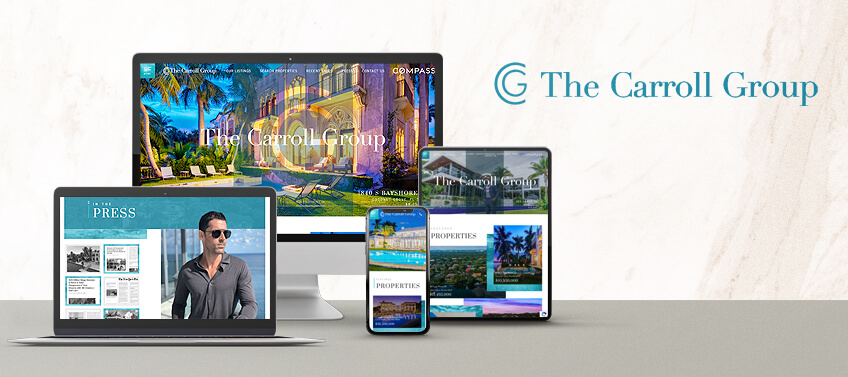 What makes them unique: Chad Carroll is the ultimate power broker with over $3 billion in career sales. He has consistently ranked among the United States' top 50 agents since 2011. Chad and his team utilize geofencing, programmatic advertising, artificial intelligence, and other innovative tools to showcase South Florida and New York luxury real estate.
Marketing solutions and results: Their website, TheChadCarrollGroup.com, features stunning listing photos in the banner. The white, grey, and turquoise color scheme evokes the company's specialization in luxury waterfront homes.
When Chad worked with Agent Image, his website traffic increased by 100% just three months into the project. The team optimized long-form content to increase page views and reduce bounce rate. Overall, the project improved Chad's online visibility, with the site appearing in Page 1 rankings for over 121 keywords.
Key takeaways: Content really is king. Long-form content, in particular, has been shown to increase views and overall page visibility when optimized for the right keywords. Realtors who want to build their online brand shouldn't hesitate to invest in quality content alongside professional web design services.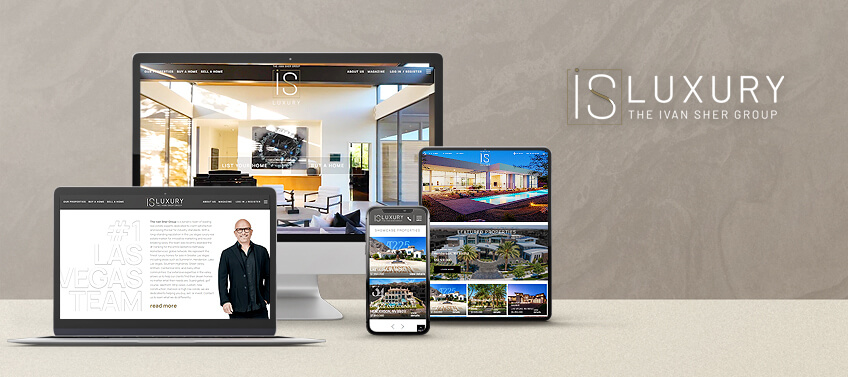 What makes them unique: ISLuxury.com showcases photos of elegant home interiors that convey a sense of privacy and exclusivity. It serves as a counterbalance for the bright lights and casinos for which Las Vegas is known. Ivan Sher does an excellent job of showing visitors the subtler and more elegant side of Sin City.
Marketing solutions and results: Agent Image took charge of the website's SEO migration game plan, which is essential for agents who want to transfer to a new domain or redesign their site. The team made sure that Ivan's site retained its current search engine rankings and visibility despite the change in web link structure.
Key takeaways: If you plan on redesigning or moving your site to a new domain in the foreseeable future, having an SEO migration plan will help you retain all of the results you've achieved through months or years of SEO.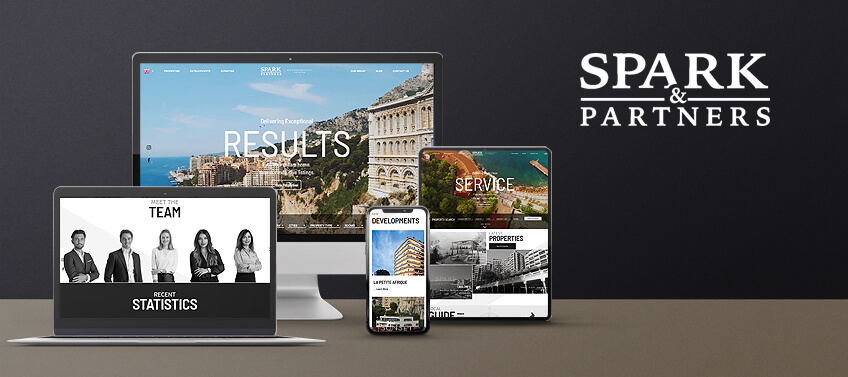 What makes them unique: Few places in the world can match Monaco's luxury real estate market, and Spark & Partners knows it. They specialize in luxury residential properties and vacation rentals in Monaco and the French Riviera. The company brings more than 10 years of experience in luxury sales and purchases in the world's most exclusive markets.
Marketing solutions and results: For Spark-Estate.com, they opted for a sleek design that presents the old world charm of Monaco and France into modern destinations for the jet set. The "local guide" section also makes it easier for international buyers to navigate Monte Carlo and the French Riviera.
Agent Image increased the site's click rate by boosting rankings for navigational and transactional keywords. The team generated relevant traffic by targeting internet users who were in the first stages of buying or selling real estate. The project resulted in Spark & Partners' larger online presence, with 783 organic ranking keywords for Page 1 results.
Key takeaways: To boost your brand in the digital sphere, you need to understand the importance of keywords and search intent. "Search intent" simply refers to the main goal of potential clients when typing certain keywords into the search bar. The search terms they use could signify an intention to buy, sell, or hire a luxury real estate agent.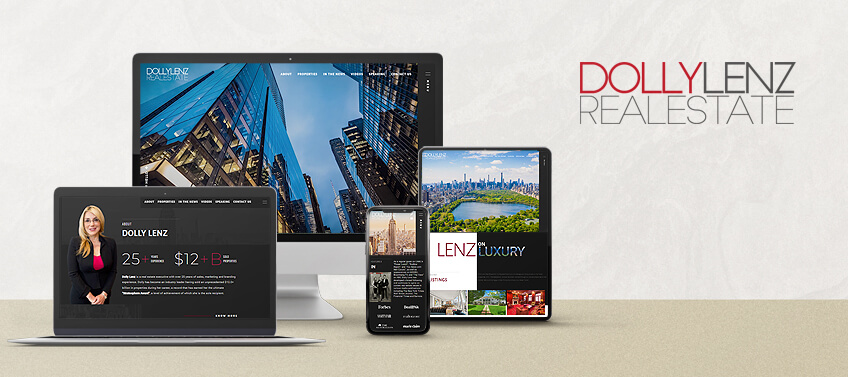 What makes them unique: Real estate executive Dolly Lenz has sold more than $12 billion in properties in her 25-year career. She is best known for hosting CNBC's Million Dollar Home Challenge and for appearing in the documentary series Mega Homes: Secret Lives of the Super Rich. She is also the recipient of the Stratosphere Award.
Marketing solutions and results: Agent Image used photos of New York City's skyline, brownstones, Central Park, and everyday scenes in the Big Apple to give site visitors a sense of place. The video banner also includes clips of Dolly's media appearances to bolster her personal brand and authority.
The project improved traffic quantity and quality for DollyLenz.com. Site visitors also stayed longer, spending an average of a minute and 14 seconds per page. The team reduced bounce rate, making it easier for users to find the information they needed on the site. They also enhanced site performance with quality backlinks.
Key takeaways: When building a real estate site, agents should try to keep site visitors on the page for as long as possible to drive conversions, leads, or business inquiries. To do this, the site should contain and present relevant information as well as keep visitors engaged.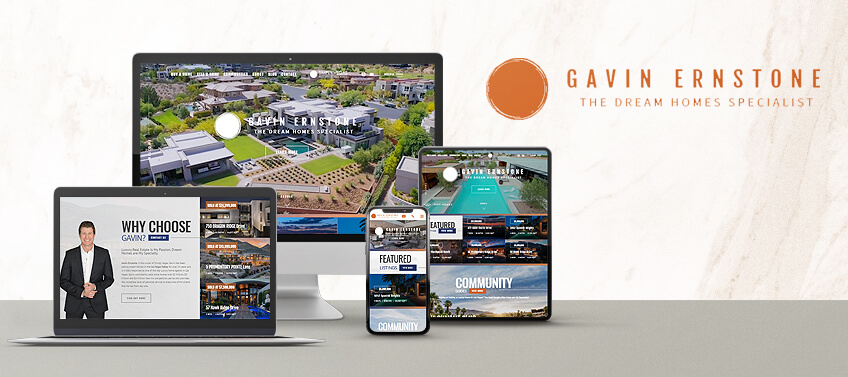 What makes them unique: Gavin Ernstone is "The Dream Homes Specialist" dedicated to helping buyers find the perfect property in Las Vegas. As a luxury real estate agent and owner of Simply Vegas, he consistently sells luxury properties in the $2-4 million price range.
Marketing solutions and results: Gavin availed Agent Image's SEO Total Package, which includes monthly long-form blogs to demonstrate his expertise on the luxury market. The package also fills his real estate site with high-quality content to help visitors find relevant information on Las Vegas and the luxury real estate market.
Key takeaways: Blogging is an excellent way for agents to showcase their knowledge and present themselves as local experts in their communities. It also allows them to provide assistance to potential clients in search of reliable information online.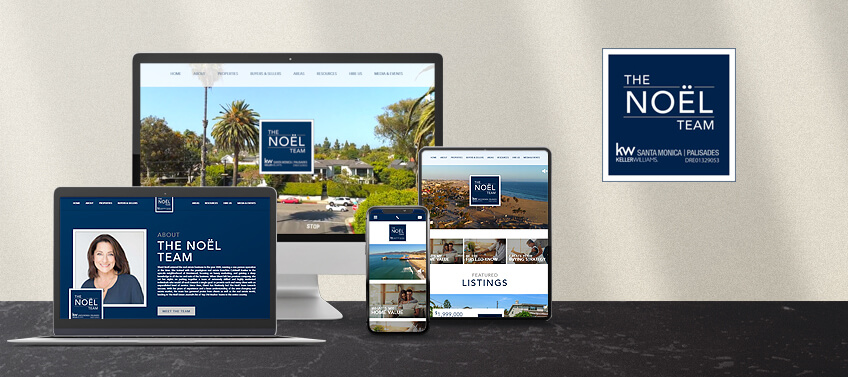 What makes them unique: The Noël Team ranks among the top 250 Realtor teams in the United States. They specialize in luxury homes and rentals in Santa Monica, Pacific Palisades, West Los Angeles, and the surrounding areas. Their agents have extensive backgrounds in luxury marketing and business operations.
Marketing solutions and results: Agent Image improved The Noël Team's brand reputation by verifying the company's official accounts on online directories and citations as well as maintaining excellent ranking for navigational keywords. As a result, 322% of TheNoelTeam.net's searchers are new users with an overall increase with the total number of users.
Key takeaways: Real estate agents should safeguard their online branding by taking ownership of their accounts on directories and citations. Make sure your accounts are verified and that they contain accurate business information.
When done right, real estate branding and SEO are a powerful combination for companies. Real estate professionals should invest in both to build their credibility. If you're ready to carve your online niche, Agent Image is here to help. We design beautiful websites to make your brand shine. Call 1.800.979.5799 or fill in our form to get started.
Did you enjoy reading this article?
Sign up for more updates with our Agent Intelligence Newsletter!
We are committed to protecting your privacy.
Real Estate Websites for Agents
Learn which package works best for you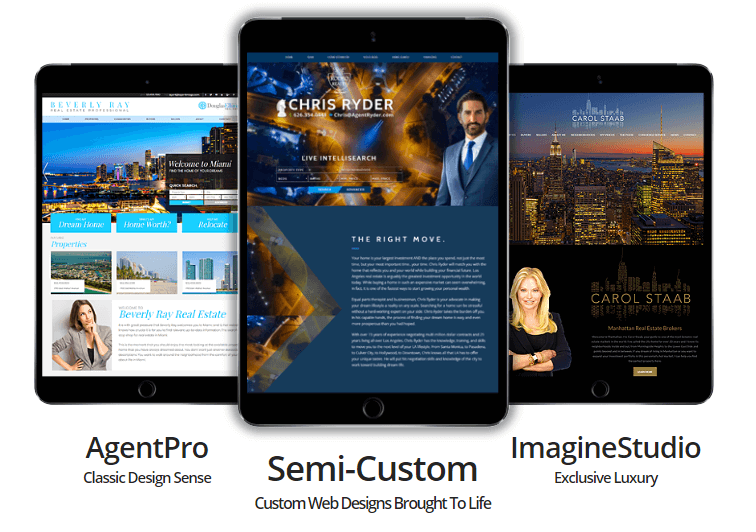 Learn More