5 Tips for ​Using Your Real Estate Blog to Become a Local Influencer
There are millions of people across the U.S. looking for more information about real estate, about home prices, about communities and specific neighborhoods. How are you going to stand out as the go-to agent in your local market? How will you win the trust of buyers and sellers just starting their online search?
You can generate a lot of interest in your site and keep your real estate blog at the forefront of your market by utilizing it as a tool to become a local influencer. And the best part is that it is much simpler to do than you realize. It is as simple as relating your everyday experiences as a real estate agent to your readers – giving your readers the type of information that they want.
Use your blog to tell the type of stories that will hit home with your readers. Here is our list of blog tips that will help you to capitalize on your experiences and expertise to increase lead generation and become an influencer in your market.
#1 Connecting Through Experience
If you take the time to jot down your experiences each day, you will never run out of material for your real estate blog. It can be something helpful like the ins and outs of VA loans (which you helped a client with last week), or it can be something humorous about putting up signs in the neighborhood and discovering a small park nearby. Find the valuable nugget that will help you to connect with your readers through your experiences as a real estate agent.
[Pro Tip: Consider keeping a small notebook in your purse, car or office. The everyday, routine tasks that you perform as a real estate agent – going to an inspection, preparing for closing, showing a home, handling a septic or plumbing problem, the local farmer's market – these are valuable stories that can make you a valuable resource in your community!]
#2 Sharing Knowledge for Free
Real estate is a supremely competitive industry so keeping your knowledge close to the vest is almost reflexive. Yet when you are willing to share your knowledge, your readers appreciate it and will turn to you as a thought leader in the future. There are many areas of real estate that your readers would like to know more about.
Positioning yourself as a local influencer begins with being willing to share your knowledge. Create informative blogs that explain the ins and outs, pluses and minuses, and ups and downs of things like:
Property Appraisals
Contingencies
Bidding Wars
Mortgage Calculations
Escrow
Closing
[Pro Tip: Think about adding a weekly theme to your blog. Perhaps Tuesday becomes "Tip Tuesday" where you talk about real estate related terminology or practices. Setting up a schedule like this can be very helpful in keeping your blogging on track!]
#3 Giving Insights into the Market
Speaking of keeping knowledge close to the vest, your access to market information and how you analyze it is something that you may not be anxious to share with the world. But if you are willing to give insights into the market that will help your clients, you will not only fuel lead generation, but you will also begin building a trusting relationship between you and your potential clients.
Much of what goes on behind the scenes that affects housing prices in a particular area is unknown to the average person. Helping them to peek behind the curtain in your specific service area will put you ahead of your competitors as a local influencer. Create blog posts that discuss:
How unemployment rates affect home prices in your community.
Profile a new industry or business that is bringing in new residents.
Talk about a new center or public park project near your service area.
Share good news or even bad news related to the local housing market.
[Pro Tip: Homebuyers are looking for the most current and accurate information they can find. You have access to this information via your MLS and your personal experience and expertise. Consider a weekly or monthly blog post about the status of your market where you discuss trends and numbers.]
#4 Showing Expertise by Example
Some agents make the mistake of trying to be personable by talking about topics that their readers aren't interested in or that are too far away from the real estate information their readers came looking for. Sure you may make the best banana nut bread in town, but that is not why they are coming to your real estate blog. If you want to be personable while also laying the groundwork to become a local expert, do it by professional example.
Maybe you made some bonehead mistakes when you bought your first house. Share that personal story with your readers while also showing your expertise by example. Say, 'If I knew then what I know now as a professional real estate agent, I would have…' Use your expertise and blend it when with relevant personal back stories to generate useful and interesting content.
[Pro Tip: Another great way to blend personal with professional is to write about local community events and happenings. This is a great way to not only show your activity in the local market, but to become the go-to resource for community information. Homebuyers and sellers want agents who live, work and play within the areas they service!]
#5 Staying Up-to-Date
A key to becoming a local influencer in the real estate market is staying up-to-date. No one wants to come to your blog only to find out it's been months since your last post. In order for readers of your blog to start to believe in you as a true expert and local influencer, your information must be up to the minute and current. Posting a blog about a huge local festival that happened last week puts you behind the game. Schedule an open house the week of the event or blog each day of the week leading up to the event to build a crescendo of interest in not just the event but in your local expertise.
[Pro Tip: Consider adding a calendar to your blog that shares dates for open houses, annual festivals, activities and more. Depending on the size of your market, a "Denton Community Calendar" or "Scottsdale Community Calendar" could have great search engine results as well.]
Need a Hand Managing Your Real Estate Blog?
With every day that passes, there are new challenges arising for real estate agents who are trying to keep up with all that modern real estate sales requires. The more successful you are, the less time that you have to focus on the seemingly small things like maintaining an active blog and robust social media outreach.
The power of maintaining an active blog and website can be unparalleled for lead generation. That is why so many busy real estate agents who simply do not have the time to write and manage their own blogs are reaching out to us at Agent Image to do it for them. Contact our talented team of real estate pros now for a free consultation to discuss how we can give you a hand managing your real estate blog.
Did you enjoy reading this article?
Sign up for more updates with our Agent Intelligence Newsletter!
We are committed to protecting your privacy.
Real Estate Websites for Agents
Learn which package works best for you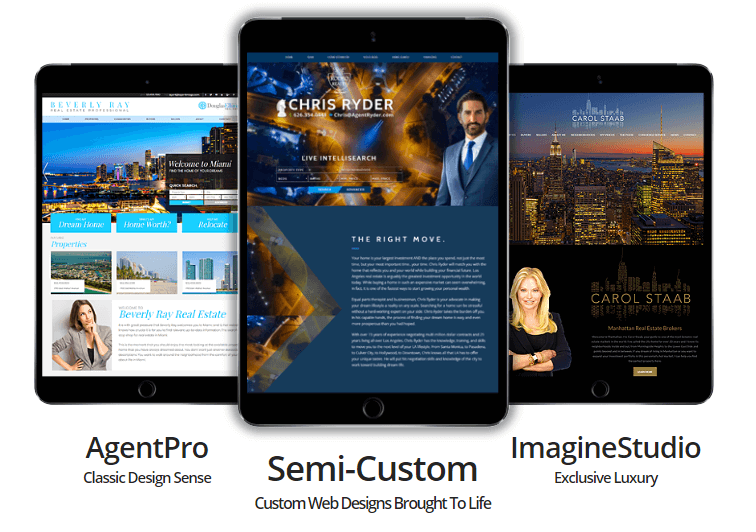 Learn More