Apps for Real Estate Brokers
With the full arrival of the iPad, iPhone and Android tablets last year, we can say that 2011 has been a wonderful Year of the Apps. All the more so in 2012 now that many people have caught on with this technology.
For brokers and real estate agents that are always out staging houses or meeting potential clients, having access to utility and productivity apps on their phones or tablets is very convenient indeed.
Within the over 500,000 apps in the Apple store reside many real estate apps and productivity apps that are useful to the real estate professional:
Mocha VNC ($5.99)
An application for mobile Apple products such as iPhone and iPad, Mocha VNC allows remote access of files and programs stored in your Windows PC or Mac OS X. Its full mouse support and landscape view allows you to view your desktop through your mobile device if you are away from your office desk. With such convenience, you can easily access your listing presentation file quickly, for example, in case you bump into a potential client.
National Association of REALTOR® (NAR) Express (Free)
Containing informative feeds of headlines, special offers and updates for NAR members, NAR Express features easy-to-navigate interface for any real estate agent. Through your iPhone or iPad, NAR continues to be the premier resource of the real estate industry in the US.
DocuSign (Free)
An electronic signature service to let you manage all of your document needs right from your iPad or iPhone. More than just a signature stamper, DocuSign for iPad and iPhone allows you to send documents for signature from your iPad from Google, Box, or even from the camera on your iPhone or iPad; track the status of your documents in real time; and sign any document sent to you for signature through DocuSign.
Analytics HD ($6.99)
Loads into your Google Analytics account so you can quickly check your website's traffic. You can also use it for meeting with clients if you want to show them how their listing pages are are doing online.
Evernote (Free)
A note-taking application for jotting down ideas or notes when in a business meeting with colleagues, organize to-do lists when meeting up with clients, and copy usable Web pages. Accessible through a three-platform gateway, your Evernote profile can be set in sync with your desktop, mobile gadget and Web application. Aside from texts, it can also be used to take photos of items suitable for a house you need to stage or capture a text in a conference whiteboard. The app can also be used to take photos of business cards and store the contact details into your phone. This removes the problem of having to carry around a pack of cards.
RECalc – Real Estate Mortgage Loan Calculator ($1.99)
You can use RECalc to calculate the Monthly Payment, Term, Interest Rate or Loan Amount for a loan, as well as standard mathematical calculations as you would in any other calculator. Once you modify any of the Calculation variables you can re-calculate any of the other values. You can also figure in Annual Property Tax, Homeowner's Insurance and Mortgage Insurance, as well as a Down Payment amount/percentage. You can display the complete Loan Summary and Amortization Table for your calculation and email this to your desktop or save the loan for future use.
iLiving ($2.99)
iLiving is an app for virtual home staging. Through a taken photo of a room or living space, a real estate agent can impose icons of furniture and appliances to simulate a house for selling.
Keynote ($9.99)
An elegant and powerful presentation app – complete with animated charts and transitions — with interface as simple as touching and tapping. This is a must for anyone who sits down with clients on a regular basis.
TeleNav (Free)
Having a hard time navigating through a particular neighborhood or area? TeleNav addresses this problem by making your smartphone into a GPS navigator. It gives out spoken directions, making it a suitable companion while you are driving around the neighborhood.
For more useful real estate apps, check out this article and follow us on Twitter for more blog updates.
Did you enjoy reading this article?
Sign up for more updates with our Agent Intelligence Newsletter!
We are committed to protecting your privacy.
Real Estate Websites for Agents
Learn which package works best for you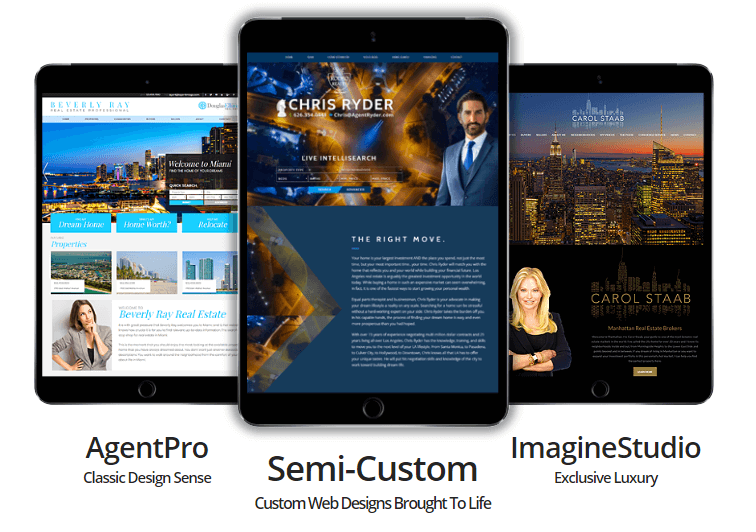 Learn More