Building Your Brand in the Digital Business Landscape: 10 Crucial Mistakes to Avoid
In our previous blog, we discussed how real estate professionals are in an excellent position to double down on their digital marketing efforts while the COVID-19 outbreak keeps a lid on in-person meetings and house tours.
This time around, we're expanding this idea by highlighting the common mistakes that people make when jumping into online marketing. After all, knowing the pitfalls to avoid is just as important as identifying the focal points of your digital brand-building strategy.
What real estate professionals should NOT do when building a strong brand online
Diving in without a plan

Establishing your brand in the online space takes more than just buying a domain. All your efforts should tie into a clear and coherent long-term strategy.

Take into account your goals as a real estate professional. Who are the people you wish to provide services to, and what are their needs and concerns? What are the metrics and indicators that you will use to assess the performance of your business?

Remember to keep all of your plans and decisions on record, so you can have an archive of information to return to when your business needs to adjust.

Ignoring SEO

Having your own website is just one step in creating your online presence. What gets your website noticed by your target audience is search engine optimization. SEO spells the difference between actually being relevant in the vast, constantly evolving digital world and simply being there.

Developing a solid SEO strategy must be an essential part of your digital marketing plans. It will prove to be a worthwhile investment, especially when you entrust the creation and implementation of your strategy to an expert team like Agent Image.

Settling for low-resolution images

High-resolution (HD, Full HD, and 4K) displays are everywhere now—from the most sophisticated TVs at home to the most ubiquitous mobile phones we bring with us wherever we go. Still, many make the mistake of using low-resolution images in their websites and social media posts.

High-quality photography and video content are worthwhile investments to incorporate into your digital marketing strategy. Today's internet users are an increasingly visual audience, so make sure that you're able to impress them at first glance.

Posting blurry images or photos that pixelate when people zoom in for a closer look undermines your perceived ability to deliver quality products and services. While you can't equate shoddy pics with shoddy work, people are likely to think so. And that's a perception you want to avoid. Keep in mind that the devil is in the details.

Not using videos

In addition to high-resolution photos, you should also include high-definition videos in your essential digital marketing toolkit. If you want to catch attention and encourage a higher degree of engagement, you are better off with a short, impactful video clip instead of a static image or blog post.

The modern internet landscape is increasingly visually driven, thanks to high-speed internet connections and infinite-scrolling social media platforms. Video is the perfect immersive medium to maximize these circumstances.

Failing to design for mobile device users

Do you know how your real estate website looks on a smartphone? Does it offer a convenient and satisfying viewing experience on a smaller, handheld screen? How well does it present essential information and features for users on the go?

With 8 out of every 10 internet users logging on via mobile, you have a wide audience to tap into for potential leads. If you are stuck with an outdated website design that is not suitable for use on a smartphone, you're leaving potential customers with an unsatisfying user experience. Generating leads will be a greater challenge if you cannot convince your website visitors that you value their convenience.

This is where having a mobile responsive website design will pay dividends for your business.

Forgetting to share success stories

Publishing regular community guides and market reports helps reinforce your credibility as a local area expert. But while these are relevant and useful content to add to your website, you'll find that real-life success stories are especially useful at this time.

While people have limited opportunities to engage in face-to-face, in-depth conversations, use case studies to provide people with detailed accounts of the kind of service that they can expect from you.

Stories captivate. Stories inspire engagement. And most importantly, stories sell.

Reach out to previous clients and ask them if they can share their experiences of working with you on your website. Write articles about them, ask them to guest-author on your blog, or feature them in specially created video testimonials or interviews. Better yet, make their stories a live event that you can broadcast over a live FaceTime or Zoom call.

Telling stories of your satisfied clients is an excellent way to emphasize your credibility. Don't miss this opportunity to build trust among interested potential clients.

Choosing quantity over quality

Content is important in digital marketing, but there is nuance in creating, publishing, and promoting it. The internet is already loaded with content as it is, and while it's true that you have more to contribute, you also have to practice some restraint.

Keep a close eye on pacing and scheduling when you release content. This gives your followers enough time to appreciate each website update or social media post before you give them a new one.

This also gives you time to ensure that the quality of content that you release consistently meets your high standards. If you need to take more time before unveiling a remarkable think piece, then by all means, take your time. Groundbreaking content will gain more traction for your brand, after all.

Posting on social media just to get likes

In a similar vein, be mindful about what you share on your social media profiles. Always consider whether you are adding value to your digital brand with an informative, valuable post, or if you are simply riding the popularity of trending topics and memes to catch people's attention.

Remember that you're in the business of making other people's lives better. Use social media content to address the problems and concerns of your target audience, not just to draw attention to your business or yourself.

Avoid resorting to counting likes, comments, and shares as a measure of your digital marketing efforts' success. While these numbers are useful information, these are inadequate metrics—even misleading, when you consider the main purpose of your real estate business.

Rushing into generating leads on social media

When using social media, it's easy to get excited about the instantaneous exchanges you can make with prospects. Avoid falling into the trap of asking for their commitment too soon while chatting or responding to comments.

Engage, build a relationship, and establish trust first and foremost. Be patient and you will find the ideal level of comfort where the potential client will be most willing to proceed.

Failing to offer clear calls to action

While establishing your brand in the digital space involves presenting useful information and resources, you must also incorporate effective calls to action. What makes website design, content creation, and social media engagement excellent is when the user is compelled to take another step forward after reading or viewing what you have just offered.

You can achieve this by making your website easy to navigate. Use clearly defined buttons or prominently displayed copy. When your readers know where to go or what they can do next, they will maximize their experience on your website.

Bring your A-game to the digital business landscape with Agent Image
Whether you are venturing into digital marketing for the first time or looking to upgrade your website to maximize your existing online presence, Agent Image is the ideal partner to work with. Our website design and digital marketing specialists will offer you the insights that you need to strategize, as well as the skills necessary to turn your vision into reality.
Explore our real estate website packages and internet marketing solutions today. Contact us here to learn more.
Did you enjoy reading this article?
Sign up for more updates with our Agent Intelligence Newsletter!
We are committed to protecting your privacy.
Real Estate Websites for Agents
Learn which package works best for you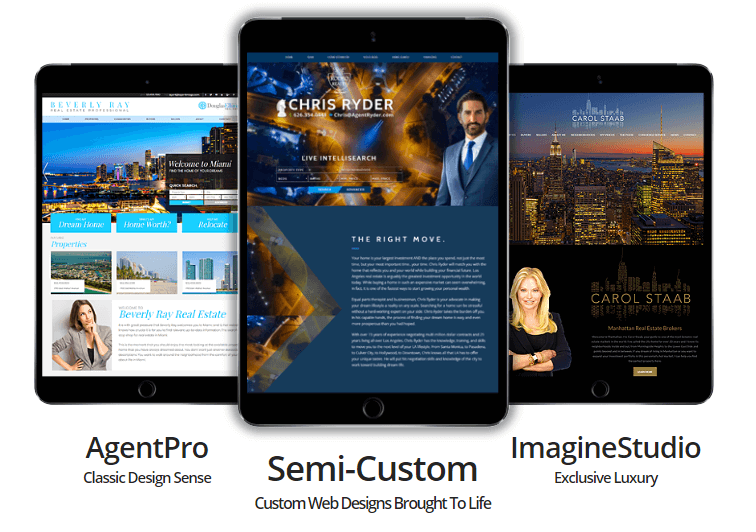 Learn More