The World Just Went Digital. Is Your Brand Ready?
City-wide shutdowns. Shelter-in-place orders. Indefinite bans on face-to-face interactions. The past few months have truly been far from normal with the novel coronavirus disease (COVID-19) catching the entire world by surprise.
More than just being a major threat to public health, the coronavirus outbreak has also become a catalyst in reshaping economic and social landscapes. With most people forced to stay indoors and limit close contact with one another, even businesses have been taking a huge hit.
Real estate is no exception. Restrictions on in-person meetings and house tours are making both Realtors and their clients reluctant to do business. But this doesn't have to be the case.
Digital technology has become the great enabler during these unexpected hard times. By now you've seen the many ways it has helped people cope—from making remote work and video conferencing possible, to offering multiple forms of worthwhile, high-quality entertainment.
For real estate professionals, the sudden shift of day-to-day activities to digital platforms opens new opportunities to make a strong and lasting impression. How is your brand making a mark in today's increasingly digital world?
What it means to establish your brand in the digital space
Have you ever tried googling yourself? What came up at the top of the list of results? Are you happy with what you found?
Now imagine if potential real estate customers were the ones doing the research on you. Perhaps you were recommended by one of your previous clients. Are you confident that what they will find when they look you up?
And how about customers who are simply researching real estate professionals operating in your area. How easily will they find your name when they do a quick search?
Everyone is using the internet to find answers and achieve results these days. The best, and often easiest, way for people to learn about who you are and what you offer as a real estate expert is by doing their own research online.
While open houses, listing appointments, and even casual lunch meetings are currently prohibited, making a positive and lasting impression on current and prospective customers is a challenge now more than ever.
Perhaps even trickier is making sure that you are visible enough and that you stand out from a crowd of competing agents in your location.
Establishing a strong online presence allows you to address all these concerns efficiently and elegantly. When your professional real estate website and social media profiles are on point about your brand, you will barely miss a step in this new business landscape. In fact, you are setting a course toward generating significant mileage for your business.
How to keep your brand relevant in the digital business landscape
Now that you have a better idea about how to thrive in the new normal, it's time to plan and strategize how to build your online presence.
Start on your path to success with these five essential brand-building tips:
Invest in a feature-packed and well-designed website

The perfect website is more than just a platform for your business. It should also represent your best qualities as a professional and as an individual.

Think of your website as your avatar in the vast and ever-expanding digital landscape. Remember that you are not alone in this space. Joining you here are hundreds of other real estate professionals serving the same area, property type, or target market. Your goal is not to share this digital space with them, but to stand out above everyone else.

Because of this goal, your website should be recognizable, memorable, and impactful. When people search online, yours should be the first link they will see.

More importantly, your website should be the one that keeps them interested and engaged the longest. Even if they leave to review other search results, your website has succeeded if it has created enough of a positive impression to merit repeat visits.

The key to making this happen is to make your website a genuine extension of who you are and what you do. Write relevant, informative content that "speaks" in your voice. Incorporate attention-grabbing design elements—color schemes, layouts, graphics, typefaces, and more—that mirror your personality and the area that you represent. Integrate powerful tools that give potential customers a glimpse of the services that you can offer.

More than just being professional, your website must also be as genuine and authentic as you are as a person. This way, you capture the air of authority that you need to express as an industry expert, while also conveying a sense of relatability that makes customers feel comfortable about trusting and working with you.

Exhaust all available tools for online marketing

Having a website up and running is only the beginning of an ongoing commitment to a strategic digital marketing plan. Use both organic search engine optimization (SEO) and pay-per-click (PPC) advertising to your advantage.

SEO is an essential tool that real estate businesses should leverage when operating in the digital marketplace. It is a complex system of processes and techniques that will help your website rank better in search engine results, enabling you to reach the audience you want to target, as well as generate more leads to sustain your business.

With strong SEO practices, your website will attract more relevant visitors organically and keep them engaged with a helpful and satisfying user experience. If you want to make your brand stand out in your market for the long term, SEO will help you make it happen.

If you prefer a more aggressive and more targeted approach to drawing interest in your real estate website, turn to PPC ads. Newly constructed websites tend to benefit from dedicated PPC ad campaigns that complement the website's integrated SEO strategy.

If you are not familiar with these online marketing tools and strategies, there's no need to worry. Agent Image is committed to elevating the experiences of real estate professionals who want to succeed in the digital marketing landscape. Simply reach out to our design specialists anytime for a free consultation that will answer all of your burning questions.

Make smart use of your social media networks

Notice how we're using our Instagram posts to make this article a richer experience? This is just one example of how your website and your social media channels can complement each other.

Another smart way to maximize the reach and influence of social media is to use it as a platform to promote your website and its rich features.

Your social media posts may be the way for people to discover your professional website. This is why curating your social media content is just as important as maintaining a solid strategy for your website.

When you create compelling content for your real estate website, give it a significant boost by sharing it on social media. Whether you wrote an insightful blog post about the state of your local real estate market or created a brief video showcasing your latest featured listing, this brand new content has a place on your Facebook, Twitter, Instagram, or LinkedIn feed.

You are likely to increase your views and potential client engagement this way, with 7 out of 10 Americans signed up on at least one social networking site.

Chances are, social media activity has increased since lockdown orders were implemented, as well. Take advantage of this opportunity to spark genuine conversations with your followers. Here's your chance to cement your place as the leading authority for your area's real estate and local community information.

Keep your online "identity" consistent

When you jump into the digital business landscape, you will have a multitude of powerful tools at your disposal—from your social media profiles, to the professional website that you put together, not to mention the various design elements that you choose to include in it.

With so many different moving parts, consistency is essential to run the entire operation like a well-oiled machine. To create, sustain, and grow brand awareness for your business, consistency should always be high on your list of priorities.

Consider the language that you use when you create original content for your website and posts for your social media channels. Do you "speak" the same way on both platforms? Whether you prefer to maintain an air of serious professionalism or a more casual, laid-back character is entirely up to you. What's crucial is that you stick to your choice as soon as you make it.

Colors, typefaces, and visual elements speak their own language, too. Remember this when you create graphics or video content to share on both your website and social media. The identity you express on one platform should be consistent with the other.

Make research a constant practice

As in any other project you get involved in, research is the best way to begin. The more you know at the start, the smarter the decisions you'll make as you progress.

Before you assemble the elements, tools, and content that you want for your professional website, identify the sources that inspire you. Look into the work of industry experts and mentors that you trust. Build on everything that you've learned from them and create something that you can call your own.

Once you have established a firm foundation, keep researching and adapting based on what you learn.

As your digital brand fuels the growth of your business, maintain your habit of researching, as well.

Remember that the real estate industry is dynamic and always competitive. It takes effort and commitment to rise to the top. The same can be said about staying there.
Ready to build your online presence? Contact Agent Image today
Are you jumping into digital marketing for the first time? Agent Image is the ideal partner that will get you started on your brand new path to success. Contact our design experts today and learn more about the real estate website packages that you can choose from.
Already have a website? Agent Image can help, too. Reach out to us to learn more about how our real estate internet marketing solutions will elevate your online presence.
Whatever your need, let's start a conversation today. Our insightful digital marketing specialists are on hand to listen to your story.
Did you enjoy reading this article?
Sign up for more updates with our Agent Intelligence Newsletter!
We are committed to protecting your privacy.
Real Estate Websites for Agents
Learn which package works best for you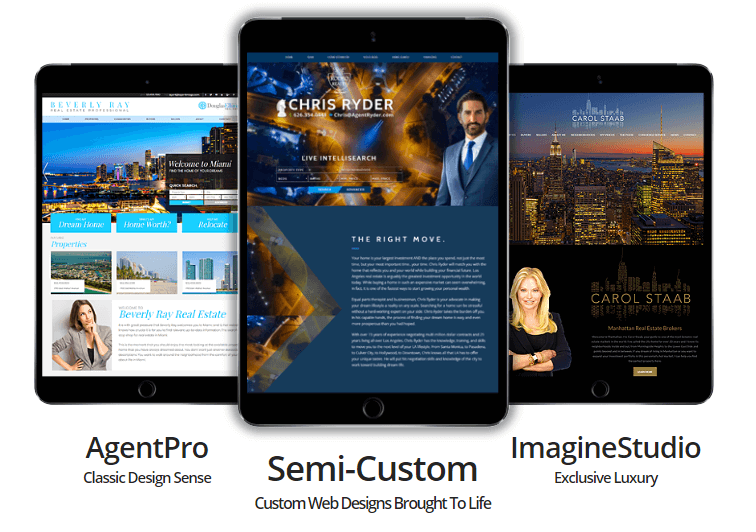 Learn More