Expert Strategies on Creating Effective Website Calls-to-Action
Imagine your real estate website's home page or landing page as a virtual storefront. You want it to look as attractive as possible so you can grab people's attention and entice them to step inside and browse your wares.
An eye-catching facade, however, is just one part of the equation. Unless you're running a roadside attraction, the goal isn't simply to get people to enter – it's to get them to buy what you have to offer.
This is what a call-to-action (CTA) in a website is for. It's a digital marketing tool specifically designed to convert website traffic into leads, and ultimately, into clients. An effective CTA motivates a site visitor to take immediate action – whether it's to buy a home, get a free estimate, sign up for your mailing list, or give you a call.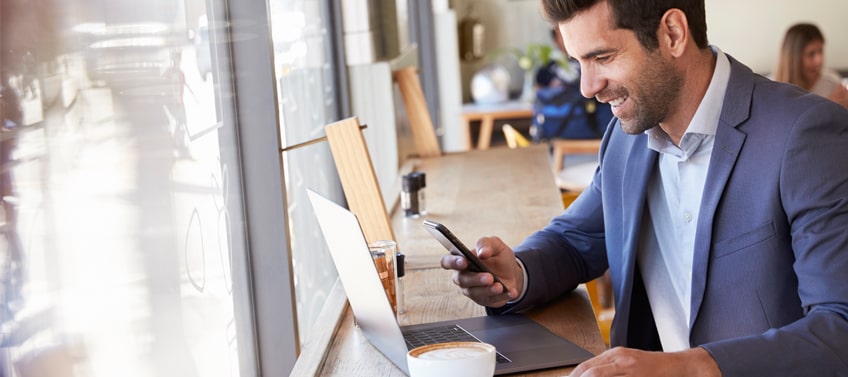 While it might sound pretty simple and straightforward, crafting a compelling CTA can be a challenging task. You need to find the right balance between convincing site visitors to take action and not coming off as too forceful.
4 Main Ways to Use a CTA
In a real estate website, a CTA typically covers the agent's services, as well as the properties and communities they specialize in.
Some people think that all they have to do is insert the same CTA in every section of their site or at the end of every blog article, and they're good to go. But there's more to it than that.
The most effective CTAs use different angles to appeal to users' specific interests in order to motivate them to take action.
Below are four main goals to consider for your strategy.
CTA Strategy #1: Retain visitors by guiding them throughout your website
You want your visitors to spend more time browsing your site and exploring its different sections. CTAs like "Head to this page,""Start your property search," "Discover how to," or "Read more here" create a seamless browsing experience for visitors, and help them find what they're searching for more easily.
Well-placed CTAs serve as a bridge to other sections or topics visitors might be interested in as they navigate your website.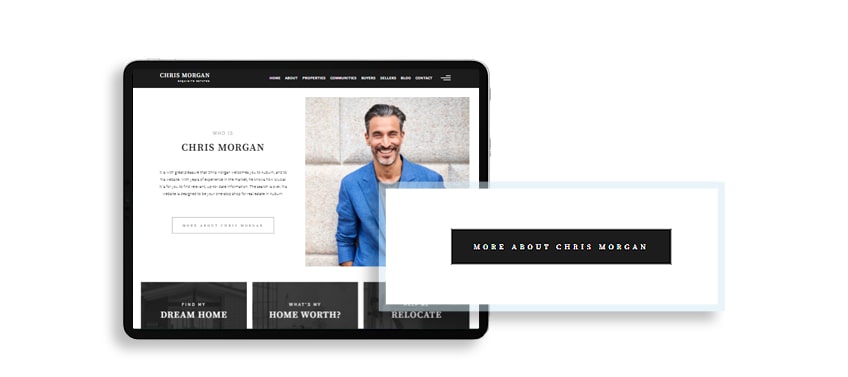 CTA Strategy #2: Create opportunities to engage with your website
"Find out how much your home is worth" or "Find your dream home" are examples of CTAs that can trigger a visitor's curiosity. Creating intrigue by telling visitors that there's more for them to discover will prompt them to take further action.
Without divulging details, a compelling benefit-oriented CTA convinces visitors that they can get something of value if they click on a link or button, which creates a little bit of suspense.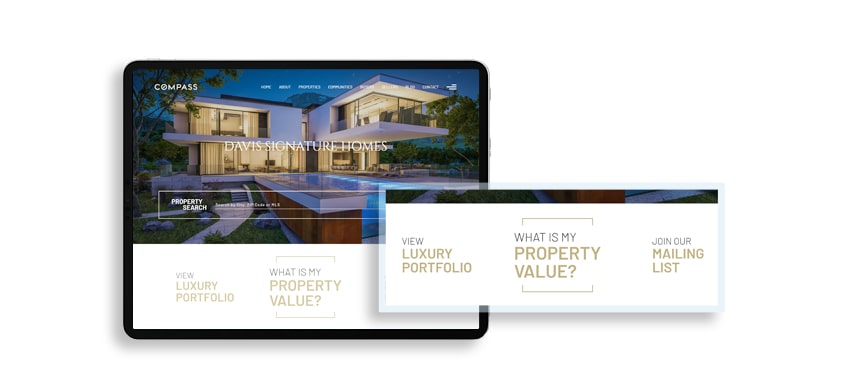 CTA Strategy #3: Get the visitor to request more info about a listing
While you want your website's listings section to be informative, creating opportunities for visitors to validate their interest in a particular property can be a smart move. It serves as a way for you to identify potentially serious buyers. And as they'll need to share their personal details to get the information they seek, it's also a great strategy to acquire a substantial lead.
Make sure to include CTAs like "Schedule a virtual tour," "Request more info," or "Book a schedule" in your listings.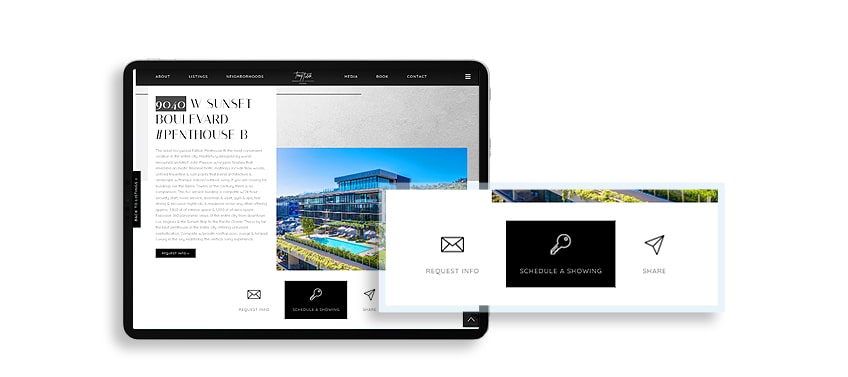 CTA Strategy #4: Encourage visitors to get in touch with you
This is one of the main functions of a CTA. You want to get a site visitor to contact you so you can connect with them personally, ask them questions, find out what they need, and tell them about the services you offer.
Additionally, it presents a great opportunity to lead them to your website's contact form. One of the easiest ways to gather leads is by streamlining the process, which you can do by simply placing buttons that allow users to call, send an email, book an appointment, or follow you on your social media channels.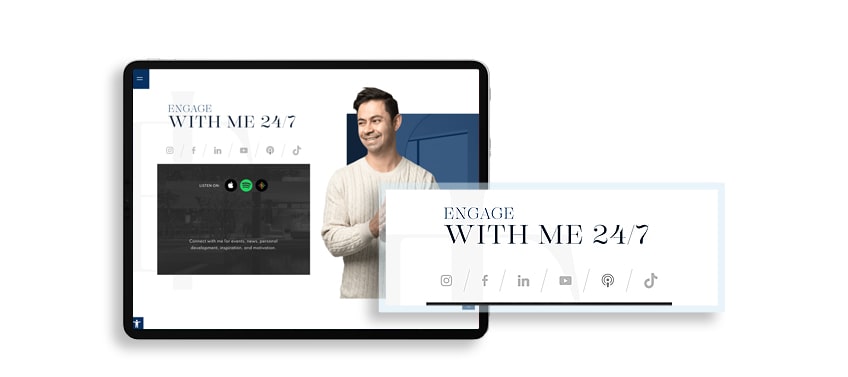 Create an engaging CTA with these helpful tips
The most effective CTAs are catchy, concise, and convincing. Here are some tips to help you create CTAs designed to deliver results.
CTA Tip #1: Use strong command verbs
Make sure your CTAs deliver a clear and concise message. Once you have your audience's attention, it's important to make sure they know exactly what to do next.
Strong, direct-to-the-point phrases such as "start your search," or "find your dream home" can be quite compelling for visitors planning to buy a new home. If your aim is to capture leads through requests for additional information, try giving directions like "discover how…" or "fill out this form to…"
CTA Tip #2: Keep your visitors' goals in mind
What's in it for your site visitor? Will it make their home search easier? Will it help them get a better offer for their residence?
An effective CTA addresses what your site visitors are looking to accomplish. For example, if homebuyers are your primary clientele, then make sure your CTAs "speak" to buyers and their needs.
With your sights set on your clients' goals, you can start creating and testing your CTAs. Work with your website designer/developer in adding your CTAs at the right places on your website and social media platforms. By delivering a consistent message throughout your marketing efforts, you're able to optimize the effectiveness of this marketing tool.
CTA Tip #3: Include your unique selling point
As a real estate agent, your unique selling point (USP) plays a significant role in your entire marketing strategy. Integrating your USP into your CTA is one way to help you increase your leads.
If you specialize in vacation properties in Colorado, for example, an effective CTA-USP combination would be something like "Find your dream vacation home today with the help of the top Colorado real estate expert!"
By including your USP in your CTA, you're effectively highlighting your advantages over the competition, while telling your clients why you're the right person to help them accomplish their goals.
Although there's really no "tried-and-tested" method to crafting an effective CTA, keeping your target market in mind while creating multiple opportunities for engagement throughout your site will help you convert more leads into customers.
For more tips on how to create an effective CTA, check out our previous blog post here.
Create a compelling CTA for your website by working with Agent Image!
Our team of real estate website experts at Agent Image can help your website generate more leads through engaging, professionally written CTAs. Get in touch with us at 1.800.979.5799 or send us a message here.
Did you enjoy reading this article?
Sign up for more updates with our Agent Intelligence Newsletter!
We are committed to protecting your privacy.
Real Estate Websites for Agents
Learn which package works best for you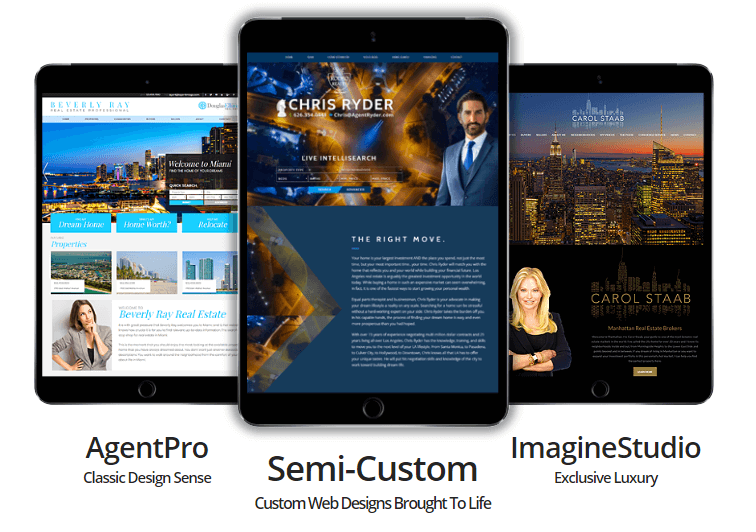 Learn More