How to Launch a Website The Right Way: A Guide For The First 30 Days
There's a famous line from the film Field of Dreams that goes: "If you build it, they will come."
While this quote might ring true, it doesn't necessarily apply to real estate websites. No matter how beautiful and user-friendly your new site is, it's competing against literally 1.7 billion others on the world wide web.
If you want to generate website traffic — and therefore leads — there are a few things you should do to get your site off to a good start.
Give your site a once-over
After weeks of development, your website is finally ready to launch. When it does, however, you'll want to give it a thorough review just to make sure everything is in order. This includes checking that all pages are present, verifying that internal links work, and proofreading the copy.
Another important and oft-forgotten step is checking how your site performs on mobile devices. If the developer utilized responsive design, your site will automatically optimize its presentation and navigation to suit smaller screens. At Agent Image, we do a full walkthrough once a website is completed but before it officially launches.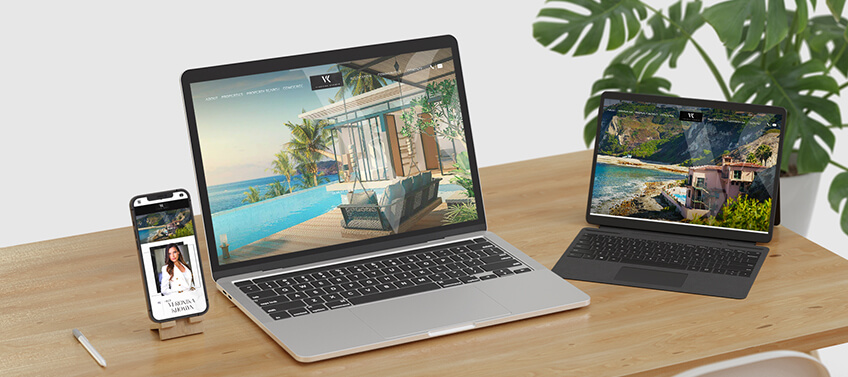 Be patient
Just because your website has been published doesn't mean it will be publicly accessible immediately. After all, it can take up to 72 hours for your site to be available through your own domain. And if you search for your team or business name online and get no results, don't panic — it can take Google a few days (or even weeks) to fully crawl and index your site and its content. Furthermore, search engine optimization (SEO) can take up to six months to fully hit its stride as you can no longer game the algorithm to pole-vault atop search results; you'll have to do it the right way by constantly delivering relevant and high-quality content. During this crucial time, it's important to use other means like social media or email to let your network know about your new website.
Keep your content fresh
Your website is a living digital space that continually evolves. For instance, you'll have to constantly update it whenever you add or remove a listing. You also need to add new pages whenever you post a blog. Fresh content can boost your SEO ranking, too, as your website will be more frequently indexed. Hence, ask your project manager for a quick tutorial on the content management system (CMS) that powers your site. And if you don't have the time (or inclination) to do things yourself, don't fret — most website developers can update your site as part of its web maintenance package.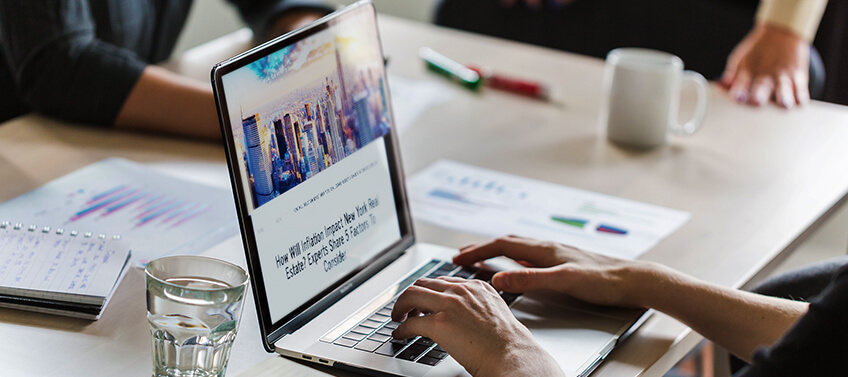 Upgrade your SEO regularly
SEO is not a one-and-done deal; like all marketing strategies, you need to update it constantly. This is vital for two reasons. First, Google constantly tweaks its search engine algorithm, so today's SEO best practice can be obsolete tomorrow. Second, people's search behaviors change over time especially given the current pandemic. If you do virtual open houses but your website isn't optimized for this keyword, how will people know you offer this service?
Integrate website forms with your CRM
Between meeting with prospects, organizing open houses, and negotiating deals, you've got a lot on your plate. Fortunately, a customer relationship management (CRM) system can take a load off your shoulders by keeping track of communications with both current and potential clients. When you update your website, though, make sure your CRM is properly integrated or else messages sent through contact forms and chatbots won't go through. Different CRM platforms have different integration options, so be sure to ask your web developers about the best one.
Share it on social media
Your Facebook, Instagram, and Twitter pages aren't just for announcing your newest listings or latest sales, they're also excellent tools for promoting your revamped website. In fact, you can do both organic and paid posts. The former allows you to share the news with those who already follow your account, while the latter lets you connect with untapped audiences. This two-pronged approach will help maximize your web traffic.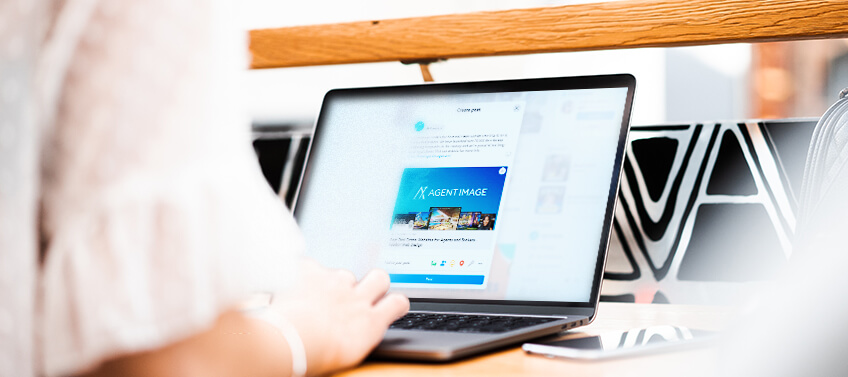 Send an email announcement
While email marketing might seem old-school, it is still immensely helpful and effective. To begin with, 72% of customers prefer email as the primary means of receiving news from businesses. And since they're already acquainted with you in some capacity, they're more likely to read your message. In fact, the average email open rate for the real estate industry is an impressive 22.02%, as per GetResponse. For the best results, however, you need to write strong subject lines that make a compelling case for opening your email – and visiting your site.
Prepare a press release
Do you have a great relationship with media outlets? Then why not issue a press release to gain offline mileage, too? The key here is to make your release straight to the point, highlighting the new features and benefits your revamped site offers. Alternatively, you can use PR distribution services to access even more local and even national media outfits, though they do charge a fee.
Update your collateral and email sign-off
Perhaps you've decided to get your own website or opted to change the domain name of your existing one. Whatever the case may be, don't forget to update business cards, flyers, brochures, and all your real estate signage to reflect your new web address. The last thing you want is to revamp your site only to have your marketing collateral point people to the wrong place. And while you're at it, make sure to add your website link in your email signature, too.
Monitor your website analytics
What you can't measure, you can't improve. This is the mantra all website owners should abide by. Luckily, measuring web traffic and other site metrics is easy thanks to Google Analytics. Moreover, your website developer likely already installed it on your site and you simply have to check the data. Aside from site visits, other crucial stats to look at include bounce rate, page views, session duration, and traffic sources (this guide we wrote is worth reading!) Based on the data you see, tweak your website's layout and content to boost results.
Have a backup plan
A website backup plan, to be more precise. After all, a lot of things can go wrong with your website, like a CMS update that causes glitches or malware that can compromise sensitive data. When your website first launches, make a backup of it to have a pristine version that you can always revert to. Your backup solution should also be making daily copies of your site to prevent data loss. There are many options on the market, but your developer can recommend software that suits your needs and budget. They should also be able to give you advice on additional security measures you can take to protect your website, such as adding an SSL certificate and using specific plugins that safeguard against spamware.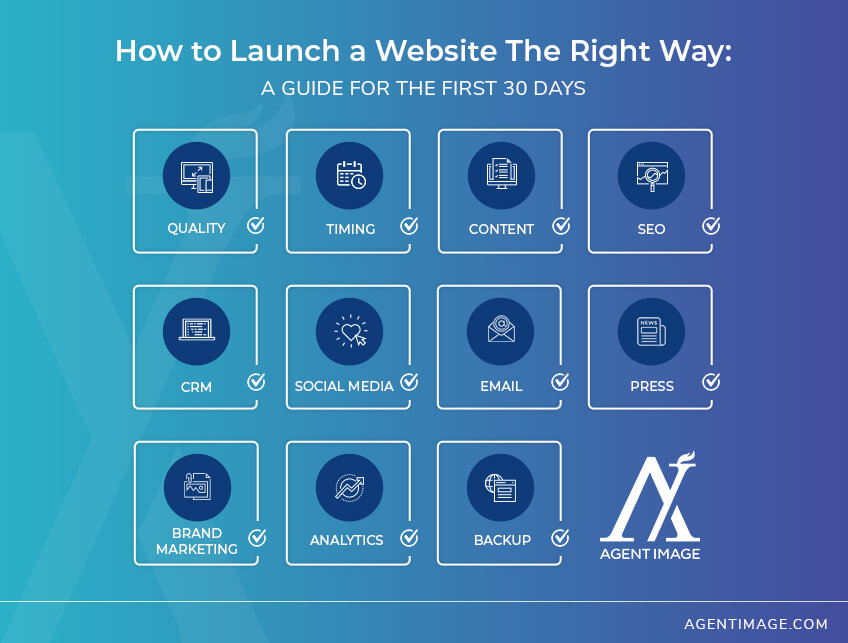 Need help promoting your website?
Agent Image offers a full suite of digital marketing services so that the right people visit your website.
Not only can we redesign your site, but we can also optimize it for SEO to boost your Google ranking. Moreover, we have a team of wordsmiths who can create informative and search-engine friendly content such as blog posts for you. We also have a team of social media experts who can populate your pages with engaging content that's sure to build your brand and attract clients.
We'd love to tell you more about our digital marketing packages. To get started, call 800.979.5799 or fill out this contact form.
Did you enjoy reading this article?
Sign up for more updates with our Agent Intelligence Newsletter!
We are committed to protecting your privacy.
Real Estate Websites for Agents
Learn which package works best for you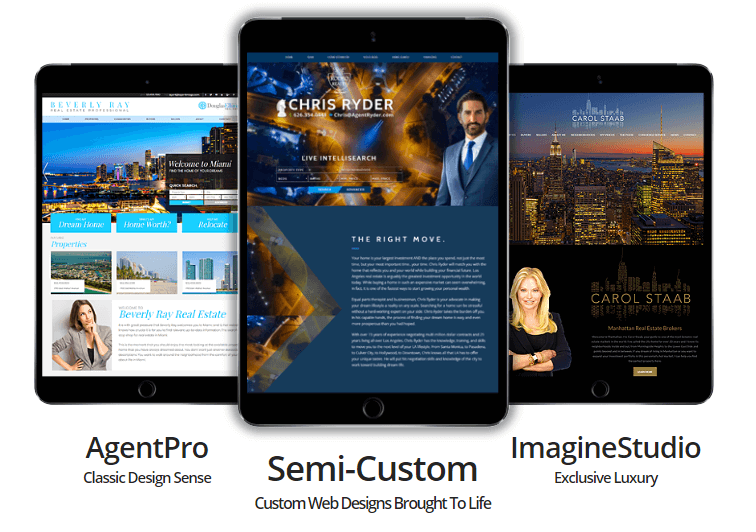 Learn More