How to Write an Outstanding Real Estate Agent Bio
Last Updated: August 1, 2022
Homes for sale are not the only things that strive to make striking first impressions online. As the internet continues to cement its importance as a platform in the home buying and selling process, the way real estate professionals present themselves online has become more important than ever. We can help with that. Continue reading to find agent bio templates to help you present the best version of yourself.
Why are Agent Bios Important?
In a bid to convince home buyers and those selling homes to get in touch and work with them, real estate agents have taken it upon themselves to craft bios and profiles that showcase their work experience. Crafting a professional bio is extremely important.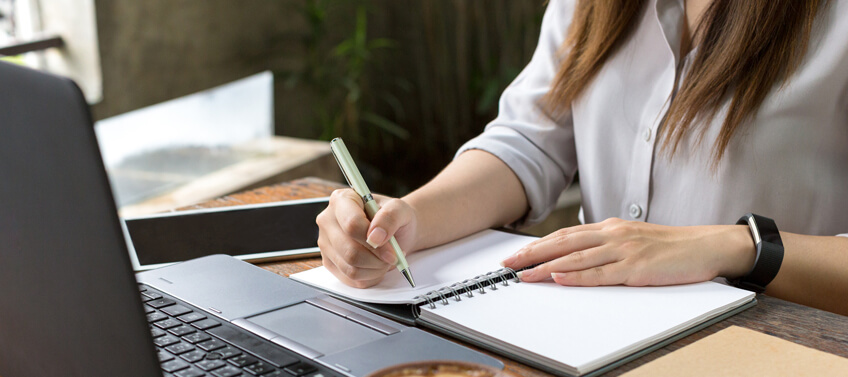 Unfortunately, not all real estate agent bios work. It could be that they're boring to read. Maybe they fail to give all the right information and make a connection to potential clients. It can be any number of things, really, that prevent a real estate bio from generating any leads from home buyers.
So, what makes a great real estate bio? How can you make it engaging and informative at the same time? Scroll down below for tried and tested tips on how to write a killer real estate bio.
Determine your point of view

Before you pick up your pen and write a draft, it is important to establish your tone and point of view. These elements form the backbone of your brand story and affect how the reader "sees" you before they even get to meet you or talk to you.

Let us start with the point of view. It affects how the information is narrated to the reader. Do you want to address the reader in the first-person or third-person point of view? Each style is different and can help set a different tone.

First-person point of view: You tell your story directly and use "I" in the text.

For example: "I am a Certified Luxury Home Marketing Specialist based in Beverly Hills, California."

Third-person point of view: This is the complete opposite of the first-person point of view. Instead of addressing your readers directly, a narrator relays your story and experience.

For example: "Marina Mansfield is a Certified Luxury Home Marketing Specialist based in Beverly Hills, California."

Set your tone

Now, the tone. This expresses your attitude to the reader. You can be formal. You can be warm yet professional. You can also be conversational and informal, as if you are talking to a friend you've known for a long time. It depends on how you want to present yourself to potential clients. Think about the local market and your target market. Use a tone that resonates with your audience.

Once you have determined the point of view and tone you want, it is important to maintain both consistently, not just in your real estate bio, but throughout your real estate website.

Share what makes you different from the rest

Your real estate bio is the perfect tool to showcase your expertise in the field. Most importantly, it helps you set yourself apart from the rest of your peers. So go ahead and don't be shy.

List your achievements, particularly the ones you are most proud of, and highlight your unique selling proposition.

If you are not quite sure what to include or you are a new real estate agent and still busy building your legacy in real estate, use the following guide questions as you write your outline:

What's your role? Are you a buyer's or seller's agent, or both? Are you particularly good at helping first-timers? How about veterans? Retirees? Luxury home investors? What are the real estate types you specialize in?

What are you good at? Do you have a talent for negotiating deals? Are you a good communicator? Do you have a penchant for making your clients feel at ease and provide great customer service? Do you thrive in solving problems? Do you manage well under pressure? Let all your best qualities shine.

What have you achieved so far? Have you received any awards or recognitions in your work as a real estate agent? Have you closed any high-profile or challenging real estate transactions in the past? Mention if you have impressive sales statistics.

Did you pursue further training? Do you have any special designations and certifications under your belt? Have you taken and passed relevant training programs?

Do you have goals you want to accomplish? What are your goals in the next three to five years? What kind of impact do you want to leave as part of your legacy?

Home buyers are usually very anxious so your real estate agent bio should ease their fears. It's important to get specific when sharing all this information. This will help potential clients find and hire you. Highlight all of your best points and make them a part of your brand.

Tell your story

How did you get to where you are right now? What was your journey like? Was it straightforward or did you work in other fields before you became the stellar real estate agent you are today?

Sharing your history doesn't have to be two paragraphs long. It can be a short part of your real estate bio detailing your education or previous work experiences. Telling your story helps you increase your relatability to potential clients (some of whom might even come from the same background as you).

What is your educational attainment? Where did you graduate and what did you study? How does this affect your work as a real estate agent?

Where are you from? Were you born and raised in the area or did you move from somewhere else? If it's the latter, what made you relocate?

What is your work history like? Were you always a real estate agent? Was it your life-long dream, or did you pursue an entirely different career before taking the path to real estate success?

How are you connected to the local community? Detail why you are knowledgeable about the local market and how you serve the community. If you're an active supporter of local charities or a part of the chamber of commerce, make sure to highlight it.

Aside from your history, sharing tidbits of your personal life can also make you more relatable. What do you like to do in your spare time? What are your hobbies? What are you most passionate about?

Write your thoughts first

You want your real estate bio to flow and read smoothly. Unfortunately, it is not always a straightforward task to organize all the information you want to share.

Writing rough drafts is great. You can add and delete all you want. You can write freely which, in turn, allows you to share your story in its entirety. Once you are done with your draft, give it a read and organize accordingly.

Create an Outline

Outlining does not have to be the formal setup you may have been taught in school. Even a simple outline will help organize your thoughts. You may want something like this:

Name

Quick about me

Where are you from?

What's your involvement in the community?

Quick work history

Real estate info

What is your role?

What do you specialize in?

What have you achieved so far?

Did you pursue further training?

More about you

What is your educational attainment?

Personal information you wish to share (such as hobbies)

Proofread

Before you publish your real estate agent bio, proof it carefully. Your attention to detail here foreshadows your attention to detail in serving clients. If you are not a writer, hire one, or better yet, talk to Agent Image!

Steps to proof as bio (or any other written document):

Use a spelling and a grammar checker to root out blatant mistakes.

Check your punctuation. Inappropriate apostrophes (its vs. it's), for example, make you look unprofessional.

Read the bio out loud to check for errors and proper flow.

Have a trusted confidant read and critique your bio.
How Do You Write a Real Estate Bio for a New Agent?
If you are a new real estate agent, focus on your plans and training. You may want to talk about your passion for real estate and why becoming a real estate agent was important to you. Explain that you are there to help people buy and sell property.
If you specialize in investment properties, you should be able to explain how you are active in that market yourself.
Show your character by talking about hobbies and your life outside of real estate. Emphasize your connection to the local community and highlight your local expertise.
Discuss your past work experience and how this serves as a jumpoff point for your real estate career. Finish up with the values that you hold and how these inform our service.
Prepare two versions of your bio: a shorter version for your social media channels and a longer one for your website. Update your bio as you gain more experience and establish a niche.
Writing a Team Bio
Focus on how the real estate team works together. Will an agent be able to step in and take care of a colleague's client if needed? How does the team's diverse background bring value to prospective clients?
Examples of Amazing Agent Profiles
Want to get inspired? Check out the following real estate bio examples from some of Agent Image's clients.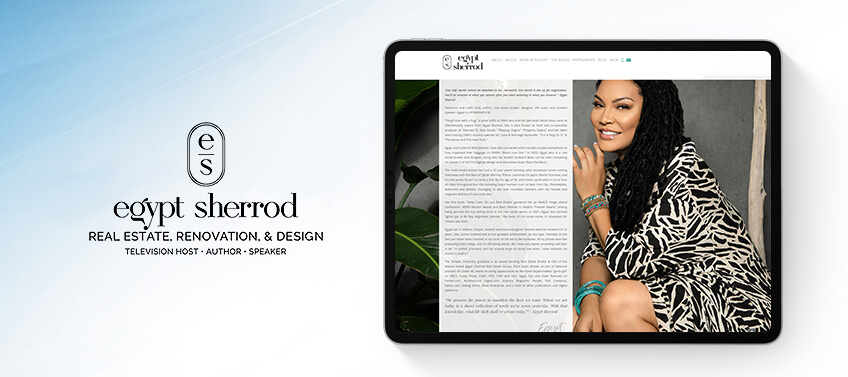 Egypt Sherrod
"Tough love with a hug," is what fans have come to affectionately expect from home space expert, Egypt Sherrod. She is best known as host of HGTV's "Flipping Virgins" and its long running show, "Property Virgins." The bubbly Sherrod has also hosted HGTV's White House Christmas Special, the Rose Parade, and the HGTV Urban Oasis Giveaways.
A powerhouse speaker and moderator, Egypt hosted the stage at Oprah's "The Life You Want Tour", and countless business conferences. As a 20 year award winning radio personality, Egypt has been syndicated in more than 60 cities throughout the USA, landing critically acclaimed interviews with Prince, James Brown, Leonardo Di Caprio, Martin Scorsese, Oprah & Tyler Perry to name a few. With her diverse background and hearty sense of wittiness, Egypt has been invited as a recurring 'Hot Topics' guest and lifestyle pundit on Dish Nation, Steve Harvey, Showbiz Tonight, Larry Wilmore Show and a variety of others.
Egypt has 3 children, Infant Harper, 7 year old Kendall and 17 year old step-daughter Simone with her husband of 9 years Mike Jackson. She counts motherhood as her greatest achievement, as she says "Honestly it's the best job I never knew I wanted. In my circle I'm the last of the mohicans. All my friends have kids graduating from college, and I'm still having babies. But I have zero regrets on waiting until later in life. I'm settled, grounded, and can actually laugh at myself now when I make mistakes. No mother is perfect."
Why it works: Not only is Egypt's bio incredibly detailed (what you see above is just an excerpt), it's also enhanced by great, dynamic photos that capture her personality. Her impressive list of achievements are balanced with personal details as well as direct quotes, making her bio an altogether more engaging read.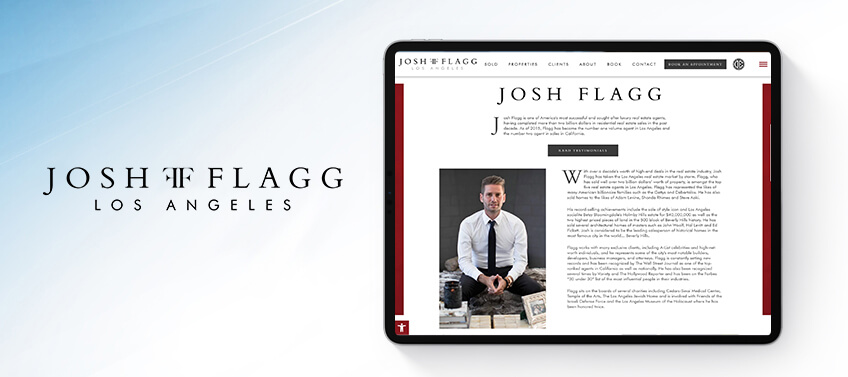 Josh Flagg
"With over a decade's worth of high-end deals in the real estate industry, Josh Flagg has taken the Los Angeles real estate market by storm. Flagg, who has sold well over two billion dollars' worth of property, is amongst the top five real estate agents in Los Angeles. Flagg has represented the likes of many American billionaire families such as the Gettys and Debartolos. He has also sold homes to the likes of Adam Levine, Shonda Rhimes and Steve Aoki.
His record-selling achievements include the sale of style icon and Los Angeles socialite Betsy Bloomingdale's Holmby Hills estate for $40,000,000 as well as the two highest priced pieces of land in the 500 block of Beverly Hills history. He has sold several architectural homes of masters such as John Woolf, Hal Levitt and Ed Fickett. Josh is considered to be the leading salesperson of historical homes in the most famous city in the world… Beverly Hills.
Flagg works with many exclusive clients, including A-List celebrities and high-net-worth individuals, and he represents some of the city's most notable builders, developers, business managers, and attorneys. Flagg is constantly setting new records and has been recognized by The Wall Street Journal as one of the top-ranked agents in California as well as nationally. He has also been recognized several times by Variety and The Hollywood Reporter and has been on the Forbes "30 under 30" list of the most influential people in their industries.
Flagg sits on the boards of several charities including Cedars-Sinai Medical Center, Temple of the Arts, The Los Angeles Jewish Home and is involved with Friends of the Israeli Defense Force and the Los Angeles Museum of the Holocaust where he has been honored twice.
Why it works: Josh's bio stands out for a variety of reasons. It spells out his concierge service approach to real estate, talks about his community involvement, and uses video to give potential clients an immediate idea about what working with him will be like. Note the inclusion of testimonials from employees and current clients as well — these are invaluable.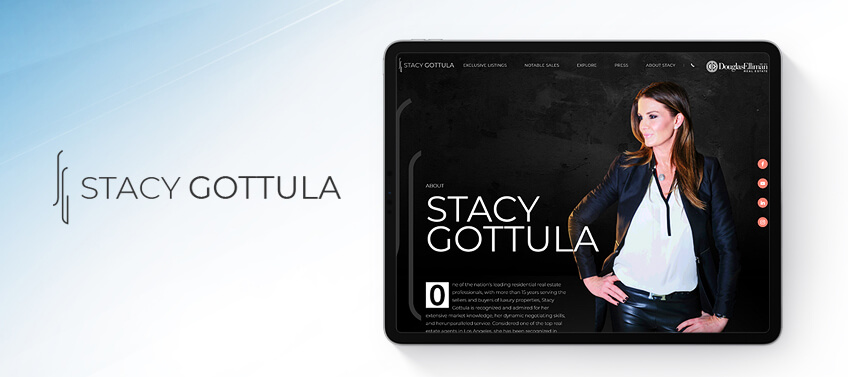 Stacy Gottula
"The collaborative spirit is nothing new to Stacy Gottula. Before working solo for a number of years, she partnered with Joyce Rey for a decade and thrives on the shared energy, camaraderie, and mutual support of a well-crafted team. Stacy's mastery of the demanding West Los Angeles market and thorough knowledge of high-end properties has led to a string of record-breaking sales. In 2015 she listed Palazzo di Amore in Beverly Hills, at the time the United States' most expensive home ever at a staggering $195 million dollars; Stacy currently represents the property, now listed at $129 million. Her listing and sales records also include the Le Belvedere, which Stacy sold for $50 million in 2010 (setting a price record in Bel Air), relisted in 2017, and re-sold for$56 million in 2018; the sale of Le Palais, a record for the Beverly Hills flats with a list price of $58 million; and representing Kimberly and Hugh Hefner on the $18 million sale of the prestigious Holmby Hills sister property to The Playboy Mansion."
Why it works: If you've helmed notable sales in your area, then you definitely want to include them in your agent bio, as Stacy does. There's no better way to show potential clients that you know what you're doing. Stacy's comprehensive bio is also livened up by an interview on a podcast where she talks about her journey towards making her real estate career a success.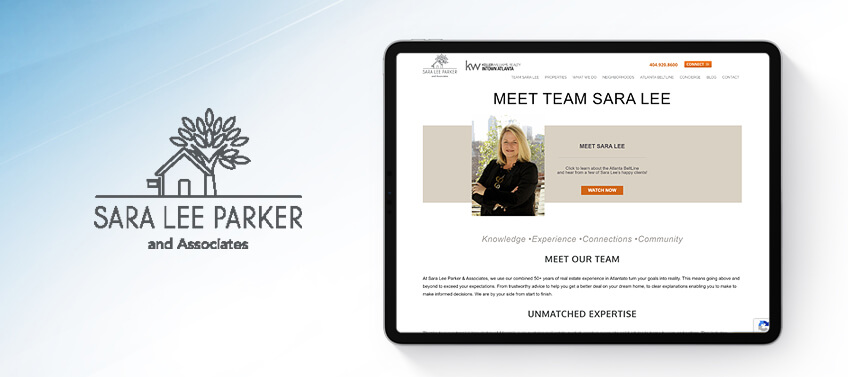 Sara Lee Parker
"At Sara Lee Parker & Associates, we use our 15+ years of experience with real estate services in Atlanta, GA, to turn your goals into reality. This means going above and beyond to exceed all your expectations. From trustworthy advice that helps you get a better deal on your dream home to clear explanations that enable you to make great decisions, we're by your side from start to finish.
We're not afraid of challenges; our team excels at finding the best solutions. With resourceful and dynamic real estate professionals, finding a dream home is simple even if you have an urgent deadline. Every step of the way, we follow your instructions to the letter but also take the initiative to defend your interests as a buyer or a seller."
Why it works: Real estate team bios can be a bit tricky to write, but not if you have a well-defined brand. This is exemplified by Sara Lee Parker & Associates' clear, first-person profile, which details their approach and the various benefits their clients will enjoy when working with them. By using the first person point of view, they've also made themselves more approachable.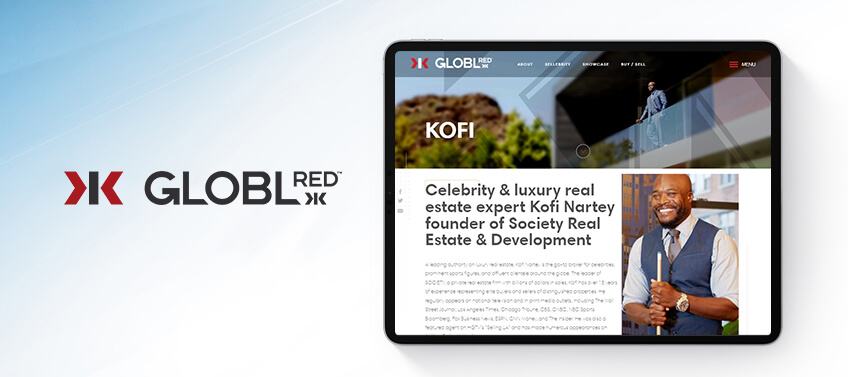 Kofi Nartey
"Celebrity & luxury real estate expert Kofi Nartey is the National Director of the Compass Sports & Entertainment Division.
A Certified Luxury Homes Marketing Specialist, Kofi created and managed the sports and entertainment division for his previous firm, The Agency. He was also managing director of their beach cities office and managed the luxury homes division for Keller Williams prior to that. This experience has helped him sell homes and set sales records from the valley to the beach cities, and everywhere in between.
He attended and played football at the University of California at Berkeley and later completed his MBA in the Presidential and Key Executive Program at Pepperdine University. He also frequents the other side of the podium as a guest speaker and trainer for the Institute for Luxury Home Marketing. He has always looked to elevate the standard for real estate professionals by acting as a professional business consultant and not just an agent. He has been recognized and awarded for his negotiating, marketing, and sales abilities."
Why it works: Kofi serves clients in the sports and entertainment niche. By sharing his own background in sports and entertainment as well as his numerous successes in real estate, his bio effectively conveys to his clientele that he understands their needs and can give them the right guidance. Other notable features: the quick facts and highlights sections and video.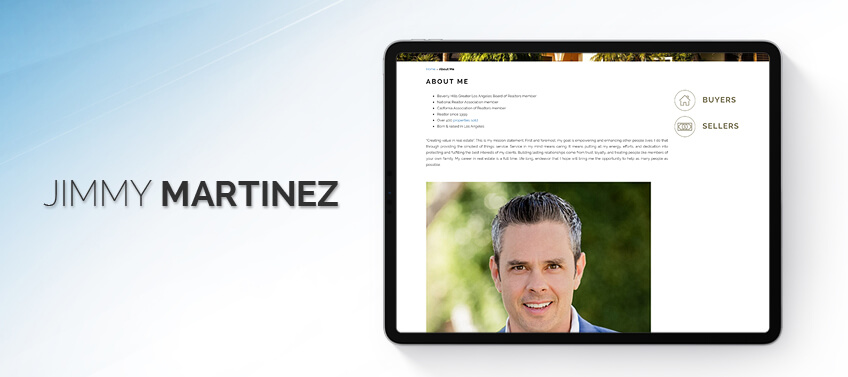 Jimmy Martinez
Beverly Hills Greater Los Angeles Board of Realtors member
National Realtor Association member
California Association of Realtors member
Realtor since 1999
Over 300 properties sold
Born & raised in Los Angeles
"Creating value in real estate through service & integrity". This is my mission statement. First and foremost, my goal is empowering and enhancing other people's lives. I do that through providing the simplest of things: service. Service in my mind means caring. It means putting all my energy, efforts, and dedication into protecting and fulfilling the best interests of my clients. Building lasting relationships come from trust, loyalty, and treating people like members of your own family. My career in real estate is a full time, life-long, endeavor that I hope will bring me the opportunity to help as many people as possible.
Why it works: A great example of a short and sweet real estate bio, Jimmy's profile is concise and easy to read all while managing to highlight his achievements and detail his particular approach to real estate. By sharing his mission and defining what service means to him, he lets clients know what they can expect when they work with him.
Free Real Estate Agent Bio Templates to Get You Started
Don't know where to begin? Use the following templates to practice writing your real estate bio.
Short Bio Template for Social Media – Third-Person (Formal)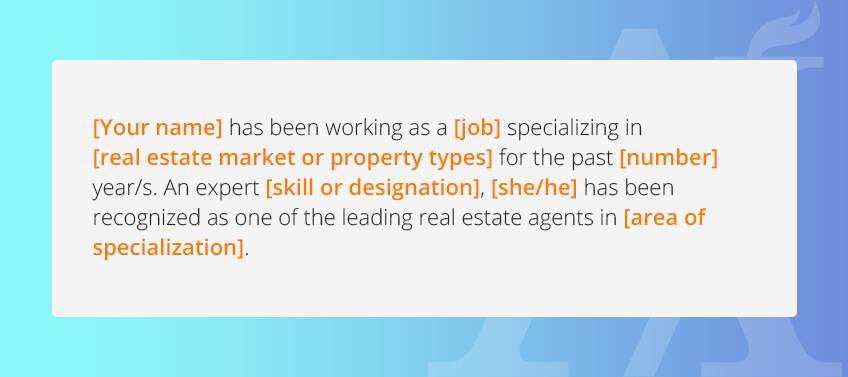 Short Bio Template for Social Media – Third Person (Conversational)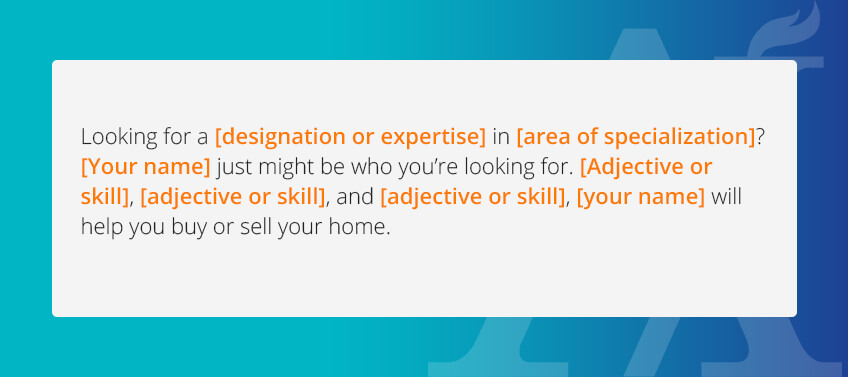 Third-Person Bio Template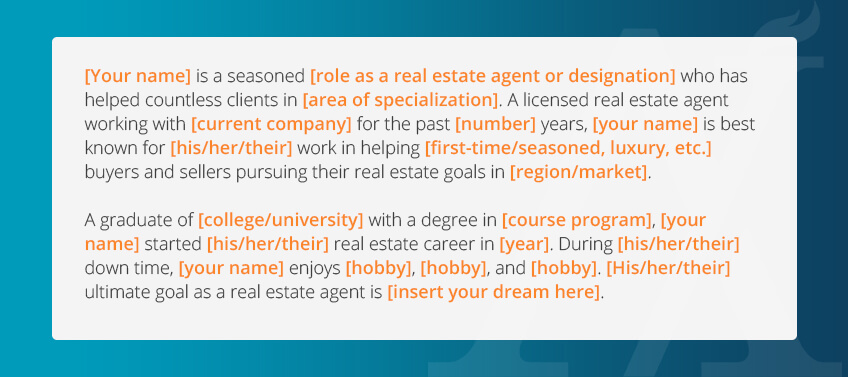 First-Person Bio Template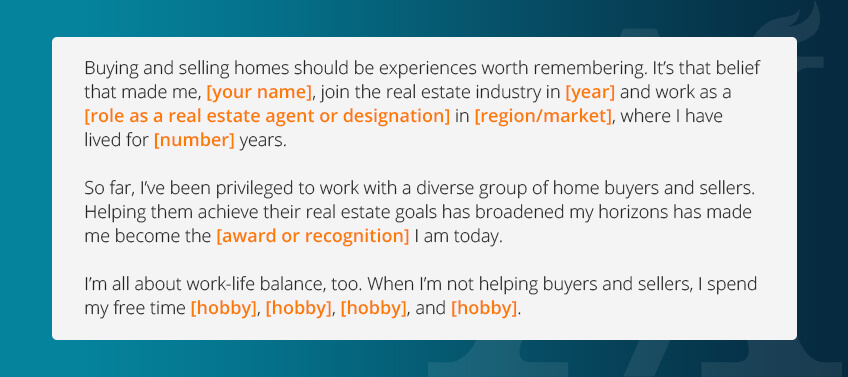 Do you need help in writing your real estate agent bio?
We know just the people to pen the perfect bio and brand story for you. Agent Image has a team of experienced writers, well-versed in turning mundane information into captivating real estate agent bios. They will help you share your real estate story to the rest of the world.
Contact us today and take our online questionnaire. Tell us how you want your real estate agent bio to be. Our writers will do the rest.
Register to download our free agent bio templates
Did you enjoy reading this article?
Sign up for more updates with our Agent Intelligence Newsletter!
We are committed to protecting your privacy.
Real Estate Websites for Agents
Learn which package works best for you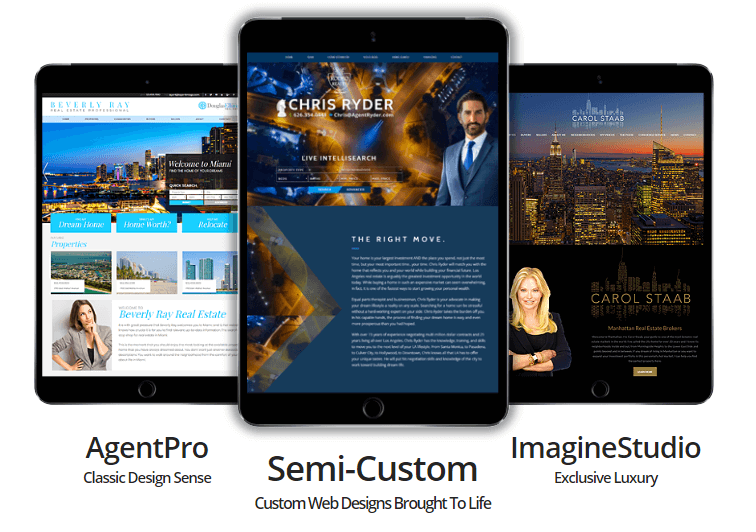 Learn More