Lead Generation on your Facebook Page
If you are tech-savvy enough to create a profile page for your real estate business on Facebook, then you are aware of just how powerful this medium could potentially be. Yes, a fan page allows you to connect and share tidbits about your business with tens of thousands of people. But must it end there?
When you build a wealth of contacts as you do using Facebook, it would be a shame to squander that database should the unthinkable happen and the powers-that-be decide to axe your page for whatever reason. It has happened before, and if you don't take prudence, it could happen to you. In a nanosecond, all your 'fans' could be lost forever.
But there is a solution. By creating a lead generation form on your Facebook page, you are in effect securing vital info of your Facebook contacts, thereby building a database for future reference should you need to reach them. Very few real estate professionals fail to do this and to some, it is a painful lesson that translates to missed opportunities.
Here are some simple steps you can follow to obtain contact information from your Facebook page and have peace of mind in a worst case scenario:
Contact Forms – Including this in your Facebook page is just as important as featuring it prominently on your website's homepage. It will only take a few minutes of your time and the returns could be phenomenal. Your Facebook contacts are also potential customers whose email addresses and phone numbers could lead to future sales, so put one on your page right away. You can use Facebook's Contact Form app to add one to your site. To see a live example, check out the form on our Agent Image fan page.
RSS Feeds – These are an extremely efficient way to build your database of prospective leads while simultaneously allowing you to send your followers your blog updates without having to lift a finger. By adding an RSS feed subscription to your Facebook page, not only have you obtained their contact name and email address, they will also be notified each time you add a post or link to your listings. Check out the NetworkedBlogs app on Facebook to add an RSS feed of your blog to your Facebook page.
Incentives – Think of it like going to a conference and leaving your calling card as part of a raffle for some grand prize. By offering some kind of incentive such as free market updates, you will be encouraging your contacts to leave you their contact details in return for something of value to them. It really is a small investment on your part in exchange for the wealth of information you will be gaining from it. Try setting up a separate contact form on your page with text to offer your incentive.
If you would like more information on how to better customize your Facebook page, please contact internetmarketing(at)agentimage(dotted)com or call 1.800.492.6777.
Did you enjoy reading this article?
Sign up for more updates with our Agent Intelligence Newsletter!
We are committed to protecting your privacy.
Real Estate Websites for Agents
Learn which package works best for you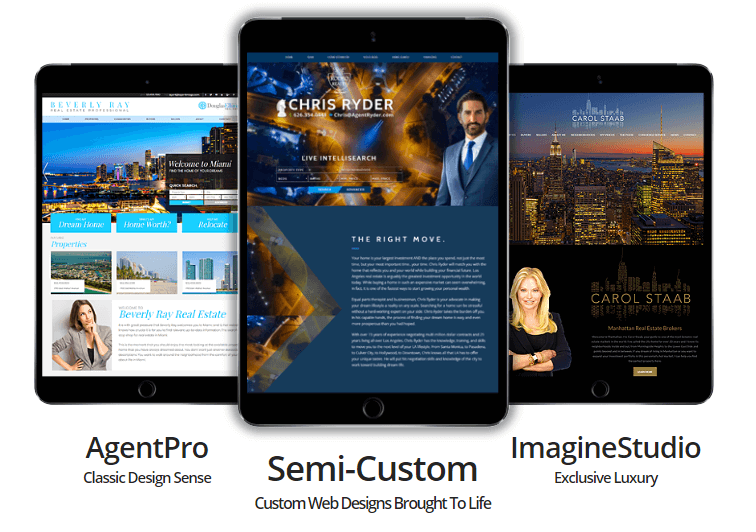 Learn More