Realtor Spotlight: Egypt Sherrod, The Egypt Sherrod Real Estate Group
Working in the real estate industry can entail a fast-paced lifestyle. And for Atlanta-based and award-winning Realtor® Egypt Sherrod, who juggles multiple roles (real estate agent, TV show host and radio personality, motivational speaker, author, and mother), balancing her personal life with her real estate work can be quite the challenge.
Egypt is the CEO of The Egypt Sherrod Real Estate Group and the host of HGTV's Property Virgins and Flipping Virgins. With client meetings, listing appointments, and TV appearances constantly keeping her on-the-go, how does she find time to reflect and spend quality family time? Let's find out.
As a TV/radio personality and your go-to person about everything related to Georgia real estate, I am often perceived by a lot of people as leading a glamorous life as a real estate agent. It can be, at times, but often it's time-consuming work that requires utter dedication, attention to detail, great communication skills, and a lot of patience. Let me show you a typical day in my life as a real estate agent.
6:45 AM
When you're as busy as I am, it's important to start your day early. I always wake up before 7 to get myself and my daughter ready for the day. I begin each morning with a little prayer.
7:00 – 7:45 AM
Since I'll be busy with real estate work for much of the day, I try my best to dedicate a chunk of the morning to my daughter. I help her get ready for school, make sure she has everything she needs, and at 15 minutes before 8, we're on the way to her school.
8:00 – 8:30 AM
My mornings aren't complete without my morning prayer and my cup of Caramel Apple Cider from Starbucks. After I drop my daughter off at school, I head on to the nearest Starbucks to get my daily fix. Around this time I also check my voicemails and emails and update ICAL for the rest of the week.
9:00 AM
I check in with my clients for any updates. It helps me organize and plan the rest of my day and lets me know if I need to pay extra attention to a particular client or two.
10:00 – 10:30 AM
After my morning calls, I prepare for the week's set of closings. I review all transaction files and earnest money requests. Next, I check prospects and schedule appointments for the week.
11:30 AM
I usually go out to lunch with my associates or clients. Before that, I do a complete marketing review. I look over all marketing collateral and listings. This allows me to make adjustments where necessary. I send out broker bonus blasts for listings that didn't go binding over the weekend. We have caravans on Wednesdays, so I prepare for that ahead of time and sort out all the open-house advertisements we need.
1:00 PM
By this time I'm already ready to sit down to a good lunch. I never skip lunch– it fuels the rest of my day. Sometimes I eat alone for a little me-time, but on occasion, I like to make it productive and go on a working lunch with my associates or clients. I like face-to-face meetings with clients, so inviting them to lunch is a great way to do some work and enjoy a nice meal.
2:00 – 5:00 PM
I spend the second half of the work day showing houses to clients or attending to listing appointments. This can get rather hectic, considering the low housing inventory in Atlanta metro area and influx of buyers in the region. It's a highly competitive market. I always remind buyers to prepare their financing and other prerequisites before they shop for a home so they can bag the best deal.
5:00 PM
I wrap up all client appointments and pick up my daughter. While I wait for her to complete her school activities for the day, I make a few follow-up calls. Once my munchkin is out and ready, we make our way home. Work-life balance is a pretty elusive concept to me, but nowadays I make sure I do spend quality time with my loved ones after every work day.
Final thoughts
Working as a real estate agent in such a competitive real estate market has its ups and downs. I love it when I hand the house keys to my buyers or whenever a selling client successfully closes a transaction. It's a tough job that sometimes requires personal sacrifices, but it's also an extremely fulfilling one.
To learn more about Egypt Sherrod and The Egypt Sherrod Real Estate Group, visit http://www.egyptsherrodrealestate.com and/or follow her at https://www.facebook.com/EgyptSherrod.
Did you enjoy reading this article?
Sign up for more updates with our Agent Intelligence Newsletter!
We are committed to protecting your privacy.
Real Estate Websites for Agents
Learn which package works best for you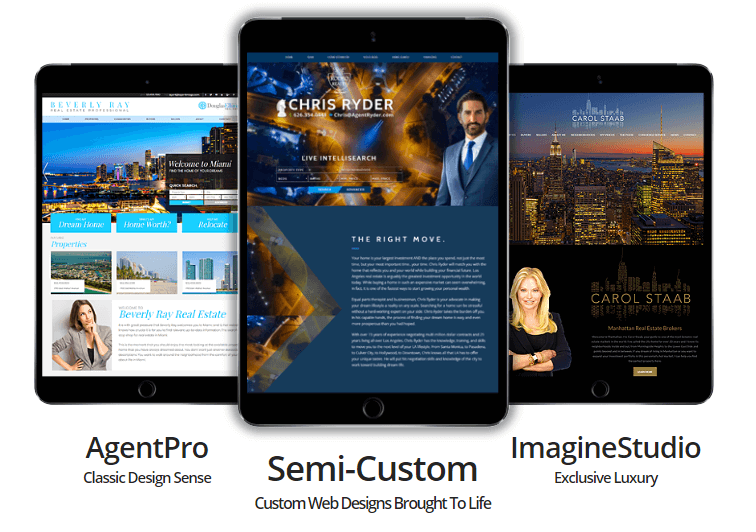 Learn More