Snapchat for Real Estate Marketing
Launched in 2011, Snapchat is the new kid on the block as far as social media platforms go.And yet it's one of the fastest-growing, surpassing established platforms like Twitter when it comes to daily usage.
The photo and video sharing app has over 150 million active users, and about one million snaps get created every day. Its rising popularity has made it difficult for real estate agents to ignore.

Why use Snapchat?
Market penetration – Millennials dominate Snapchat, but there's an emerging 30s to 40s demographic on the platform.

About 14.4 percent of smartphone users 35 and up have the app installed – a market penetration of about 15 percent is generally the tipping point when a platform goes mainstream.

What's more is that the app is predicted to skew much older within the next two to three years. And Snapchat isn't attracting plain Joes – the app has seen exponential growth among elite top earners age 30 to 45 on both coasts.

So whether your target market consists of millennials or mature buyers, Snapchat helps you extend your reach.

Low barrier to entry – You can download the app for free, and you don't need a pricey camera to produce content. The content doesn't have to look polished either, so you don't need to be exceptionally skilled at photography or filming. As a matter of fact, content that's rough around the edges is generally viewed as more authentic and relatable.

Easy-to-produce content – With Snapchat, all you need is a camera phone to produce content on the fly, making it convenient for real estate agents with limited resources. Take photos or 15-second videos to showcase listed properties, neighborhoods, schools, and nearby attractions. Spice up your content by adding captions or using filters.

Share your content with individuals via private message,or entire groups via Stories. You can determine how long the receiver of your message can view your content (from one to 10 seconds) before it gets deleted automatically.

Any content you share on Stories will be available for 24 hours, and you'll be able to keep track of who has viewed it.

Custom on-demand geofilters – This new feature works much like regular filters in that they let you add decorative overlays onto your content.The only difference is that geofilters are location-specific, and only certain geofilters are available depending on the area you're in.

To see which ones are available in your area, just swipe across the screen after taking a photo or video, then use them like you would an ordinary filter.

You can also create your own geofilters for a small fee. There are two kinds – personal geofilters don't contain logos, business names, or markers, while business geofilters promote businesses or brands.

The former can be used for private events like birthdays or weddings, while the latter must adhere to Snapchat's business guidelines.

Branded geofilters are a great marketing tool that helps you go hyper-local with your content. They're also fantastic when it comes to real estate events like open houses and association meetings. Just make sure attendees know your geofilter exists, and encourage them to use it during or after the event.

Memories – The app is known for the ethereal quality it gives your content, which gets deleted after a brief period. However, this shouldn't discourage real estate marketers from producing substantial content.

The Memories feature lets you collect your snaps, bring them together to create an album, and save them for others to view. This allows real estate marketers to tell better, longer-lasting stories that revolve around a specific property or neighborhood.

But even without this feature, users can take screenshots of snaps or messages they receive for future reference.

Online engagement – The average Snapchat user spends about 25 to 30 minutes on the app every day. Over 25 percent of users spend just as much time messaging friends and poring over media content through Live Stories and Discover.

Compared with Twitter, it's five times more effective at getting people to spend time on the platform on a per-user basis. On average, Live Stories attracts over 20 million people each day.

This means that even app users with few contacts can expect a high level of online engagement, granted they respond to messages and produce content on a regular basis.

GhostCodes – You can increase your followers by going to the app's Add Friends section, which lets you look people up via username, Snapcode, your address book, or a nearby location.

GhostCodes, a separate app, lets you discover Snapchat users who are listed under specific categories. This allows for a more targeted way of adding people. It helps you grow your following, since you won't have to rely solely on your address book or people you already know.

The app also makes it easy for others to find you and your real estate company. Just be sure to list your interests and to categorize your snaps so that GhostCodes can place you in one of the available categories for Snapchat users to hone in on.

The connections you make on this platform can help you build a solid referral network and meet new clients.

Personal branding – By using this app, you'll be able to show people who you are and how you work as a real estate professional. Snapchat lets users see you in real life situations, which makes you come off as authentic to potential clients in ways that paid advertising can't accomplish.

While some agents make sure that their content revolves strictly around their profession, there are those who share a few snaps that aren't related to real estate to show themselves in genuine, unguarded moments.

Using Snapchat also gives you the opportunity to demonstrate your knowledge of different property types, neighborhoods, real estate practices, and the industry at large.The platform can give you exposure as a trusted expert in your area.

Is Snapchat for you?
Real estate and Snapchat are a match made in heaven – the former is a highly visual industry, while the latter does a good job of showcasing photos and videos. The app's real-time functionality creates a sense of being in the here and now, which allows for authenticity and better engagement.
Snapchat can be incorporated successfully into your existing social media strategy as long as you produce the right content. Don't be afraid to experiment with the app, and don't shy away from asking followers what they'd like to see from you.
Did you enjoy reading this article?
Sign up for more updates with our Agent Intelligence Newsletter!
We are committed to protecting your privacy.
Real Estate Websites for Agents
Learn which package works best for you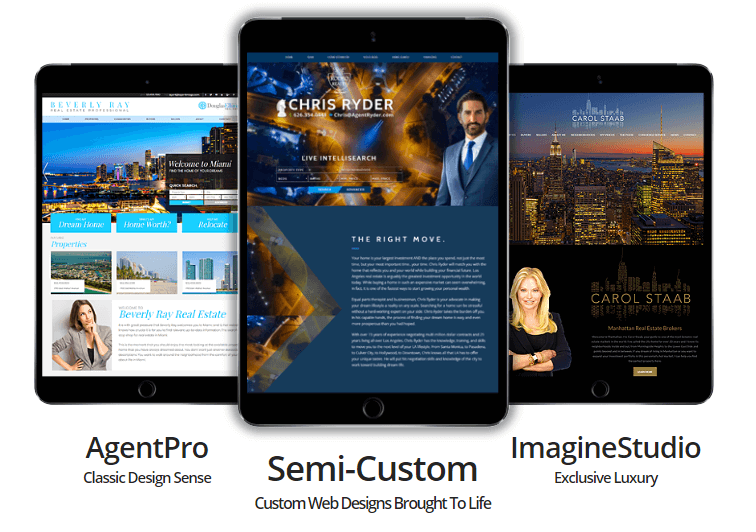 Learn More