Don't Make These 7 Real Estate Marketing Mistakes
Real estate marketing – whether you're doing it old-school and are sending out mailers to your sphere of influence or are spending a large portion of your marketing budget on tech-savvy solutions like SEO and pay-per-click campaigns – can seem overwhelming even on the best days.
Let's face it. You're a real estate agent. You are focused on getting your clients to the closing table. You can't fill your days with learning the best marketing tactics and implementing well thought out marketing initiatives, you're selling houses.
Whether you dip your toes in the real estate marketing waters occasionally or outsource your marketing efforts to a real estate marketing agency and don't think twice about it, this list is designed to help you improve your tactics for generating new leads by eliminating costly and time consuming mistakes.
As a real estate marketing company that helps agents, brokers and teams with marketing strategies big and small, we've seen all the mistakes and know how to fix them. Take some time to browse our list of the top 7 real estate marketing mistakes. We're confident there are some great takeaways here.
Building Your Website Yourself
The first mistake that real estate agents make is trying to build their websites themselves. It is possible to create a beautiful website even if website building is not your expertise. However, the algorithms that search engines use to populate results are constantly in flux and if you are not constantly improving your website, you will not generate the number of leads you are likely expecting.
Often, unless you have a background in web design and the time necessary to maintain and update it, your time and money is better spent hiring a web design team that can keep your website up to par.
Using a One-Prong Strategy
Particularly for seasoned, experienced agents who rely on referral business as their main source of lead generation, it is easy to be complacent with a one-prong strategy. Yet, you're overlooking the incredible lead generation opportunities that are available via social media, a strong web presence, email marketing and other technologies.
While any experienced agent will tell you there is a place for grassroots strategies like holding open houses, passing out business cards, spending time in the office catching foot traffic and sending out mailers to your sphere, in order to do real estate marketing right in the 21st century you need a multi-prong approach that includes online real estate marketing.
Tweet this: Real estate marketing in the 21st century requires a multi-prong approach!
Not Staying Up to Date
When it comes to online real estate marketing, the hardest part for agents is trying to stay up to date. Web design, social media, blog content, and SEO techniques have to stay fresh in order to be effective. Particularly in order to get visitors to your website to stay a while, mastering SEO and content marketing techniques takes constant vigilance.
Moz conducted a study last year to determine how and why users click on search engine result links. What they found is that if your website does not appear on page one of the SERP (search engine results page) only 5% of searchers will find your page. Over 71% click on page one and more than 67% of those page one clicks look beyond the first 5 results. That is more than triple the rate from the year before. How do you stay up to date? You may need to call in a professional to do it for you.
Relying Too Heavily on National Listing Sites
According to a study by NAR, searches for local agents who have an intimate knowledge of specific locations rank higher than general or national searches. Relying too heavily on national listing sites does not account for the majority of homebuyers and sellers who are looking for a local agent in their area.
Your website keywords should include your service areas, not general terms like "real estate," "homes for sale," and "real estate agent." It is much better to include your city, even neighborhood names in your keywords, and add the word "local" to increase your search page rankings. The more competitive your market, the more localized your keywords need to be.
Tweet this: Make your #realestate marketing strategy local for better search results!
Not Targeting Your Marketing Strategy Properly
This is one of the most common mistakes not just in real estate marketing, but in marketing in general. Not targeting your market strategy properly involves a lot of different areas. Beginning with your target audience, understanding the way different homebuyers and sellers use the Internet is key.
For instance, younger homebuyers between the ages of 25 and 39 are more likely than all others to use a mobile device to search for homes. That means that your website has to be mobile friendly. Your website should be optimized for mobile to target this growing demographic.
Annoying Subscribers
E-mail marketing is still a valuable tool for real estate agents, however, recent studies show that there is a delicate balance that has to be reached to make it effective. The NAR found that 70% of people who subscribed to an email list unsubscribed because too much e-mail was coming their way. If you get a bunch of unsubscribe requests on a particular week, it may be because you sent one too many emails and you need to readjust how frequently you send them, or your e-mail is not useful enough.
That applies equally to your web content. If you allow visitors to your website to get alerts when you post new content or if you are posting content on social media platforms like Facebook and Twitter, if you are posting two, three, and four blog posts a day, remember, your subscribers are getting annoying alerts on their phones or emails each time.
They will eventually hide your posts, quit following you, and worse, tell other people how annoying they found your page or website. You have to post useful content frequently, but be aware of how it is coming across to your subscribers and followers and make adjustments as necessary.
Tweet this: Realtors found 70 percent of people who subscribed to a realestate email list unsubscribed
Offering No Guidance for Financing
Now, millennials and Gen Xers make up a larger share of homebuyers than baby boomers. That means that the majority of people looking to purchase a new home are first time buyers who are going to need a lot of help and guidance to buy their home. That includes financial help and guidance.
In fact, the National Association of REALTOR® showed that nearly 90% of recent homebuyers relied on financing to purchase their homes. For millennials and Gen Xers, those numbers were 97% and 96% respectively including FHA loans. Not to mention that retired and returning military are looking to capitalize on their VA Loan benefits and boomers are downsizing and relocating to warmer climates.
For all of these buyers, offering no guidance for financing makes you less knowledgeable and therefore less helpful to them. You do not have to be an expert but having a strong knowledge of your clients' options when it comes to financing can give you an edge over other agents in your area. Remember: You should leave financial advice to the mortgage professionals, but there is no problem in offering education tools and resources to your clients so they can feel more empowered in their financing process.
Tweet this: 90% of #homebuyers rely on financing. Are you providing the right information?
Avoiding Real Estate Marketing Mistakes
Don't fall into these real estate marketing mistakes. Be proactive. If you want to be a do-it-yourself real estate marketing wiz, staying away from these mistakes means constant education and dedication. On the other hand, if you're looking to outsource some of these marketing responsibilities, partner with a trusted and experienced real estate internet marketing firm that offers proven strategies and results.
Want to take your real estate marketing to the next level while avoiding these costly and time-consuming mistakes? Let our team give you a complimentary consultation on your marketing initiative. We're just a phone call away and look forward to sharing our expertise with you. Let's connect today!
Did you enjoy reading this article?
Sign up for more updates with our Agent Intelligence Newsletter!
We are committed to protecting your privacy.
Real Estate Websites for Agents
Learn which package works best for you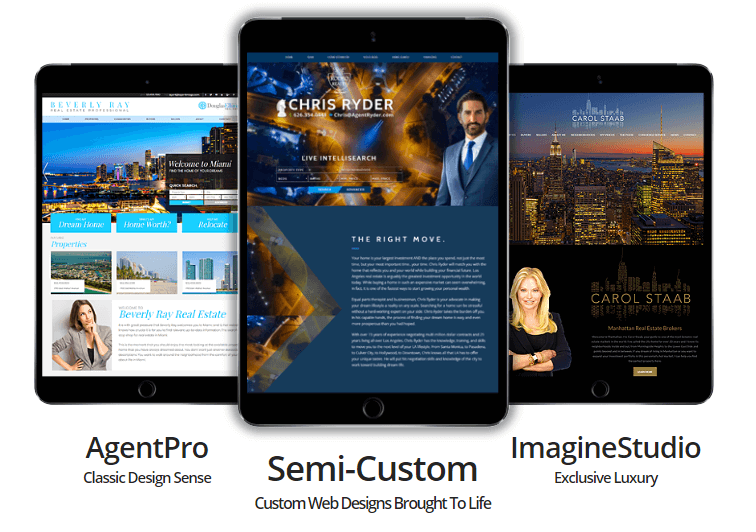 Learn More