How to Craft Real Estate Branding from Scratch
Developing your brand is crucial to success in real estate. Your brand will serve as the "face" that will identify you and define what you and your business are all about. In today's highly-competitive real estate environment, branding can spell the difference between standing out and disappearing into obscurity. With this in mind, crafting your brand should be done with deliberation and plenty of thought.
Here are some tips on how to create the perfect branding toolkit for you.
1. Know your strengths and competitive advantages
You need to differentiate yourself in the market and make people see why they should work with you. Put yourself in your client's shoes. What is it about you and your agency that will make them want to choose you? This is not always an easy question, but a bit of self-examination can give you the answers. Some "strengths" to consider are:
An impressive sales volume
A specialized qualification like a post-graduate degree or an industry accreditation or certification
Value-added services, such as home staging or mortgage assistance
Being a "local" and a distinguished active member, or perhaps, a leader of the community
Specialization in any property type, such as luxury, multi-family or "green" properties
Additionally, ask yourself what traits you possess that make you a great choice as Realtor. Some adjectives that come to mind are persistent, hardworking, passionate, driven, and trustworthy. Find out how you're perceived by clients, colleagues, friends, and others, and use this in creating your brand's identity.

2. Lay down your business's mission and goals
Determine how you wish to operate your business. Do you plan to build a team of real estate agents, or work primarily on your own with just some support staff? Can your agents pursue their individual brands, or will the emphasis purely be on your agency's brand?
What are your financial goals five or ten years down the road? Are you more comfortable working in a niche market, or do you plan to serve a broader range of clients?
Setting down your objectives as a company will help you create a brand that's reflective of what you are and what your business offers. This will help attract the right clients and develop clients' confidence in you as the agency that best matches their needs.
3. Learn as much as you can about the competition
There will certainly be plenty of competition – from big real estate brands to boutique agencies. Find out how they're marketing themselves – check out their logos, slogans, websites, listings, and any other information.
Look into the market segments they cater to and find opportunities in underserved niches. Consider areas where you might have the advantage, such as better technological knowhow or a more personalized relationship with clients, then highlight these in your branding.

4. Know your target market
What kind of clients do you want to attract – luxury buyers, starting families, investors? Do you want to focus on either buyers or sellers? What does your market care about the most? Expediency? Price? Location? Prestige? Identify potential clients' pain points. Then ask yourself:
How can you outdo the competition in giving clients what they need?
How can you best communicate and reach out to your market?
What solutions can you offer for your clients' concerns?
5. Create a tangible brand identity
Taking everything you've learned from the "self-examination" phase, it's time to create your brand identity. You need to crystallize your image and make sure it resonates with your target market.
Putting a "face" to your brand involves the following:
Your logo
Any slogan or catchphrase
A comprehensive marketing kit
An online presence – this is a must, given that more than 90% of home searches today start with the internet
It's best to work with qualified professionals or specialists to help you achieve this, particularly one with a proven track record. You can't leave something as important as the creation of your brand identity in the hands of amateurs.
In working with a branding professional, you have to provide comprehensive information about your target market, your operations, and working style. You also need to spell out your agency's personality and work with the specialist in making sure this personality is effectively captured and conveyed.
6. Be consistent in building awareness for your brand
Consistency is key in growing brand awareness. In fact, several studies have shown that consistency trumps everything else in making customers happy and building their trust and loyalty.
Make your clients feel that they're working with a reliable agency who can constantly give them a positive experience. This takes a lot of work and encompasses all your marketing and operating functions. You need to deliver on what you promise and convey the same message to your market over and over again.
Some of the things you can do to achieve consistency are:
Regularly provide high-quality content on your website, social media, and other marketing avenues. Content, whether self-developed or previously published, is very important as it is your main channel of communication with your clients. It has to always be consistent with your branding and reflect what your agency is all about. Ideally, at least one of your social media platforms should be updated daily, 5 days a week.
Share achievements, including awards, properties sold, recognitions, and others
Share positive client testimonials
Grab opportunities for professional speaking and earned media (publicity that has not been paid for, such as article mentions and TV show appearances)
Respond to customers' comments and engage them in friendly discussion
In building your brand, always keep in mind that this is not a one-time effort. It's something you have to work on continuously. After all, you'll come to be known by your brand. It will be the foundation for that all-important first impression and the reputation that precedes you.

See these real estate website ideas at work in the following Agent Image website showcases. Click here for our Semi-Custom and ImagineStudio portfolios now!
Want to attract new clients while keeping current, loyal customers impressed? Contact Agent Image today and ask for a free and comprehensive website design consultation.
Did you enjoy reading this article?
Sign up for more updates with our Agent Intelligence Newsletter!
We are committed to protecting your privacy.
Real Estate Websites for Agents
Learn which package works best for you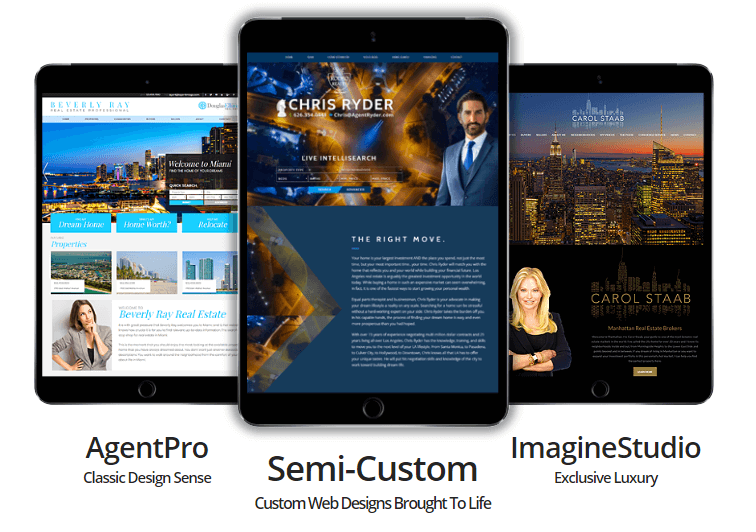 Learn More