4 Questions to Help Drive Your Real Estate Marketing Strategy
If you are like most real estate agents, any help you can get with probably the toughest part of being an agent is very welcome – your marketing strategy. There is advice everywhere that speaks about marketing generally. We focus on real estate marketing specifically.
One piece of advice that you will only get here is invaluable for helping you to figure out the best way to craft your marketing plan and build a better overall marketing strategy. It begins with asking yourself these four questions:

Do I have measurable goals?
Have you built your marketing strategy based on templates and online marketing tips without setting measurable goals? One area that real estate agents have to watch carefully and continue to improve is in bringing in leads.
Without a steady flow of leads or at least enough to keep your net earnings at your desired level, you have to set measurable goals. For example, if you want to bring in X number of buyer leads over the next six months, how would you go about doing that?
Build your strategy by filling in the X.
What is reasonable for your area?
How many homes have sold in your region weekly, monthly, and annually?
Then decide how much you need in order to cover your monthly expenses and make a healthy profit.
Do you have a plan?
Once you've identified how much you want to make each month, start building your plan for achieving your goal. First you have to start generating leads and prospects. Your online marketing strategy is a huge part of your success in this area. Here it is broken down into four parts:
Website Function
Your website has to load fast, use high quality, high resolution images, and be compatible with all mobile devices.
Sharable Content
Your content must engage users and entice them to share your photos, video tours, and blog posts with other users.
Increased Conversions
Your real estate marketing strategy should include a focus on turning visitor visitors into regular users of your website and thus from prospects to clients by adding a newsletter subscription option.
And Social Media Savvy
Your social media marketing strategy should be built to encourage users to visit your website to share where they can get more complete information about you and your services.
Build in tracking tools before your website goes live in order to monitor user reactions to your launch enabling you to make quick changes to improve your website's effectiveness.
Is your messaging consistent across your brand?
At the root of your overall marketing strategy is your branding. As you build upon your real estate website you will continually reinforce your brand. First understand the two different prongs of branding: Your name and your website.
Your Brand Name
For your brand name, your real estate website branding begins with your layout and design. Depending on the type of real estate that you buy and or sell and your target demographic your web design must reflect it consistently across all of your channels including:
Letterhead and Stationary
Logo
Domain Name/URL
Social Media Platforms
Signage and Banners
Flyers and Brochures
Your Real Estate Website
When designing your website, your target demographic should be your guide. For instance, if you sell luxury estates, your color scheme and website design should reflect grandeur and wealth.
If you are targeting first-time buyers you could play up the modern features of your properties like Wi-Fi, energy efficient appliances, drought-resistant landscaping, etc. Your online image also applies to the way that your website functions. Your website also has to be:
Advanced SEO
Informative
Interactive
Fast Loading
IDX Search Integration
Full of Relevant and Useful Content
Be careful to choose a web design firm that specializes in more than just building a pretty website. Your overall real estate website relies on your ability to pull in more leads and more importantly more conversions. Choose a firm that builds into your websites the tools necessary for maximizing its effectiveness.

Is your content valuable and interesting?
Finally all of the bells and whistles don't matter if you can't keep your website visitors' attention once they get there. For that you must fill your website with valuable and interesting content.
You may even be surprised at how rich the amounts of useful information available to you that will help boost your real estate marketing strategy through content marketing. Here are a few tips to get you started:
Write articles about new attractions in your area.
Give expert tips about buying or selling in your community.
Share exclusive local market data with your e-mail subscribers and promote it on your website.
Give insider stories from former and current clients about searching for homes in your area.
Think about the types of websites that you favorite and go to several times a week. What is it about those sites that lead you to come back again and again? Is it a news site that provides you with the type of up-to-date information that you want first thing in the morning? Is it an online radio that plays your favorite songs?
When your real estate website can become that for interested buyers, sellers, and or investors, you have built a winning real estate content marketing strategy. Before you get started, be sure to read this article to avoid the 7 major blunders in real estate blogging!
More Questions
These four questions will get you started but there are more questions that you need to answer before you are ready to go. We are here for you at Agent Image. We create the industry's leading real estate agent and broker websites.
Our expertise is in not only designing stunningly beautiful websites, but for also building into them advanced features that dramatically improve lead generation and conversion rates. Take a look at our featured showcase designs and then call us for your free consultation.
Did you enjoy reading this article?
Sign up for more updates with our Agent Intelligence Newsletter!
We are committed to protecting your privacy.
Real Estate Websites for Agents
Learn which package works best for you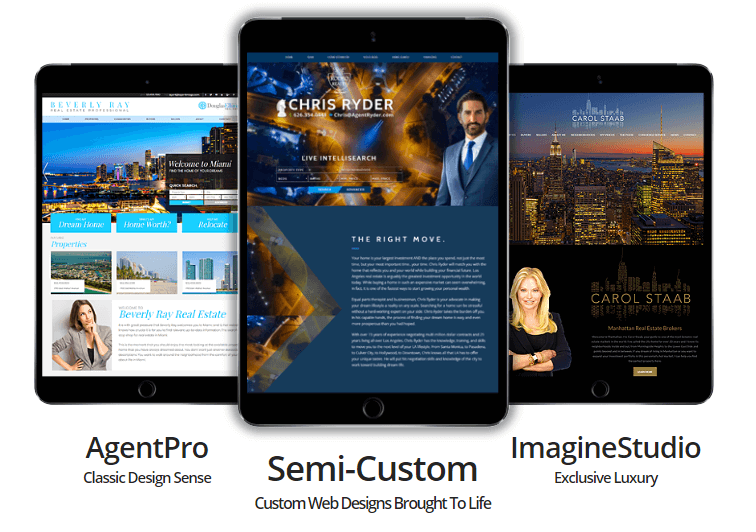 Learn More