5 Top Strategies For Your Internet Marketing To-Do List
When you go to an online retail store, you expect to be able to find what you like, add it to your cart, pay for it on the spot and be done. The philosophy behind building your online marketing strategy for your real estate website is the same: Give users what they want, an easy way to find it, and a way for them to complete the transaction.
What online retailers have discovered is that online shoppers want an easy, no-hassle experience. Unfortunately when building real estate websites, too many agents focus on the bells and whistles without considering the overall marketing strategy for their website. Often those real estate websites are too busy and distract from the valuable information and knowledge potential buyers and sellers are they're looking for.
It is not good enough to start thinking about your marketing strategy after your website is built. Your marketing strategies should be embedded into the overall function of your website.
That is why we have compiled these 5 strategies that should be at the top of your internet marketing to-do list. Each strategy includes different elements that will help make your real estate website a great experience for your visitors and will increase your lead generation.
Website Function
The way that your website functions should be at the top of your to-do list. At the very top of that list is buying a good domain name. A URL address that is not optimized on search engines will get buried. Adding your local service area in the website name is a good way to improve search rankings. For example: AtlantaHomesForSale.com would be much friendlier in search results than JohnSmithRealtor.com.
Overarching your whole strategy is the fundamental goal to bring in more prospects; to optimize lead generation. Each pillar in your marketing strategy should be done in an effort to reach that goal. The way that your website functions will either encourage visitors to stay and browse your website or leave in a matter of seconds.
Here are some of the basic website functions that will improve user experience, increase search rankings, make information easy to find, and provide users a way to subscribe:
Domain Name
Mobile-Friendly
CTA Buttons
Target Keywords on Web Pages
More than 90% of users access real estate websites through their mobile devices. Yours has to be mobile-friendly. Rapid loading images prevent users from getting frustrated with slow loading pages and leaving your website. Targeting keywords on specific pages on your website will improve search engine rankings and providing CTA (Call-to-Action) buttons inviting users to subscribe will add their names and e-mail addresses to your contact list for follow up.
Web Content
Your web content determines whether or not your visitors find your site useful. But if your page cannot be found, they will never see your content. So the first item on your web content marketing to-do list is updating SEO content and keywords. You will need to brush up on the latest information about current Google and social media algorithms to make sure that your keyword usage is going to function properly in search engines.
Updated SEO Content
Interesting Blog Posts
Interactive Maps
The trick to developing an effective marketing strategy using your web content is to make sure that your content is interesting, informative, and easy to find on search engines. To improve user experience, your real estate marketing strategy has to include an IDX search box that is optimized for search engines and interactive maps of your neighborhoods.
Linking Social Media Platforms
Most agents know now, if they know nothing else about internet marketing, that they have to incorporate social media into their strategy. However the way that you incorporate your social media outreach into your overall marketing strategy makes a difference in its effectiveness. It involves adding social media icons on your website, but more importantly, the types of social media platforms that you use should be targeted as well.
Today, the leading social media platforms for businesses reach approximately 40% of all online shoppers, users login on a regular basis, and many users access these sites from their phones. Those top five social media platforms are:
Facebook
LinkedIn
Twitter
Instagram
YouTube
The goal is not primarily to send users to your social media sites. Your social media sites should be encouraging users to visit your website. The goal of linking social media platforms is to enable more sharing of your content. By far Facebook leads the way with more than a billion users.
Moreover, the majority of regular Facebook users fall into the target demographic for first-time homebuyers. LinkedIn is a great site for building up your credibility as an industry leader by promoting your expertise on their online forums and discussions and networking with other real estate professionals.
Twitter requires the least amount of time to stay engaged. Shooting out a few tweets announcing new listings, a promotion, or an open house can be shared easily and widely with little effort on your part. Instagram is rapidly becoming a top social media platform. It is useful for sharing property images with millions. Finally YouTube allows you to set up your own YouTube channel and fill it with video tours of your properties.
Adding Subscribers
In order to convert visitors into regular users of your site, your marketing strategy should prioritize ways to add subscribers. First let's talk about CTAs. The trick to creating subscription CTAs is to make them non-intrusive and highly visible at the same time. Nothing is worse for the user experience than to be forced to subscribe before you can see the website content.
Let visitors linger a while before hitting them with a subscription CTA. An attention getting CTA works well if it is placed at the beginning, on the sidebar, and at the end of your posts. You will get many more people willing to opt in if the content is good and could increase your conversion rates by up to 30% by adding valuable leads to your e-mail database.
Once you have a subscription CTA in place, you have to make sure that it is optimized so that when someone chooses to subscribe, they are not asked to subscribe every time they enter your website. In addition, you should add a subscription landing page that is optimized for search engines. On that page, tell your subscribers what they get from being one of your loyal readers and include a giveaway of some sort which is always effective.
Performance Tracking
Finally, you have to build in your statistics tracking tools before you go live so that you can analyze what is most effective and what is not. You want to have these tools in place upon launching your website and review that information regularly. Take note of high performing days and times, the most viewed content, peaks in subscription rates, and lulls in web traffic.
Get Help from the Pros
Now that you have seen what all has to go into your online marketing to-do list, wouldn't life be easier if you got help from the pros? At Agent Image, we set the standard for high quality real estate website design. Talk to us today to make sure that your to-do list is complete before you go live!
Did you enjoy reading this article?
Sign up for more updates with our Agent Intelligence Newsletter!
We are committed to protecting your privacy.
Real Estate Websites for Agents
Learn which package works best for you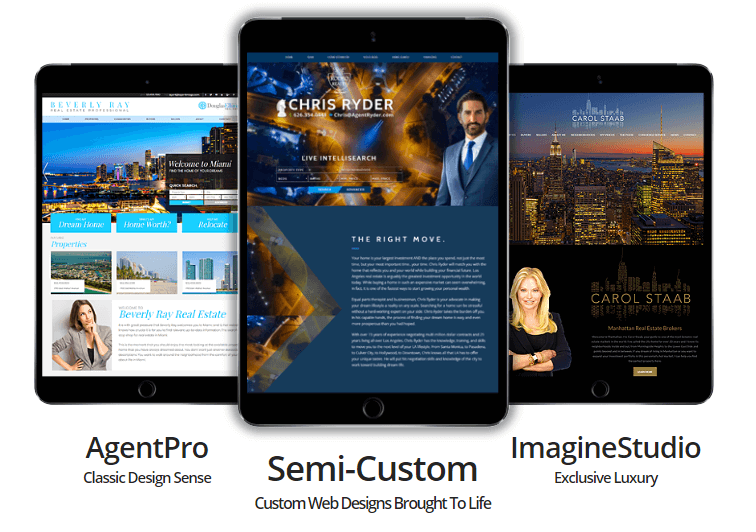 Learn More