6 Real Estate Website Design Moves That are Killing Your Lead Conversion
You've designed the most beautiful real estate website in your market. You've filled it will quality content. Your listings are easy to search and precisely displayed. But ultimately – when it's all said and done – you're not interested in how pretty it is or how many compliments it gets. You want leads, conversions … the phone to ring!
So what's the magic formula? Well, it starts with generating traffic to the site and then further depends on quality web design, responsiveness, strategy and implementation. Oh, and don't forget follow-up.
On average, studies show that even websites that attract a lot of traffic only result in a conversion rate between 2% and 4%. However, there are ways that you can increase your conversion rate by eliminating those design features that detract from your websites effectiveness and focusing on design moves that engage visitors.
In this post, we will discuss six of the most common real estate website design moves that are killing your lead conversion. Correcting these features of your real estate website will increase the overall effectiveness of your website which will lead to more converted leads for you. Converted leads = the closing table.
Don't Kill Your Lead Conversion: Consider This First
#1: Layout
In order to make your real estate website most effective it has to contain many elements: IDX, community information, an "about" page, contact forms, social media integration, the list goes on. The way in which these elements are presented on your website is just as important as the information that they contain.
Most industry insiders agree that you have 0-8 seconds to make a compelling landing page, after which most visitors leave. Industry insiders also agree that color is probably the most-used tool to garner a visitor's attention, as are directional cues that point to your call-to-action.
Sound like a lot of marketing-speak? We can handle all the nitty-gritty details. What you really need to know is that a clean, simple design with clear calls-to-action and robust content that is easily navigable is king. Your IDX should be a breeze to use. Visitors should have no problems finding your contact information. And you should consider an email sign-up form that allows visitors to "raise their hand" and ask for more information. These are the basics of good layout design.
Many real estate agents make the mistake of including all of this information in a cluttered and disorganized way. Consider the layout of your website or let a professional give you a consultation on how your layout is really performing.
#2: Responsiveness
Remember the 0-8 second rule of thumb? Nothing kills your lead conversion stats quicker than a website that is unresponsive. Not only does this mean you need to load at lightning speed, but you also need to weed out broken links, freezes, and missing photos.
Remember, the goal is not just to get users to click on your website link, but to stay there as long as possible and to ultimately contact you. Furthermore, with more than 92% of homebuyers using the internet during their home search and 50% of buyers using a mobile website or application, you better be mobile ready. And since Google has recently added mobile-friendliness to its list of criteria when ranking your website in the search engines, it's never been more important to have a responsive website.
If prospective clients don't stick around to see what your site has to offer or they can't read it on their phone or tablet, you don't have a chance of converting them into a client and/or sale.
#3: Focus
Understanding how to improve your lead conversion also hinges on the focus of your website. In other words, are you trying too hard to generate clients and ignoring the overall user experience on your website?
Your focus should be on the user experience. If users have to click through several different landing pages to get to your contact information or to navigate to your property search page, the focus of your web design is wrong. Visitors to your website will get frustrated and leave the page and continue their search for another real estate website that is easier to navigate.
Have you tested the navigability of your website with an outside observer? Is your information easy to find? When's the last time you tried to perform a home search on your own website? How easy was it? Did you like the experience?
#4: Content
Ever heard the expression: content is king? Well, it's true. Too often real estate websites focus on IDX search and boast about the agent's accomplishments and then forget to provide visitors with the information that they're looking for. Yes, they want to search for properties. But they can do that anywhere.
Do you provide useful and interesting neighborhood information? Blog posts on market trends or the recent construction of a new shopping center? Give website visitors information to read and learn, and they're likely to stick around your site longer. Longer visit times = higher conversion rates.
With that being said, make sure you're also driving engagement and conversions by having strong calls-to-action placed strategically throughout your website. You want to nudge your website visitors to take the next step and tasteful CTAs are the way to drive that point home.
#5: Follow-Up
Believe it or not, a recent survey shows that nearly half of all online inquiries from prospective buyers go unanswered. Not only that, agents only return on average one and a half calls to those potential leads. Not contacting a lead after they've raised their hand for assistance is the number one deal killer when it comes to conversion. You're certainly not going to convert if you don't make contact.
If you're reading this blog, we're going to assume you're one of the great real estate agents that actually contact their prospects. But just in case, let us reiterate: no contact = no conversion!
We do encourage you to consider the following, however. Are you responding in a timely way to your leads? Do you have a contact drip campaign in place that will respond to leads automatically? How about an email newsletter that can help keep the client engaged? Which leads us to our next point: strategy.
#6: Strategy
The National Association of Realtors conducted a study recently that showed that even if a buyer visits your site they are typically just at the beginning of the process. They likely will not contact you until they are ready to hire an agent. You need to have a strategy in place ahead of time to capture and nurture those potential buyers to convert them into clients.
If you do not have a long term strategy designed to convert that initial contact into an actual business relationship, you may give up on a lead too soon. Is your website designed to elicit your visitors' email addresses so you can drip on them periodically until they're ready to get off the fence? Your conversion rates depend on your ability to maintain a relationship so that you are first-of-mind when they're ready to move forward!
Best Practices in Action
Don't just take our word for it. Browse around our 50 Beautiful Websites page to view some of our most recent projects and take time to note some of the characteristics we've discussed today.
This website that we completed for Tammy Bateman Properties is an excellent example. It offers a clean and modern layout with clear calls-to-action, quick search functions, and great content. It's also super responsive and focused on user experience. What's more, they've created a unique value proposition by telling visitors their website offers 20% more agent listed homes than the national real estate search portals.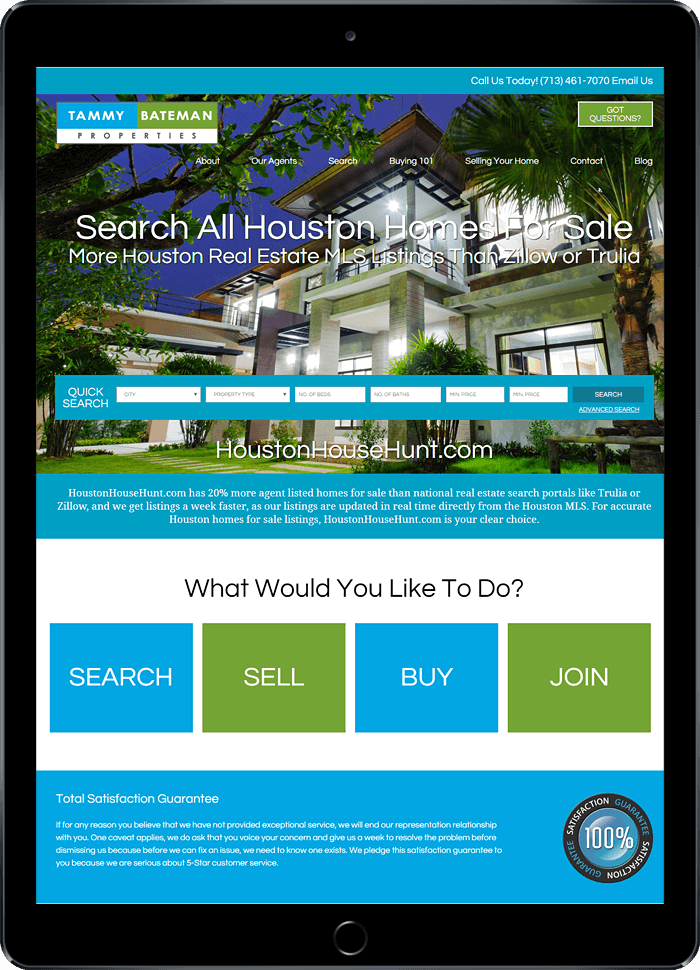 Add Value to Your Web Design
The bottom line is there are many ways that your website design could be killing your lead conversion rate. The question that you have to ask yourself is, 'What can I do to stop killing lead my conversion rate and start increasing it?' Making these changes is a good start, but it is still just a start.
You need the aid of a top notch team of real estate web design specialists who can help you create the type of website that convinces visitors to your site that they need to contact you. Our team at Agent Image specializes in just these types of fixes for real estate agents who want to maximize their lead conversion rates from their websites. Find out more about our web design services by calling us today at 1-800-979-5799 or fill out this form to schedule a free consultation.
Did you enjoy reading this article?
Sign up for more updates with our Agent Intelligence Newsletter!
We are committed to protecting your privacy.
Real Estate Websites for Agents
Learn which package works best for you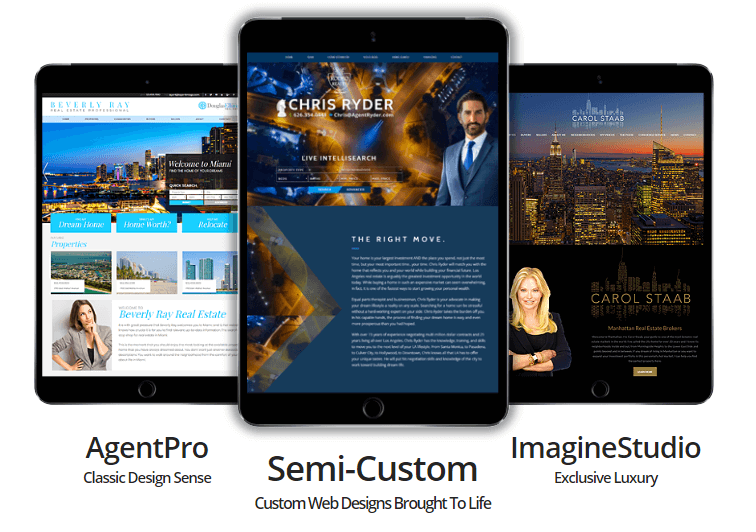 Learn More