7 Ways to Integrate Social Media and Your Real Estate Website
Your social media marketing strategy should be built to encourage users to visit your website where they can get and share more complete information about you and your services. But before you can do that you have to integrate your social media platforms with your real estate website. Here are 7 ways to do it.

#1: Add share buttons on your blog
This is one of the easiest ways to integrate your social media platforms with your real estate website. All of the top social media sites enable you to embed their share button on your website just by copying and pasting the embed code directly from the website.
For example, if your website is built on a WordPress platform, you just add your Twitter profile link to the Twitter widget. You can choose to allow users to both follow you on Twitter for example and share your post on Twitter.
What is true today may not hold true six months from now when it comes to the top social media platforms. However, Facebook still remains the leading social media site for business marketing in general ahead of:
LinkedIn
Twitter
Instagram
YouTube
Specifically for real estate agents, Pinterest and Snapchat are included behind Instagram, Facebook, and LinkedIn. Mainly because these sites use sharing photos and videos as a form of communication, it allows for easy sharing of featured properties and video tours.
#2: Make links to your social channels easy to find
Whether searching on a mobile device or from a desktop computer, your website visitors should be able to easily locate your social media links and share buttons. Particularly when dealing with younger homebuyers and sellers who do most of their business transactions online, you will need to condense the text and use CTAs and share buttons to do the work.
All of these things should factor into how you design your website layout. In addition you will need to think about the types of information you are sharing on which post:
• Twitter
You don't want to share a paragraph of text on your Twitter feed. Only the first sentence or two will show up.
• Instagram
On Instagram, you want to let your photos and videos do most of the talking. Your text should be limited to short captions.
• LinkedIn
LinkedIn is your place to promote your agency business to business
• Twitter
Twitter is a quick and easy way to keep your users engaged on a day-to-day basis with fun fact tweets or new listing tweets.
• YouTube
Setting up a YouTube Channel allows you to provide a one-stop-shop to see all of your property video tours.
#3: Enable direct feed from your social media accounts
An easy integration tool is the direct feed option on most social media accounts. Your users can see your last three or five tweets as well as your last few Facebook posts directly from your website. If you are working your strategy right you should be posting interesting and unique things on all of your different channels.
Picture one of your users landing on your homepage. They click on your featured property because of the beautiful image used to link to that page. Once there, they see to the right of the property description your Twitter feed that shows your latest tweet:
"Our latest luxury property listing made the evening news in Phoenix because of this feature!"
They live in Phoenix and are looking for a home there so they decide to click on your tweet which takes them to the specific property. They marvel at the 20 bedroom home but then continue searching more in their price range.
That user has just spent at least 5 minutes on your website now going from just browsing randomly to actively searching your properties. Remember, a well placed direct feed from your social media accounts works best when you are sharing good content on all of your channels.

#4: Make sharing your website content on social media one touch
When a user has read your post, loved it, and wants to share it with someone else it should be as simple to do as one click. It is easier than ever to add a one click social media button on your website that allows them to comment and share.
Make sure to track your statistics on social media. Most of them will allow you to measure your posts reach based on a number of factors like:
Comments
Page Likes
Post Clicks
Post Reach
Shares
Keep tweaking your strategy until you get it just right. Your analysis should tell you which posts received the most attention. Which ones were the most shared? Take note of days of the week and the times when you shared your most popular posts and tweets.
#5: Allow users to register on your site using their Facebook or Twitter accounts
This tool has become more and more popular over last year. It is allowing users to register on your website using their Facebook or Twitter account. Many agents lose prospective clients simply because they ask too soon or they ask too much of visitors who aren't quite sure that they want to register with their site.
If you make registration optional before sharing your content they will be more likely to register quickly and easily using their Facebook or Twitter account. This is a good way to build up your lead database and to follow up with direct tweets with potential clients.
#6: Format tags and short descriptions for social media
Just like certain posts only work on social media sites, your website tags and descriptions should also confirm to make social sharing easier. Often your short description is all that an online searcher will use to base their decision on whether or not to click on your site.
If your descriptions are well thought out but go beyond the maximum allowed for a snippet, users are only getting part of your message. It is not easy for a lay person to understand the underpinnings of a robust online marketing strategy. It may be worth your while to call in the pros to help with this step.
#7: Share website posts and links to your website content on social media platforms
Finally, use your website content as part of social media marketing strategy to integrate the two. Share your top posts or most popular tweets and don't skimp on video and photo use. Here are some statistics to help you decide what to share:
• On Facebook "Likes" peak at 8 p.m. eastern time, shares peak at 6 p.m.
• When photos are included, users click through to the website more than twice as often as just links.
• More users share videos and photos than text posts.
• Weekends see more Facebook posts than on weekdays.

Want Some Help?
Integrate your social media platforms with your real estate website and watch your lead generation bloom. Want some help with your integration? Contact our team of specialists today for your free consultation.
Did you enjoy reading this article?
Sign up for more updates with our Agent Intelligence Newsletter!
We are committed to protecting your privacy.
Real Estate Websites for Agents
Learn which package works best for you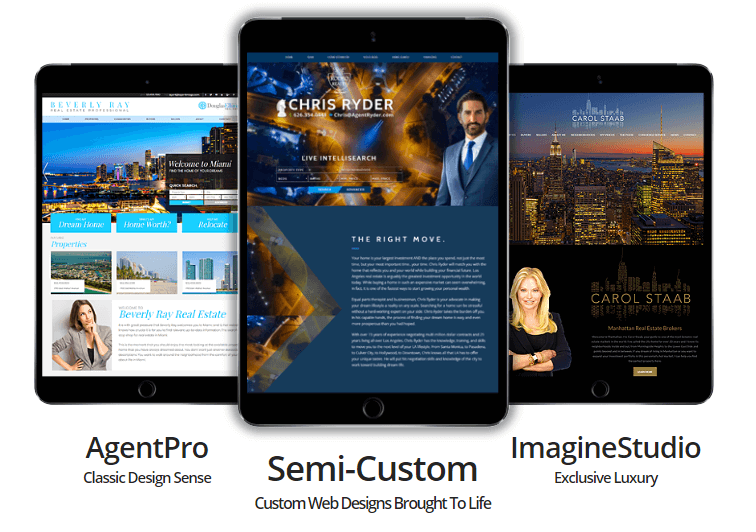 Learn More